January 2016
Isuzu D-Max Fury
Pretty Japanese styling hides the car's overall proportions
January 2016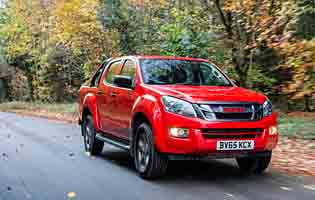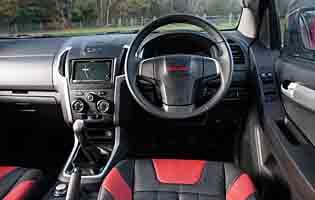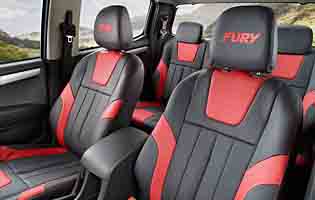 Overall rating

Likes:
Practical cabin is robust and spacious
Excellent value for money versus the model on which it is based
Indomitable load-carrying and towing capability
Light steering makes it easy to drive at low speed
Gripes:
Short gears mean lots of gear changes on the road
Gearbox is imprecise with a vague action
Noisy engine is less refined than some
Long wheelbase limits low-speed manoeuvrability
The Fury special edition was brought about to give buyers a style-focused double-cab pick-up option without the much larger cost of the D-Max range's range-topping model. For a small outlay on top of the base double-cab Eiger model, the Fury adds a significant array of extras without compromising its usefulness.
The Fury is distinguished immediately by its Magma Red paint and matching red Isuzu badge on the gunmetal grey front grille. It adds matching grey alloy wheels, red interior stitching and grey detailing in other areas. There are other improvements in specification but these are mostly confined to small additions like electric rear windows
It is powered by a 2.5-litre four-cylinder turbodiesel engine that's identical to the one used across the existing D-Max range. It was important to Isuzu that the Fury maintain the full functionality shared by all its so-called Premium range of D-Max models, so a shared engine ensures that its towing and load capacities stay the same.
In 2016 this model will bolster the range in light of strong competition from Nissan, Ford, Toyota and Mitsubishi. Its makers say it is aimed at tradespeople in growing creative hands-on industries where image or fashion is important, like wood turning and craft brewing.
The Fury is compatible with the full range of Isuzu accessories, so buyers can upgrade the look still further with roll bars, load bay covers, Lazer lamps, under-chassis armour, bike carriers and even a matching red Truckman Grand Leisure Canopy.
Our verdict on the Isuzu D-Max Fury
The D-Max is not the most refined pick-up on sale but it is very good value and puts working people before posers. The balance has shifted in the Fury model, but in truth it is purely about making a stronger first impression. It offers excellent value for money for those who want capability before kudos, as well as creating greater kerb appeal for those who want it.
Costs
While fuel economy on all pick-ups is poor compared to that of large diesel family cars, the Fury can hold its own in the sector. The manual is more fuel efficient than the automatic. Residual values for the Fury are difficult to predict, in line with question marks over its used appeal relative to the more utilitarian models. Insurance on all vehicles like this is comparatively expensive.
Space and practicality
There is a large storage bin between the front seats as well as broad cupholders to consider. The door pockets could be bigger, but on the whole the interior is designed with simplicity and utility in mind. Potential buyers' lifestyles will be important insofar as whether simply throwing bags into the load bay is right for them. If so, the four-wheel drive D-Max offers a far bigger boot than any car could hope to. There is the option of adding a fully-enclosed roof for the load bay.
Controls and display
The main instrument cluster is a blast from the past, with two plain but classic analogue dials flanking a red LCD display. It doesn't wow a driver but it does its job concisely. The main screen on the test car, brought in from Pioneer, is large and clear, but the buttons at its base are so small that many people might have trouble pressing the correct one at the correct time while driving.
Comfort
The front seats offer more than adequate comfort despite lacking any real side support. The abundance of body roll encourages slower cornering in conjunction with the slow steering, but the wheel is relatively light to turn and won't add to the stresses of a long journey. Rear seat passengers in this Double Cab layout, standard in the Fury, also have plenty of space on the bench seat.
Car security
As well as remote central locking, the D-Max Fury has security etched glass and an engine immobiliser. The case against its security focuses on the bold, attention-grabbing paint colour, whose effect is magnified by the size of the vehicle. Pick-ups are also highly desirable vehicles for thieves to target.
Car safety
Warning lights alert a driver to any open doors, while in a big improvement upon yesteryear all three rear seats feature three-point seatbelts. Front, side and curtain airbags will activate in a strong enough impact. Anti-lock brakes, stability control and traction control are all installed as standard. The front seatbelts are adjustable for height to improve safety.
Driver appeal
The 2.5-litre twin-turbo diesel easily pulls heavy weights either in the load bay or in a trailer. Low gearing makes that easier, but it also means that plenty of gear changes are needed through typical urban traffic. The engine is noisy in comparison to most diesel cars and plenty of vibration transmits through the body and gear lever. The unladen ride quality is also too firm and bouncy, improving with a heavy load over the rear axle.
Family car appeal
There is something to be said for the D-Max as a family car, especially if the load bay is covered with one of the various lockable options. It is extremely spacious inside and for luggage. That said, the load bay is high off the ground so heavier bags need a strong arm to lift them. Likewise when fitting child seats; some parents may find the Fury just a little too high. It's so large that it isn't especially practical for urban duties, either.
First car appeal
Behind the wheel the D-Max in any guise feels poles apart from the superminis that most learners pass their tests in. As such it isn't especially suitable for a new driver - or any driver who has never driven a large car or van before. Plus the financial aspects are simply not appropriate for a novice, despite the Fury being one of the cheaper D-Max models.
Quality and image
Isuzu's unofficial motto in the UK is 'fit for purpose', so function is always placed before form. Buyers could choose the more stylish Fury knowing that it makes no compromises in ability, which could potentially boost its image versus other models. Nonetheless the D-Max maintains a utilitarian image that is not undeserved, and people looking for a recognised lifestyle pick-up may choose another brand.
Accessibility
Getting into the cab involves a good step up, so it's not ideal for anyone with knee or general strength issues. There is no difficulty in sliding onto the seat after stepping up, but the doors are heavier than typical car doors and should be gripped firmly on windy days. The tailgate drops easily but quickly and care should be taken.
Stereo and ICE (In car entertainment)
There is an aftermarket CD/radio unit in the centre console, which also integrates an iPod connection and a Bluetooth wireless link. This functionality is fairly standard but does not follow any Isuzu design directions so feels quite different to the rest of the car. It is powerful enough though, and responds quickly to inputs.
Colours and trim
As a standalone special edition the Fury comes in Magma Red only, which matches the red brand logo on the grille. Red stitching on the steering wheel and, in the manual version, on the gear lever gaiter, carries some of the red theme over from the outside. For a significant extra sum the perfectly fine black cloth seats can be upgraded to red and black leather, which is bolder and brasher than some buyers will like, but perforations in the large red areas do add a little class. The Fury-branded floor mats are a nice touch.
Parking
Rear parking sensors are not among the kit upgrades given to the Fury over the Eiger model upon which it is based. A sturdy bumper is fitted to ward off any bodywork damage but some drivers could have trouble judging where the rear quarters are. It is a long vehicle with a similarly lengthy wheelbase, which makes it more difficult to manoeuvre in tight car parks than most regular cars. It can also overhang standard parking spaces.
Spare wheel
Emergency tyre repair kit supplied as standard.
Range information
Diesel engine options - 2.5-litre (161bhp). Transmission options: six-speed manual gearbox plus five-speed auto option. Trim levels: Utility, Eiger, Fury, Yukon, Utah, Blade.
Alternative cars
Mitsubishi L200 The class benchmark vehicle for attitude
Nissan Navara Commendable option biased more towards on-road use
Toyota Hilux Very capable and peerlessly reliable option, but more expensive
Ford Ranger One of Ford's most reliable vehicles with good engines, but less space