August 2004
Hyundai Accent 1.5 CRTD GSI
Facelifts do their best to hide the Accent's age
August 2004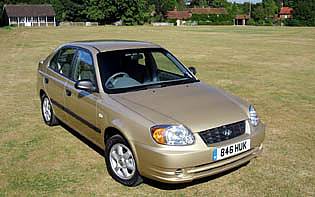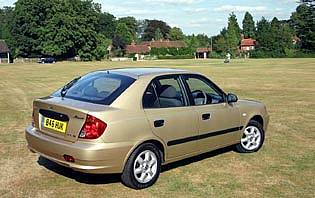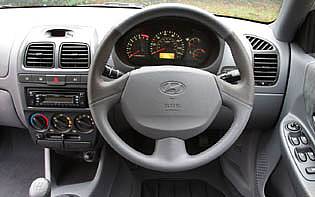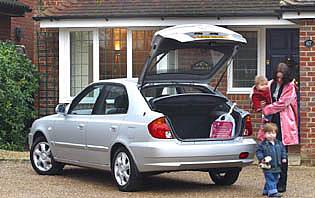 Overall rating

Likes:
Diesel engine exhibits excellent fuel economy
Fairly good levels of equipment
Cheap purchase price
Five year warranty likely to be decisive factor
Gripes:
Sluggish acceleration can be frustrating
GSI models lack side airbags
Interior squeaks and rattles prove build could be better
Completely anonymous on the road
Worldwide, the Accent has proven to be a massive success for Hyundai. The reason is obvious - it represents a low-cost, low maintenance vehicle that is particularly popular in countries that aren't quite as wealthy as the UK.
It has a somewhat lower profile in more affluent regions, partly because of the huge choice of models offered to buyers and partly because its robustness is achieved at the expense of some refinement. It's not a car that will ever bring out the keen driver in you - despite its impressive showing as a World Rally Car - and progress can be noisy. Against that, it feels mechanically sound, reassuringly predictable and is one of the cheapest cars to own and run.
The original Accent was introduced in 1994 and despite a succession of fairly effective facelifts, it still feels like a car from the last decade in many respects. From the outside, the five-door hatchback (three doors available in 1.3 GSI guise only) looks like a saloon, and indeed it is offered in saloon form, though most people will prefer the functionality of a hatch. The design is dated, though to describe it as ugly would be unfair. At least it doesn't fall into the common budget-car trap of trying to convince you it's something other than a cheap set of wheels.
Similarly, the cabin is inoffensive if uninspiring. Grey plastic predominates, not all of it of particularly good quality. Instrument layout is utterly conventional - again, not necessarily a bad thing at all. Occupants are afforded a good deal of room, even in the back, and the saloon-like shape of the boot means that fitting the weekly shop in the back should not be a problem.
Of the available powerplants, the 1.6-litre petrol and 1.5-litre diesel units are clearly the best. The former (which also powers the Hyundai Coupe) is smoother, quieter and more fun to drive. The diesel has its strengths in other areas: superb fuel economy and enhanced load-carrying ability. In comparison, the 1.3 petrol feels underpowered and should only be considered by buyers who rarely carry passengers or baggage.
Having been around for a while, any major mechanical glitches have long since been ironed out and the Accent has been instrumental in establishing Hyundai's reputation for reliability.
Our verdict on the Hyundai Accent 1.5 CRTD GSI
If a no-nonsense, no-frills method of getting from one place to another is the order of the day, then an Accent is a viable option. It offers better accommodation for rear passengers than many more modern hatchbacks and is not unpleasant to drive. Nevertheless, Hyundai's generous warranty remains the most attractive 'pull factor' to buyers by some considerable margin.
Costs
Though outclassed in most departments, the Accent's low cost, reliability and worth-its-weight-in-gold warranty enable it to tug at the sleeves of anyone looking for a no-frills purchase. Prices are tumbling all the time and determined haggling should result in further significant savings. Resale values will take a nosedive once the warranty expires but that still allows owners to run the car hard for several years and sell it on without losing too much. If your head rather than your heart rules your wallet, the Accent is worth a look.
Space and practicality
All models have a 60/40 split/fold function on the rear seats, proving that for once the Accent is up with the latest trends in car design. There's even a luggage compartment light. Space is generous enough to make the Accent competent at passenger- and load-carrying duties. Fold the rear seats (not particularly easy) and you could just about manage a car boot sale.
Controls and display
Anyone suspicious of innovation will be extremely happy behind the wheel of an Accent. Layout of dials and switches seems immediately familiar - mainly because it's the sort of design one would have expected ten or fifteen years ago in a mainstream hatchback. Koreans' incomprehensible appreciation of grey plastic receives full expression in the door bins and instrument binnacle, though this at least prevents the cabin from seeming too dark. To be fair, the quality of materials used could be worse - the Accent is on a par with cars from the cheaper end of French manufacturers' ranges.
Comfort
Again, the Accent must be judged as a non-committal 'not bad'. Available room is decent without seemingly overly generous and the steering wheel only adjusts for reach, not height. However, most drivers will have little difficulty adopting a tolerable driving position. The rear rank is fairly generous to passengers. It is rather more comfortable in the back seats of an Accent than in many more modern hatches. Four can be transported in relative comfort - five will feel cramped.
Car security
GSI owners have to suffer the indignity of inserting a key into the door every time they want to gain access. CDX owners can lord it up by showing off their keyless entry and alarm systems. An unexpected benefit of a car as cheap and relatively bland as the Accent is that it is highly unlikely to attract the attention of thieves unless you leave valuables lying on public display.
Car safety
Safety features aren't astoundingly plentiful but are not bad for the class of car in which the Accent belongs. Dual side impact beams, stiffened A and B pillars and seatbelt pre-tensioners are to be expected and are indeed present. More noteworthy is an anti-lock braking system with EBD. Driver and passenger airbags are standard but only CDX models have side bags and doors that unlock in the event of a major accident. All models feature Isofix anchorage points in the rear.
Driver appeal
If ever there was a car to be regarded as a tool rather than a plaything, it is the Accent. Only the 1.6 petrol model in manual mode comes close to producing anything resembling driver feedback or feel. Handling and ride are both soporific - which could be a boon if you really don't care for racing lines and quick corners. Noise can be intrusive when the engine is worked hard, but drivers will soon give up on such aggressive practices as they actually make little difference to the rate of acceleration. Braking ability is quite good.
Family car appeal
In large parts of the Far East and Eastern Europe, the Accent plays an important role as a family car, but it is less well suited to the MPV-liking tastes of UK consumers. Small children will fit into the back with no problems but there is a dearth of the seat-back trays, hard-wearing surfaces and bright colours that are regarded as family-friendly. If you're determined to use an Accent as a family vehicle, it may be worth investing in Hyundai's in-car DVD system to make long journeys more tolerable.
First car appeal
Without wanting to sound too cruel, the Accent could make a viable first car for someone who'd not particularly interested in cars. There are numerous superminis and city cars with more character, but the Accent can match them with its low cost of ownership and mechanical dependability. If bought new, after two or three years, it could be sold on still under warranty. The significant number of pensioners who pass their driving tests for the first time might find the Accent of particular interest.
Quality and image
Make no mistake, this is a pure value for money package. In many ways the Accent is one of the last traces of 'old' Hyundai, which was regarded as a cheap and cheerful Korean company just like Daewoo, Proton and Kia. With the introduction of recent models such as the Getz, Santa Fe, Coupe and Tucson, Hyundai has moved upmarket a few notches. As a result, the Accent looks like a car that is desperate to be replaced. The only admiring glances it attracts come from bank managers and accountants.
Accessibility
With the extra accessibility of a five-door body shape available, it's difficult to understand why anyone at all would prefer the three-door version - it's not as if it boasts hugely improved driving dynamics. The tailgate lifts easily and a low lip opening allows heavy items to be pushed in without too much bother. A sunroof would be a welcome addition but sadly is not on the option list.
Stereo and ICE (In car entertainment)
An easy to use Sony CD radio with RDS comes for free. Sound quality from the four speakers is pretty poor by the demanding standards of more upmarket vehicles, but realistically most Accent buyers are unlikely to be the sort of people who value a booming sound system. The volume does have to be turned up quite a long way to overpower diesel clatter at startup. Seeing the retractable aerial telescoping upwards every time the ignition is turned provides a definite blast from the past.
Colours and trim
Hyundai has deleted the lower trim levels, so all cars now on sale have a fairly high level of standard equipment. Two trim levels are available, badged as GSI and CDX. Across the range Accents have driver and passenger airbags, ABS with EBD, power steering, all-round electric windows and alloy wheels. CDX models add side airbags, a rudimentary air conditioning system, driver's seat height adjustment and trip computer. If you want metallic or mica paint, you'll have to dip your hand in your pocket. Luckily, the Accent looks okay in cheapskate solid colours.
Parking
Despite power assistance, steering can seem slightly heavy at very low speeds, so parking isn't as easy as might be assumed. Small wing mirrors and the saloon-like projection of the rear boot don't help with visibility. The Accent's overall proportions are modest, which counts in its favour. Parking sensors are not available.
Spare wheel
Though all Accents - even the GSI models - come with alloy wheels, the spare is a conventional steel wheel.
Range information
Three engines are available: 12-valve 1.3 petrol (83bhp); 16-valve 1.6 petrol (103bhp); 1.5 turbo diesel (81bhp). Two transmissions are on offer - a five speed manual and optional four-speed automatic that can only be specified with the 1.6 CDX. The auto is rather crude.
Alternative cars
Daewoo Lacetti Tidy-looking hatchback offers decent refinement. No diesel
Nissan Almera Nissan badge is in its favour; dated styling is not
Kia Rio Steering feels dead, but genuinely cheap with good specification
Suzuki Liana Comfy hatch or saloon. Slightly comical image thanks to Top Gear