Honda CR-V 2.2 i-DTEC EX auto
Diesel engine is refined and powerful
April 2010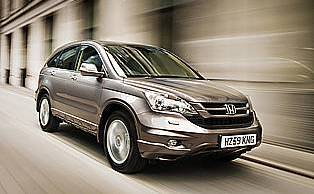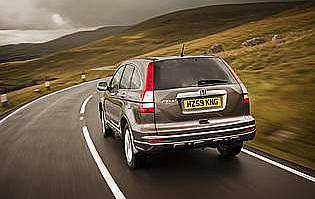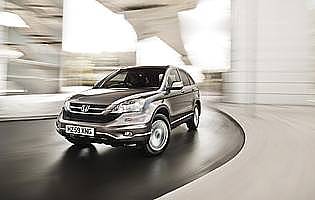 Overall rating

Likes:
2.2-litre diesel engine is refined and powerful
Raised driving position inspires confidence
Easy to use controls allow you to concentrate on the road ahead
Practical interior space is well suited to family life
Gripes:
Leather upholstery not such a good idea if you lead an active family life
Rear headroom is modest
Don't be fooled by appearances – off-road ability is limited
Firm ride helps reduce roll but also shows up surface imperfections
The Sports Utility Vehicle (SUV) has become a permanent part of the UK's motoring landscape. At the business end of this market is Honda's CR-V, which now features a diesel engine connected to an automatic gearbox – the combination everyone wants.
Conscious of the fact that few people actually take their SUVs off-road, Honda refrained from giving its CR-V SUV any full-on mud plugging ability, opting instead to focus attention on making the on road experience a refined and competent one.
The result is a vehicle that offers the elevated driving position and reassurance of a 4X4 but none of the poor road manners associated with the breed. In the case of this revised model, there are also subtle revisions to the car's exterior plus the inclusion of a five-speed automatic gearbox for the popular diesel variant.
And while you can have a perfectly good petrol engine, Honda's revised diesel unit offers a superior blend of power, torque and economy. In 150 horsepower trim, the 2.2-litre unit also fitted to the firm's Accord can be had with a five-speed auto gearbox. This is a big deal, as it's taken Honda some time to add a self-shifting 'box to the CR-V in the face of long time similarly equipped rivals.
Elsewhere, Honda is having to face up to competition from the likes of Kia and Hyundai, previously brands that never came close in terms of performance and quality. The goal posts might be shifting in the market, but Honda is still winning in the key areas. For example, cabin ambience is first rate and right up there with the likes of Audi.
Our verdict on the Honda CR-V 2.2 i-DTEC EX auto
With a new, cleaner and more powerful diesel engine under its belt plus the option of a five-speed auto gearbox, Honda's revised CR-V offers the best of both worlds: impressive pulling power and economy plus the convenience of an auto gearbox. Quality inside and out remains impressive, while the CR-V's family-friendly layout makes the car an ideal upmarket family hatch.
---
Costs
There might be cheaper mid-size SUVs on the market but, if you're thinking long term, the CR-V remains a solid investment. It's also well equipped and comes with a good reputation for reliability and durability. Opting for the diesel variant has the potential to lower both your tax and fuel bills over the petrol model.
Space and practicality
With a cabin that will accommodate five at a push and four in comfort, the CR-V is a fully-fledged family hatch alternative. Oddment storage options are plentiful and the door bins will hold plenty of your junk. At the rear the CR-V's boot is a good size and access is straightforward, although the car's added ride height does make reaching in a challenge if you're short of stature.
Controls and display
Honda has become very good at delivering clear and easy to use instrumentation. The CR-V continues this trend and, in the case of a sat-nav equipped car the large touchscreen display offers users an easy way to input destinations and connect a Bluetooth-equipped mobile phone. The handbrake, although an unusual design, proves easy to use, while the steering wheel controls and main dials are clear and easy to use and read respectively.
Comfort
Boasting supportive seats front and rear, the CR-V is more car-like than its outward appearance suggests. With a good size cabin and the ability to suppress road and wind noise, there's very little to complain about here.
Car security
It might not be the most desirable car in the world when compared to something from Audi or Mercedes, but the CR-V is nevertheless an attractive trophy in the eyes of the casual thief. As such, packing an alarm, immobiliser and deadlocks it should keep most undesirables out. The sturdy rear load cover is another welcome inclusion.
Car safety
As you would expect from a car in this class, Honda has all the bases covered with its CR-V. Along with all the airbags and electronic stability aids, the CR-V comes with all-wheel drive, which springs into action when it detects a loss of grip. Great for traditional off-roading duties, it could also prove useful on slippery winter roads where the combination of fuel spills, wet leaves and potholes could otherwise cause a problem.
Driver appeal
With a distinct bias towards on-road running, the CR-V delivers a strong performance. The car's slightly firm ride helps reduce body roll to family hatch levels, while overall agility and refinement is first rate. The revised diesel option performs well and is the pick of the range, although the auto gearbox isn't the most responsive in this class.
Family car appeal
Offering a similar set of features as a conventional family hatch, the CR-V is an ideal alternative. Even if you don't subscribe to the 'active' stereotype, the CR-V is a great all-rounder. There's plenty of space for a growing family and the car's all-wheel drive potential gives it an edge of the likes of Ford's Focus. If you are an active type the leather upholstery won't be the most practical option, though.
First car appeal
An easy car to drive, the CR-V should prove straightforward for the novice driver. All the controls are light yet accurate, and the lofty seating position should help with forward visibility.
Quality and image
There's no question that Honda has done well to cultivate a high quality image in recent years. All its cars – large or small – ooze quality and it's this attribute along with the brand's reputation for reliability that buyers are understandably drawn to.
Accessibility
As with any SUV of a reasonable size, you will need to set up into it. The CR-V is no Range Rover, which should make the action a breeze for all but the least able. At the rear the car's tailgate opens up with little effort, and the same is true when it comes to closing it. Reaching the depths of its deep boot will need the services of someone with long arms, though.
Stereo and ICE (In car entertainment)
Typical of Honda's logical approach to everything, the CR-V's audio offering is easy to operate and performs well. The sound quality is good and easily drowns out any background noise. Upgrades include Bluetooth for connecting a mobile phone and a fully functional sat-nav system; its big touchscreen making light work of inputing destinations.
Colours and trim
Styled to fit the traditional mid-size SUV template, with its chunky appearance, the CR-V is best complimented by solid, bold colours. Inside, dark materials dominate, which means the perceived quality levels are high but the ambience can be a little underwhelming.
Parking
Where fitted the car's parking sensors make a big difference as it's sometimes tricky to see out when reverse parking. In conjunction with the sat-nav option, the rear-facing camera is a welcome bonus. Elsewhere the car's lofty driving position helps with forward visibility.
Spare wheel
A space saver wheel is included as standard.
Range information
Petrol engine options – 2.0-litre (148bhp) petrol. Diesel engine options – 2.2-litre i-DTEC (148bhp). Transmission options: six-speed manual or optional five-speed automatic gearbox. Trim levels: SE, SE-T, EX.
---
Alternative cars
Land Rover Freelander The brand leader in image terms and exceptionally capable
Toyota Rav4 Similar in many ways to the Honda but a little more capable off road
Nissan X-Trail Better suited to off-road trails than CR-V but lacks the Honda's on-road polish
Kia Sorento Good value all-rounder much improved thanks to thorough re-engineering