Honda CR-V 2.2 i-CDTi Sport
one of the best diesels on the market
January 2005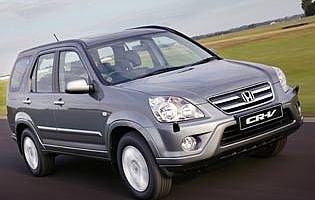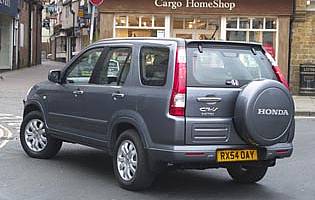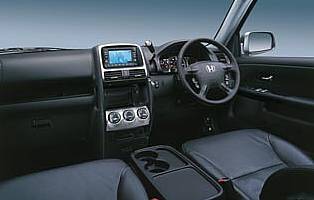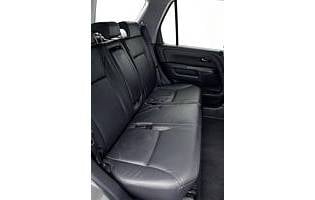 Overall rating

Likes:
2.2-litre i-CDTi is one of the best oil-burners on the market
Elevated driving position inspires confidence in traffic
Light controls make the CR-V easy to manoeuvre around town
Spacious interior is ideally equipped for the rigours of family motoring
Gripes:
Some interior plastics are a little too black and shiny
Taller passengers will suffer in the back on longer journeys
Off-road ability is limited at best
Four-wheel drive system cuts in too frequently
Love them or loathe them, the Sports Utility Vehicle (SUV) is now a permanent part of the UK's motoring landscape. At the business end of this burgeoning market is Honda's CR-V, which now features a diesel engine.
All too often when manufacturers try to make a car perform too many different tricks the result is product that under performs in every way. Conscious of this, Honda refrained from giving its CR-V SUV any full-on mud plugging ability, opting instead to focus attention on making the on road experience a refined and competent one.
The result is a vehicle that offers the elevated driving position and reassurance of a 4X4 but none of the poor road manners associated with the breed.
Honda's Compact Recreational Vehicle (CR-V) comes with either a 2.0-litre petrol or a 2.2-litre diesel and is pitched against the likes of the Toyota RAV4, Nissan X-Trail, Land Rover Freelander and Kia Sorento. It compares favourably to all its counterparts thanks to Japanese firm's fabled build quality and attention to detail.
Diesel SUVs with manual transmission are becoming evermore popular with UK buyers and now that the CR-V features Honda's much touted i-CDTi oil burning powerplant, Honda looks set to take a large chunk of the business in this sector.
Our verdict on the Honda CR-V 2.2 i-CDTi Sport
Honda's CR-V has been crying out for a diesel powerplant and they don't come much better than the i-CDTi. This British-built urban SUV focuses all of its attention on the road, without paying any lip service to mud plugging and its ride quality benefits as a result.
---
Costs

The CR-V isn't cheap but it does represent good value for money and with Honda's dedication to maintaining residual values, you shouldn't lose too much when it comes to trade in. Insurance premiums won't be too painful for older drivers and decent fuel economy across the range (particularly in the diesel) will save on fuel bills.
Space and practicality

There's a handy little tray between the two front seats that is ideal for the stowing of keys and sweeties. A cool box is located under the stereo unit; it's small but a good idea nevertheless. The boot has more than enough room for the needs of most people (628 litres to the bottom of the windows). Four large adults will fit comfortably with legroom in no short supply. Headroom is a little less generous however.
Controls and display

Honda controls are never over the top stylistically, but they're always nicely designed and easy to read. The backlit dials that illuminate as soon as you open the door are a nice touch and won't strain the eyes whilst driving at night. The stereo and air con controls are also clear, concise and easy to use. The chunky paddles and dials all feel connected and well made.
Comfort

Cabin comfort levels are high with all aural intrusions well suppressed. There is a little wind noise created by the upright windscreen and the now standard 16-inch alloys do generate a little tyre rumble, but on the whole things are very civilised. The seats are comfortable and supportive in the front and only slightly less so in the back.
Car security

An alarm, immobiliser and deadlocks should keep the CR-V safe from the undesirables. As is the way with the vast majority of modern cars, the Honda features a fully integrated stereo system that would be extremely hard, if not impossible, to pilfer.
Car safety

ABS, EBD, Brake Assist, dual front and side airbags, curtain bags on Sport and Executive models, vehicle stability assist and Isofix child seat anchors should keep those on the inside safe in the event of a mishap. However, the CR-V is also quite a safe car for those on the outside, too. It received three NCAP stars for pedestrian safety.
Driver appeal

The CR-V has been designed with the sole purpose of offering a comfortable, assured on-road ride. Mud plugging was never on the cards. This single-track mindedness has made all the difference as the SUV's ability is in no way compromised. Diesel powered models feature plenty of torque right across their short rev range. Unlike in many oil burners, there are no wasted revs at the top end where performance gains are minimal and noise is abundant.
Family car appeal

There is more than enough room in the CR-V to accommodate a family and all its various accoutrements. The rear bench is the perfect size for three kiddies and the boot is large enough for shopping bags or whatever. A good showing in the Euro NCAP crash tests should reassure those with precious bundles that it is indeed a safe car.
First car appeal

Realistically, the CR-V is too big and expensive for it to make a sensible first car. Younger motorists would be better off with either a Jazz or a Civic in terms of running costs and insurance premiums.
Quality and image

Hondas are second to none in terms of quality and reliability. From the humble Jazz all the way up to the NSX performance car, the Japanese firm's products ooze quality and attention to detail. The Compact Recreational Vehicle (CR-V) is no exception. Image, however, is a slightly different story. The Honda badge doesn't really do it for many European motorists who prefer to buy cars that 'say' something about them.
Accessibility

It's not much of a step up, but it will be enough to cause the less limber some problems. Door apertures are more than wide enough to make access and egress straightforward. Boot access is also simple thanks to a wide opening tailgate and low floor level.
Stereo and ICE (In car entertainment)
SE and Sport models get an RDS stereo and CD player with Executive models benefiting from the standard fitment of satellite navigation. The sound quality is good and easily drowns out any background noise. The base model comes with air con, while more expensive cars get climate control.
Colours and trim
The CR-V's chunky haunches are best complimented by solid colours such as 'Milano Red', 'Night Hawk Black' or the inspirationally named 'Eternal Blue'. Fabric trims in SE and Sport models are invariably black and a shade oppressive. Executive trimmed cars are available with Titanium (beige) leather seats, which are lighter and create a more airy feel.
Parking
Parking sensor are an optional extra across the range and those buyers who are a little timid when it comes to parallel parking who do well to tick that particular box. The CR-V does offer an elevated driving position and plenty of glass, but it is longer than the average car (particularly with the spare wheel mounted on the tailgate).
Spare wheel
A full size spare wheel is fitted to the tailgate.
Range information
Two engine options – 2.0-litre (148bhp) petrol and 2.2-litre (138bhp) diesel. Former fitted with either a five-speed manual gearbox or four-speed automatic; latter with six-speed manual gearbox. Trim designators are SE (base), Sport and Executive.
---
Alternative cars
Land Rover Freelander British badge cuts a dash. Hefty asking price
Toyota Rav4 Main rival has similarly light controls and urban outlook
Nissan X-Trail Rugged looks ape off-road ability
Kia Sorento Good value for money and all round ability