May 2015
Ford S-MAX 2.0 TDCi 150 Titanium
The new global Ford grille style dominates the front end
May 2015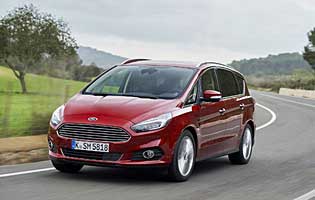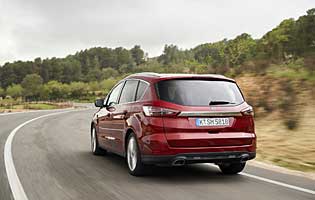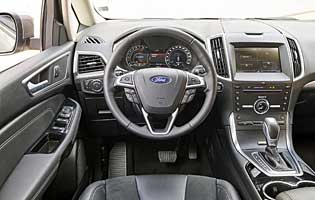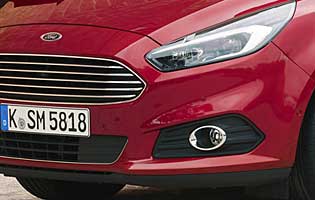 Overall rating

Likes:
Stable and settled ride quality
Desirable styling is a departure from the dull MPV norm
Surprisingly engaging to drive for its size
Broad, comfortable front seats
Gripes:
Crowded dials are hard to read at a glance
Voice command system not as intuitive as it could be
Third seat row is cramped
Little luggage space when rear seats are in place
The S-MAX is the smaller of Ford's two seven-seaters, maintaining a grip not just on its ability to carry three rows of people but also on its driving engagement; something its larger Galaxy stablemate largely doesn't. The rearmost seats may be for occasional use only, but the driver will be happier more of the time.
To match this sporty image the S-MAX has traditionally been available with powerful petrol engines, but few of these actually sell. Ford's diesel engines have always been strong performers, though, and make better powerplants for such an obviously family-biased car.
This all-new model seems to keep its recognisable shape and silhouette, but in fact the bonnet is longer to meet stringent crash safety regulations. As a car marketed towards parents, pedestrian and child occupant safety has been judged to be of paramount importance.
Comfort has also been prioritised for a car that in recent years has suffered a slight sales dip in the face of SUV-shaped opposition riding on a wave of popular favour. The front seats are broad and well-padded, with either the presence or options of heating and cooling, according to specification.
The S-MAX has always been styled with sharp lines that disguise its true size. This version continues the trend, only revealing its true dimensions on narrow roads or in car parks. It does, however, sit in the marketplace in a fairly unusual position, being able to transport seven, or five plus lots of holiday luggage, while also giving the driver something to smile about.
Our verdict on the Ford S-MAX 2.0 TDCi 150 Titanium
If the size of the S-MAX isn't a problem, and it normally shouldn't be for those drivers who need three rows of seats, then it makes an impressive everyday car. Its myriad practical touches, confident ride quality and relatively good value for money against more expensive rivals mean that its success should continue as it has for a number of years. It even suits Ford's latest wide-mouthed family styling.
Costs
This is a very reasonably priced car when compared to other seven-seaters. The amount of equipment that is included for the price is impressive, too. A car of this size and weight inevitably falls down in terms of fuel economy, since it takes quite a hard press of the accelerator pedal to get the car up to speed with any vigour.
Space and practicality
Although not as spacious as the larger Galaxy, which is most obvious in the third row of seats and boot size, the S-MAX does still offer an impressive amount of room. It should be noted that with the rear seats in place there is precious little room left in the boot, but with five people on board the available luggage capacity is more than enough for large holiday cases.
Controls and display
Ford has fallen into the trap of trying to display too much information in too large a format all at once. As such the speed and rev counter dials have become difficult to read at a glance, since the sliver of blue digital needle that remains is a little lost, squeezed as it is between the outer dial, which is heavy with markings, and the inner displays for things like assist system statuses and trip computer readouts.
Comfort
Starting at the front row the news is excellent, with wide, comfortable seats that provide plenty of space to relax and stretch out. The middle row, which can be moved forwards and backwards on rails, can switch between the exceptionally spacious and the slightly cramped, depending on whether there are people in the back row and on how tall they are. In the pair of third row seats there is little legroom as the floor is higher than for other passengers, and it feels cramped for adults.
Car security
Keyless entry and ignition is standard, which means the key can stay in a bag or pocket at all times. The doors can be set up to open either all together upon the first press of the 'unlock' button, or in two stages with only the driver's door opening at first. There is a full-length luggage cover to keep items in the boot hidden, and several of the internal storage bins are covered.
Car safety
Safety has improved versus the last generation S-MAX thanks to the latest application of impact dispersal technologies. A longer bonnet helps to absorb more energy before it gets to the passenger cell, for example. Ford has also added every active safety system it could, like radar-based adaptive cruise control and automatic emergency braking, which activates if the driver doesn't respond to an impending crash. There is also a blind spot warning and a lane-keeping assist system.
Driver appeal
This is where the S-MAX stands out from its MPV rivals. There is a sense of connectedness between the steering wheel and the front tyres; a directness that is not replicated in competitor cars. The engine quickly reaches the limits of its performance potential and is best treated more gently, but the car's handling characteristics give it a more engaging drive than might be expected, or at least until its height and weight eventually overwhelm its poise.
Family car appeal
Any car with seven seats is clearly biased towards families, and there are many practical features on the S-MAX that add to its usefulness for parents. From the deep cupholders that keep even tall bottles steady, to the various storage compartments where loose items can be stored, the S-MAX is a versatile tool for everyday life with kids. The one factor that counts against it is size, which is a negative if a buyer isn't sure they will really need those extra two seats.
First car appeal
There is little chance that a newly qualified driver would have a need for a seven-seat car, and even an older driver who simply qualified later than most would be ill-advised to choose something this large as their own first vehicle. Not only that, but the array of technology in the S-MAX might easily confuse and overwhelm a new driver. Potential distractions like those here should not be encouraged for the inexperienced.
Quality and image
The cabin surfaces range from the excellent to the obviously price-focused, but importantly the whole feels quite cohesive. The chunky leather steering wheel helps to impart a sense of quality. The S-MAX is perhaps the only MPV that escapes the category's negative connotations of dull styling and driving dynamics, which helps to boost its image.
Accessibility
Getting in and out is no problem whatsoever, asking little in the way of bent knees or strained thigh muscles. The seats are placed at a convenient height for most people to simply turn and drop on to. The problems with accessibility can come in bay-type car park spaces, where the resting positions in the doors' arcs can be so far out into the doors' travel that they would hit other cars. As a result, doors often have to be held steady while people get in and out.
Stereo and ICE (In car entertainment)
Ford has installed its latest touch-screen infotainment system, through which the stereo functions can be accessed. Bluetooth is the chief method of music playback device connection that the company aims to provide for, but there are also ports for USB and AUX inputs as well as DAB radio compatibility. The stereo can be upgraded to an excellent Sony system engineered specifically for this car from an early design stage.
Colours and trim
There are various shades of grey, silver and black with a pair of dark blues, one of which is the standard free choice, and a dark red. Dark colours help to slim the car's size down and add a premium look, so buyers would be wise to avoid white and silver. On the inside the trim feels expensive, although the plasticky centre console doesn't match the standards set elsewhere.
Parking
Parking sensors are standard, while on the open road the S-MAX seems to shrink a little, but in car parks the opposite happens. Its width is revealed and suddenly it can be difficult to find spaces large enough to park in while also being able to get the doors open without hitting neighbouring cars. There is a standard automatic parking system that will offer precise control instructions and take care of the steering.
Spare wheel
Space saver spare wheel supplied as standard.
Range information
Petrol engine options - 1.5-litre (158bhp); 2.0-litre (237bhp). Diesel engine options - 2.0-litre (118bhp, 148bhp, 177bhp, 207bhp). Transmission options: six-speed manual gearbox and six-speed automatic (all engines except 158bhp petrol and 118bhp diesel). Trim levels: Zetec, Titanium, Titanium Sport.
Alternative cars
Hyundai Sante Fe High build quality, good warranty and excellent refinement
Citroen C4 Grand Picasso Excellent all-round family car and multiple award-winner
Seat Alhambra Large, comfortable and great value
Land Rover Discovery Sport Off-road capable seven-seater impresses in every way