Ford Ranger 2.2 XLT Double Cab review
A polished and capable pick-up to rival the best
Mar 2012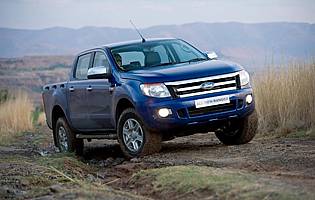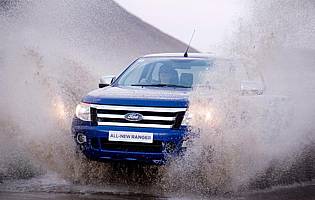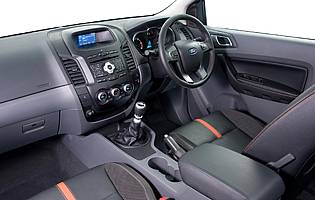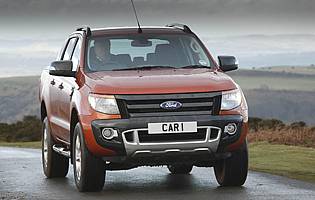 Overall rating

Likes:
Bold new exterior look moves Ranger out of the design doldrums
Supple ride makes urban motoring comfortable and stress-free
Spacious and versatile load bed is a big plus
Promised modest running costs should boost appeal in the commercial sector
Gripes:
Large tailgate needs space before it can be opened fully
Brash looks of flagship Wildtrak model won't appeal to everyone
A tricky vehicle to access and egress from if you're not terribly agile
You'll need to purchase a load bed cover if you're concerned about vehicle and load security
For a long time Ford's Ranger was little more than a worthy but not terribly exciting pick-up. It performed adequately but was routinely overtaken by more polished and driver-friendly machinery. With this Ranger the situation has been reversed, as Ford seeks to aim its sights at the likes of Toyota's popular Hilux.
At first glance it's obvious that the design of this Ranger has been influenced by Ford's American pick-up range. The Ranger's bold design easily sets it apart from the crowd - and that's before you cast your eyes on the extrovert Wildtrak flagship model.
There's more to the ranger than just its looks, however. This all-new version offers owners a more refined and car-like driving experience, which should help boost appeal and reduce fatigue. Performance through the corners is first rate, and a long way from the old model's primitive character.
There's also a revamped diesel engine pairing to choose from, with savings promised in terms of fuel economy and emissions. The transmissions - six-speed manual and automatic - deliver a slick and predictable performance, and the Ranger's cabin has clearly been influenced by Ford's Fiesta and Focus road cars.
The various improvements do much to reinforce this Ranger's position as a pick-up to rival the much-admired Toyota Hilux, a vehicle long viewed as the dynamic benchmark in this sector. Commercial buyers will like the Ranger's no-nonsense pricing strategy and practicality, while lifestyle users should find the pick-up's user friendliness, towing and off-road abilities attractive.
Our verdict on the Ford Ranger 2.2 XLT Double Cab
In a dramatic change of form, Ford's Ranger can be viewed as a polished and capable pick-up to rival the best in this competitive sector. This radical overhaul is a welcome one, and ensures that the vehicle can at last be chosen on merit as well as running costs.
Costs
Ford has boasted of modest running costs for this Ranger, thank in part to its diesel engine offerings. The ability to switch the Ranger's all-wheel drive system on and off should also help on long, road-based journeys. Furthermore, a generous level of standard kit reduces temptation to dip into the list of cost options.
Space and practicality
Predictably, for many the Ranger's rear load bay will be the focus of attention. Simply put, it's big enough to accommodate most things – be they tools of the trade or items of leisure kit. Access is via a drop down tailgate, and to reach the furthermost corners you'll have to clamber in yourself. Lashing points exist to help secure loads, and there's no shortage of aftermarket vendors for hard tops and secure roller covers. Elsewhere, the Ranger's cabin is a good size, boasts enough storage spaces for a demanding family or tradesperson and big door bins for drinks, maps and tools.
Controls and display
Along with the Ranger's car-like driving manners, its fascia layout and design is very similar to that of Ford's latest passenger cars. Both the audio controls and main instruments operate in a similar way to the firm's Fiesta and Focus, which is a good thing. Furthermore, the Ranger's manual gearshift is light and accurate – a world away from the stereotypical vague action of older commercial vehicles.
Comfort
In double cab format, once inside the Ranger's cabin you're faced with a spacious interior. Up front, head, leg and elbowroom are all above par while rear seat passengers gain some useful legroom over the previous model. On the move the Ranger is a refined beast, with road and tyre noise kept to a pleasing minimum.
Car security
Pick-ups possess one obvious flaw in that their load areas are on public view. Like its rivals, this can be resolved with the Ranger thanks to the wide choice of aftermarket covers or hard-top accessories – you'll pay extra for the privilege, obviously. In the cabin, covered storage areas help keep temptation at bay from prying eyes.
Car safety
Commercial vehicles are often viewed as the poor relation to cars when it comes to safety kit. The Ranger attempts to close this gap with a reassuring number of airbags and a well thought out package of electronic traction and stability aids. Reinforcing this situation is the pick-up's switchable all-wheel drive system, which offers plenty of traction when you need it for, say, site visits or family excursions off the beaten track.
Driver appeal
A criticism of older Rangers was that they were never that great to drive. Ford has recognized this and made a considerable effort to improve matters. As such, this Ranger is surprisingly car-like from the driver's seat. The various controls require little effort to operate, while the pick-up's ride is supple and controlled – even through a series of challenging bends. The diesel engines are refined units and pull strongly, while off-road performance is a match for most conventional 4x4s.
Family car appeal
In double cab form the Ranger would make a reasonably versatile family vehicle. It doesn't have the security of a conventional boot though, which could pose problems on family outings and shopping trips. That aside, as a recreational vehicle it makes a lot of sense. Bulky kit can be loaded in the back and it' could also double as a capable tow car. It's 4x4 system is, obviously, another plus point.
First car appeal
In the context of 'your first pick-up' the Range is a surprisingly easy vehicle to drive and boasts car-like controls and manners. Only parking might pose a problem thanks to the vehicle's size, but familiarity with its dimensions should boost confidence over time.
Quality and image
Ford's image is a strong one in in the context of its commercial vehicle line-up. The Ranger's chunky appearance certainly testifies to that notion and the vehicle itself is a popular one around the world, mainly because it's tough, reliable and affordable.
Accessibility
As with any vehicle built for off-roading, you do have to climb up into the Ranger to access the cabin, therefore you do need to be agile as the distance from the ground is greater than with most lifestyle sports utility vehicles. At the rear, the vehicle's tailgate can be dropped down to access the load bay. And again, you'll need to be agile enough to clamber up into the load bay.
Stereo and ICE (In car entertainment)
The basic set-up is more than adequate for this type of vehicle - especially if it's going to be a workhorse first, runabout second. The basic unit is located usefully high in the Ranger's fascia for ease of use. Being a working vehicle, Bluetooth phone connectivity is a welcome inclusion.
Colours and trim
For many in the commercial sector a simple, flat colour will be chosen as the basis for adding a company logo or contact details, and in this context there's plenty of choice. For those buying the Ranger with one eye on its lifestyle qualities, brighter hues are available. Inside, durable-looking fabrics and plastics abound, making the leather option one for buyers seeking to make full use of the Ranger's rough and tough image.
Parking
Unlike a car, you do need to concentrate more when reverse parking the Ranger. The vehicle's long rear overhang will mean taking it easy at first. Thankfully the Ranger's steering is light at low speeds and its turning circle is a modest size. Where fitted, parking sensors and the useful reversing camera – located in the rear view mirror – make life easy and should avoid any costly exterior damage.
Spare wheel
Located under rear load bed.
Range information
Diesel engine options – 2.2-litre (125bhp, 150bhp); 3.2-litre (200bhp). Transmission options: six-speed manual gearbox, plus six-speed auto gearbox. Trim levels: XL, XLT, Limited, Wildtrak.