December 2015
Ford Mondeo Vignale 2.0 TDCi 190PS
Unique grille and additional chromework marks out the Vignale
December 2015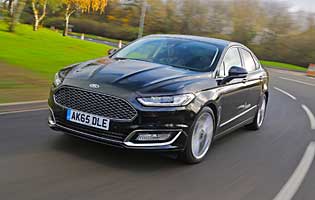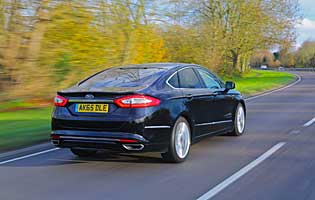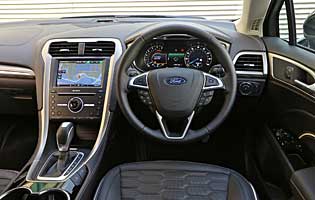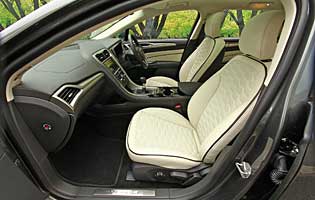 Overall rating

Likes:
Obvious quality improvements
Standard leather is appealing
Detail changes make the most of the exterior appearance
Driving experience is refined and composed
Gripes:
Focus on comfort over sportiness is at odds with many rivals
Standard Mondeo offers a very similar experience
Some trim elements are short of premium quality
Vignale tag may fail to gain traction in UK
The Mondeo is a crucial part of Ford's offerings in the UK and is guaranteed to find plenty of homes, even if sales in this sector have declined in recent years. However Ford is taking the step of offering a more premium version wearing the Vignale tag, with unique design elements, added quality and added dealer service.
The Mondeo and its predecessors have played a role that has hardly changed in decades, namely that of a functional, comfortable mid-sized car to suit families, business folk and everyone in between. In this way the Mondeo's place in the market has remained static too; mass-market rather than premium.
With the Mondeo Vignale, Ford is looking to push up to the premium brands - largely German marques - that command a premium price. Although the Vignale exists within the Mondeo price range and is not sold as a separate model there are a number of elements that distinguish the Vignale from the model upon which it based.
On the outside Vignale models are defined by a unique grille and alloy wheels, gloss-finished pillars, a smattering of Vignale badges and unique paint colours, all four of which get additional layers of gloss for a high standard of finish. All Vignale models receive this attention in a special area of the Valencia plant where they are built.
Inside the Vignale receives the highest standard specification of any Mondeo, as well as unique leather trim on the seats, dashboard and doors. It also comes with noise cancellation technology as standard, which Ford claims assists overall refinement. Vignale buyers get a dedicated service agent and extra benefits, including free delivery and collection for servicing.
Our verdict on the Ford Mondeo Vignale 2.0 TDCi 190PS
All of the core Mondeo attributes remain intact; it's good-looking in an understated way, unfussy yet pleasant to drive and offers a high level of refinement. Whether the Vignale offers enough over the nearest-priced regular Mondeo is debatable, although there are a number of additional features included. It is unlikely premium brand fans will consider the Vignale, but its increased quality and luxury may persuade Mondeo buyers to look to the top of the price lists.
Costs
The Vignale costs a sizeable premium over the next Mondeo in the range, although there is a significant increase in standard equipment to at least partially justify the extra expense. In respect of running costs it should cost nothing more than a regular Mondeo, with the added bonus of dedicated Vignale service agents.
Space and practicality
Occupants fore and aft should have no complaints, while the car's spacious boot boasts a modest load lip and rear seats that fold with little effort. Back in the cabin there's ample oddment storage space but some rivals have put more thought into design and execution.
Controls and display
The car's main dials are clear and easy to read but the central trip computer does take a little time to learn as there are more than a few pages of information available. The large colour touch-screen is a big improvement and proves to be an intuitive interface for the audio and navigation functions. The Mondeo's minor switchgear is located where you'd expect it but some drivers might be put off by the number of buttons on the steering wheel.
Comfort
The key factor in the Vignale's comfort is the active noise cancelling system, which uses microphones to monitor the incoming noise and emits an identical noise in the opposite phase through the speakers. It's a complex system but works well, giving the Vignale a hushed cabin that's on a par with premium rivals. Ride comfort is impressive too, while the seats are comfortable, if set a little high in the cabin.
Car security
All of the usual security features are in place, from remote central locking to a comprehensive immobiliser and alarm system. For added convenience, a 'keyless-go' system is available, which allows you to keep the key in your pocket at all times. The Mondeo also features covered storage inside the cabin and the boot contents remain concealed thanks to the hatchback's sturdy load cover.
Car safety
Alongside the expected array of airbags and basic electronic stability systems, Ford makes available a considerable number of intelligent systems such as active braking and intelligent cruise control, high power headlights a blind spot warning system. You'll need to pay extra for some features, which might be frustrating if you're on a budget or choosing a company car.
Driver appeal
The Mondeo Vignale is designed to offer a more luxurious experience and so it should come as no surprise that it is more comfort-oriented compared to the standard car. That said it still offers the engagement and accuracy that Ford's products have become renowned for, although it could never be described as sporty. The Duratec diesel engine provides generous performance with good refinement.
Family car appeal
The Mondeo Vignale is certainly spacious enough to accommodate a family, with generous space in the rear for car seats and also in the boot for buggies and pushchairs. The full leather interior is a plus in one respect as it tends to be more resistance to abuse than cloth, but the intricate patterns in the leather seats means lots of stitching which easily traps debris and makes mess harder to clean.
First car appeal
A standard Mondeo might appeal to a select few new drivers but it is unlikely this top spec Vignale version will hold any attraction. It's inflated price will also count against take-up from the newly-qualified.
Quality and image
Fords in general have seen a gradual increase in quality over the years, but the Vignale is positioned a step above its conventional stablemates. Although there is a clear improvement, it is debatable whether it is close enough to premium rivals from other brands. The Mondeo's image is firmly rooted in the humble origins of the standard version, and it remains to be seen if the Vignale can rise above this.
Accessibility
As with the standard version the Mondeo Vignale is usefully practical particularly in hatchback guise. The doors are long enough to provide significant apertures to allow easy ingress and egress, and the large hatch tailgate requires minimal effort to operate.
Stereo and ICE (In car entertainment)
As standard the Vignale gets the most sophisticated Ford infotainment system available, including the Sync2 system, DAB and voice recognition. The system uses a split screen which gives the user access to the four major functions at once, although at first this can be a little confusing.
Colours and trim
As a part of distinguishing the Vignale from the regular Mondeo it is available in just four colours; black, silver, white and a metallic brown. Combined with the unique alloy wheels and additional details they do add a little class to the exterior, although white is arguably the more common of the options. Inside the additional leather trim with its own design definitely adds to the upmarket feeling.
Parking
The Mondeo, even in five-door hatchback form, isn't a small car but it boasts plenty of steering assistance and good levels of all-round visibility. Parking sensors and a reversing camera are standard which is a big help, while the optional parking assistance system, the car will not only parallel park automatically but also slot into 90 degree spaces and extract itself from a space.
Spare wheel
Emergency tyre repair kit supplied as standard.
Range information
Petrol engine options - 1.0-litre (123bhp); 1.5-litre (158bhp); 2.0-litre (237bhp); petrol-electric hybrid (184bhp). Diesel engine options - 1.5-litre (118bhp); 2.0-litre (148bhp, 178bhp, 207bhp). Transmission options: six-speed manual gearbox plus six-speed auto gearbox. Trim levels: Style, Zetec, Titanium, Titanium X, Vignale.
Alternative cars
BMW 3 Series The car to beat, although more expensive and less spacious than Vignale
Audi A4 All-new model is supremely refined and comfortable, high-tech too
Lexus IS Again not as spacious as Mondeo but a high quality product
Vauxhall Insignia No high luxury trim equivalent but for many the Vignale's most obvious rival