December 2004
Ford Mondeo ST TDCi hatchback
Ford's Mondeo is one of the most common sights on UK roads
December 2004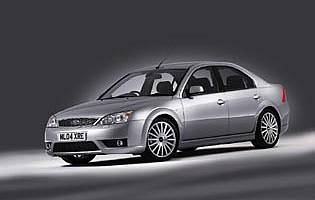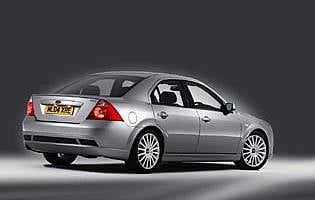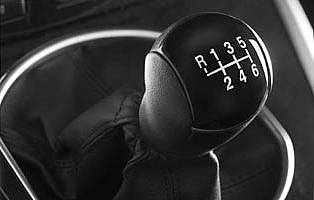 Overall rating

Likes:
Spacious and well-appointed interior is a pleasant place to be
Ride quality and handling belie the Mondeo's humble list price
Powerful ST diesel provides plenty of low down grunt
Affordable running costs and extensive dealership network
Gripes:
ST diesel power delivery is a little vicious and comes all at once
Predominantly black materials used in cabin are oppressive
Depreciation in large family car sector is traditionally steep
Popularity of model severally limits any chance of exclusivity
The Ford Mondeo: a car so popular they named a social demographic after it. Ever since its launch back in 1993 this family car has been one of Britain's most popular cars, particularly among the fleet buying community. The current model, launched in 2000 and revised in 2003, has continued this success for the Blue Oval.
For more than a decade the Ford Mondeo has been the default car for travelling salesmen and family buyers alike. It became such a common site on our roads that politicians even started using the car's name as a means of identifying the 'average guy'.
While this has been great news for Ford, it hasn't been quite so great for the other cars in this class, namely the Renault Laguna, Nissan Primera and Vauxhall Vectra. No matter how many improvements these other manufacturers make, no matter how attractive they make their vehicles, the Ford Mondeo keeps on knocking them down.
Like the Sierra before it, the Mondeo is etched in to the mindset of the British public. It's well made, cheap to run, easy to repair and there is a variant to suit every budget and need. Whether you're after an economical estate or a 200bhp hot hatch, there is a Mondeo out there for you.
Ford hasn't rested on its laurels, however, as the latest generation car is more attractive and better equipped than ever before. It also handles well; on the right road the Mondeo is actually capable of raising the odd smile.
Our verdict on the Ford Mondeo ST TDCi hatchback
Ford's Mondeo seems almost omnipresent on the UK's roads and with additions such as the ST TDCi powerplant, this trend is unlikely to be broken. This medium-sized family car is practical and also offers the keen driver a engaging drive.
Costs
Sadly for private buyers in the large family car segment, one of the biggest expenses to consider is that of depreciation. Cars like the Mondeo do tend to loose a lot of their value within the first couple of years of ownership. That said, many of the models in the line-up aren't overly expensive and insurance should be affordable for all but the performance (ST TDCi and ST220) models. Diesel versions return good levels of fuel economy, too.
Space and practicality
Several in-cabin stowage bins and a fairly large glove box add to the Mondeo's already good levels of practicality. A generously sized boot provides enough room for the transportation of a couple of large suitcases or a big trip to the local supermarket.
Controls and display
The main instrument binnacle is neatly laid out and uncluttered. All of the switchgear feels chunky and connected (well, if it's good enough for the Ford GT). While the cabin doesn't have a quality feel to it per say, it is well bolted together.
Comfort
Noise, vibration and harshness levels are generally well suppressed. There is a little clatter from the diesel engines at lower speeds, though. Performance models with their large, fat alloy wheels are also susceptible to a little tyre noise at motorway speeds. All of the seats are supportive and well bolstered and more than capable of fending off bouts of cramp on longer journeys.
Car security
All Mondeos benefit from an alarm and remote control central locking as standard. Other features, such as privacy glass are available as cost options, but in truth the Mondeo is hardly likely to be anywhere near the top of a thieves 'to steal' list.
Car safety
Twin front, side and curtain airbags come as standard, as does ABS. Traction control is a cost option on most options (standard on all 3.0-litre and ST vehicles). A trio of three-point fastening rear seatbelts will keep those in the back safe, too.
Driver appeal
While cars of this type aren't designed with driving appeal as an imperative, the Mondeo does offer up a responsive ride and capable handling. It is one of the more agile vehicles in its class. Performance orientated models such as the ST220 and ST TDCi are potent enough to raise a few smiles and their bodykits and alloy wheels certainly look the part.
Family car appeal
Those with a growing family may be better off with an estate version, as this will provide more room for stowage. However, the saloon and hatchback are also spacious enough to accommodate a trio of little terrors in the back. Isofix child seat anchors are also provided, which is important for those with infants.
First car appeal
Very few youngsters will chose a Mondeo for a first car unless it comes as part of a company car package. There are several vehicles in the Ford line-up that are better suited to the needs of the free and single, such as the Ka, Fiesta and Focus.
Quality and image
Ford's products of recent years have represented a significant move forward for the firm in terms of quality and durability. The Blue Oval has developed some excellent powerplants and classy interiors. However, all of this good work counts for nothing where image is concerned. For 100 years Ford has stood for affordability and has crafted itself a reputation for being the everyman of motordom. While this helps it to sell a shed load of cars, it won't have it challenging prestige brands like Audi or Volkswagen anytime soon.
Accessibility
Large door apertures front and rear afford all passengers easy, contortion-free access. Wide seat bases and cavernous footwells make it even easier to plonk yourself down in the front. Whether you go for a saloon or hatchback, the boot cavity is easy to access and is spacious in both instances. Obviously, the estate version offers the most user-friendly boot.
Stereo and ICE (In car entertainment)
Even the base LX model benefits from a single slot CD player. Models further up the range get a six-disc CD changer. A number of in-car entertainment features adorn the options list, including: sat nav, a DVD entertainment system and a built-in hands-free system.
Colours and trim
Darker interior trim can feel a little claustrophobic after a while. Lighter 'Camel' interior fabrics and leathers are available and these do lighten the mood somewhat. For the boyracer in you there is such a thing as an 'Infa Red' leather trim available as an option on performance ST220 models. Similarly, the 'Performance Blue' shade looks nice on the outside, but is also only available on ST TDCi and 220 models. 'Panther Black' and 'Magnum Grey' are available across the range and look particularly fetching.
Parking
Parking sensors are available as a stand-alone option or as part of the Zetec luxury and convenience packages. Silver trimmed vehicles are the only ones to get sensors as standard. However, not being particularly difficult to park, most buyers are likely to pocket the cash or use it to upgrade the stereo system.
Spare wheel
Space saver fitted as standard on all models.
Range information
Six engine options - 1.8-litre (123bhp) petrol; 2.0-litre (142bhp) petrol; 2.5-litre (168bhp) petrol and 3.0-litre (202bhp or 224bhp). Diesel options include - 2.0-litre (113bhp or 130bhp) and 2.2-litre (153bhp). 1.8-litre petrols are mated to a five-speed manual gearbox (1.8-litre SCi has a six-speed manual); 2.0-litre petrols come with either the same five-speed manual or an auto. 2.5-litre petrols come with either a six-speed 'box or an automatic; the largest 3.0-litre petrols come with a six-speed manual. 2.0-litre diesel models can be fitted with five or six-speed manuals or an auto box, while 2.2-litre diesels are only available with a six-speed manual transmission. Trim designators include: LX (base), Silver, Zetec, Zetec-S, Ghia, Ghia X, ST TDCi, ST220 and Titanium X.
Alternative cars
Vauxhall Vectra Griffin-badged rep mobile is seen by many as Mondeo's nemesis
Renault Laguna Stylish French offering is less avant-garde than its smaller siblings
Nissan Primera Japanese model is accomplished, if a little dull
Peugeot 407 The Pug with the big mouth leads the way in terms of style