Ford Mondeo Estate Titanium 2.0 TDCi PowerShift review
Plenty of room for passengers
July 2016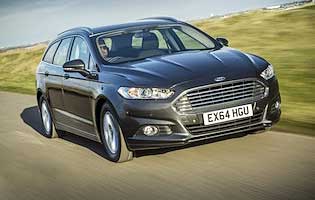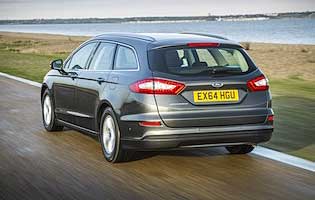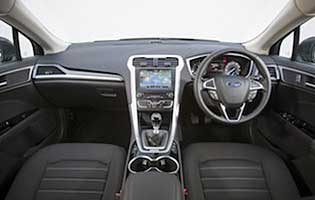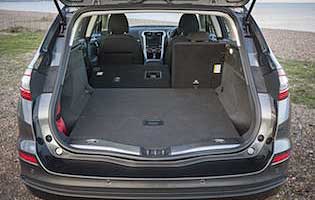 Overall rating

Likes:
Low boot lip aids access to spacious load bay
More comfortable than before
Both the manual and automatic gearboxes are excellent
Plenty of room for passengers
Gripes:
Large wheels look the part, but spoil the ride slightly
Some cabin plastics aren't as tactile as those found in rivals
Not quite the driver's car it once was
Steering wheel is a button-fest on high-spec cars
The new Mondeo is leaner, meaner and fitter than the four generations that preceded it, and this Estate version aims to put all those good things into a more practical package. On paper, at least, it could be all the car a family could ever wish for.
Throughout the 2000s and the first half of this decade, the Mondeo had built its reputation on being the driver's car of choice in the segment. When the fifth-generation Mondeo arrived at the beginning of 2015, though, it marked a complete change of approach for Ford when it came to large family cars.
Ford's masterplan was to stop building the best driver's car in the segment, and instead create a strong all-rounder with even stronger design. The finished product was a long time coming, having been on sale in the US for years before it arrived on British soil, but it was well worth the wait. The result of the shift in culture was a multi-talented car which rapidly joined the likes of the Volkswagen Passat at the top of its class. Not only was it more efficient and more technologically advanced than ever before, but it achieved its aim of being a more rounded drive.
This estate version has joined the Mondeo party with the sole aim of offering even more all-round capability. Though it may be aimed squarely at families, it is just as relevant to company car drivers in need of something large, roomy and comfortable
.
Our verdict on the Ford Mondeo Estate Titanium 2.0 TDCi PowerShift
With similar looks, similar driving dynamics and an even bigger boot, the Mondeo Estate simply builds on all that is good about the Mondeo hatchback by adding a healthy dose of practicality. It isn't particularly revolutionary, but it's a rounded, complete family wagon that will cope admirably with whatever you throw at it.
Costs
Running diesel Mondeos is unlikely to be a ruinous exercise, thanks to official economy figures in excess of 60mpg on the combined cycle. Okay, in the real world that might turn out to be more like 45mpg, but it's still a decent return for what is a big car. Buying one is likely to be equally reasonable, given the car's starting price of £22,945. It might sound like a lot to those who bought the last Mondeo, but the equivalent Volkswagen Passat is very slightly more expensive.
Space and practicality
Though the figures suggest otherwise, the Mondeo Estate is actually a far more practical machine than its hatchback sibling. The luggage bay itself is a more useful shape, and the low boot lip makes it easy to stack it with heavy objects. Further forward, there's bags of room for both front and rear passengers, while there's a range of cubbies and cupholders for stowing smaller items.
Controls and display
Generally speaking, the Mondeo's controls are intuitive and ergonomic, but the plethora of buttons on the steering wheel won't be to everyone's taste. The new eight-inch touchscreen is a vast improvement on the old 4.2-inch unit, and though sometimes the icons are a touch on the small side, it's a very competent piece of kit. It isn't a standard feature on lower-spec models though.
Comfort
The advantage of Ford blunting the Mondeo's handling slightly is ride comfort. On the standard 17-inch alloys of the mid-range, it's smooth, supple and an endearing cruiser, but the optional 19-inch wheels of the Titanium, however, add a slight edge to the bumps. Even on the larger rims, though, it settles down and you'll only spot the difference on really pockmarked roads.
Car security
All of the usual security features are in place, from remote central locking to a comprehensive immobiliser and alarm system. 'Keyless go' is also available, using a proximity sensor to unlock or start the car without you ever having to take the key from your pocket. You can leave belongings inside the car with relative confidence, too, as there's plenty of covered storage inside the cabin and the boot contents remain concealed thanks to the load cover.
Car safety
The Mondeo has a five-star Euro NCAP safety rating thanks to solid scores in terms of occupant protection for both adults and children. It managed decent pedestrian protection and safety assistance scores, too. Ford was also the first brand to bring in seatbelt airbags as an option. When specified, all three rear seatbelts come fitted with an airbag which will inflate in the event of an accident, protecting passengers from impacting the back of the front seats.
Driver appeal
The Mondeo always used to be the keen driver's weapon of choice in this competitive market, but Ford has chosen to blunt that edge slightly and focus on improving comfort. It has worked, and the Mondeo is a much suppler beast as a result. It still drives well though, with well weighted steering and a smooth gearbox allowing you to extract plenty of fun from a country road.
Family car appeal
Families are the Mondeo Estate's target market, and it has been pitched perfectly. Those going on holidays and weekend breaks won't find it short of space either in the cabin or in the boot, and the comfier ride of small-wheeled variants takes some of the stress out of long-distance touring. It'll take the school run in its stride, too, and the sharp looks mean it won't be outclassed when it pulls up outside the school gates.
First car appeal
There aren't going to be many first-time drivers who make a beeline for the Mondeo Estate – it just isn't the type of car the youth of today tend to be drawn to – but it wouldn't be a bad car to choose. It's easy to drive, and depending on which trim level you go for, you can specify plenty of safety kit. We'd recommend the reversing camera, because while visibility is fine, the Mondeo is still a pretty sizeable thing and parking spaces are sometimes a bit tight.
Quality and image
The Ford name is one of the most trusted in the industry, with its smaller hatchbacks topping the UK sales charts on a regular basis. It's a badge that won't look out of place no matter where you park it. For all that, though, the Mondeo lags slightly behind German rivals when it comes to build quality. It's well put together and most of the materials are of a high standard, but the odd area of cheaper plastic is a slight disappointment.
Accessibility
Getting in and out of the Mondeo is not a problem, thanks to generously sized doors and a sensible door sill height. Four-legged companions can come along for the ride too, thanks to a low boot lip and a flat boot floor, both of which make it a relatively easy hop for a medium-sized dog.
Stereo and ICE (In car entertainment)
If you go for the higher-spec cars, the Mondeo offers an infotainment system that's wholly competent, if not ground-breaking. It's an eight-inch touchscreen unit which provides satellite navigation, mobile phone pairing, audio entertainment and climate control. It's also equipped with a voice control system which is among the most accurate of any we've come across. Once you've learned how to navigate its menus and sub-menus, it becomes a really useful tool.
Colours and trim
It's nice to see Ford offer some real alternatives to the austere greys and blacks that often dominate the colour palettes of the Mondeo's German rivals. Instead, there's a gorgeous candy red and a stunning metallic blue, both of which really suit the car and are set off nicely by the chrome trim on the grille and roof bars.
Parking
The Mondeo is a surprisingly large car and the fact it feels quite wide on the road can make parking daunting. Fortunately, it's actually quite manoeuvrable, and the clarity of the reversing camera in all lights makes life far easier. If you don't fancy doing it yourself, however, the Mondeo can be bought with a self-parking programme, which can analyse a space to check the car will fit, then steer it in. All you have to look after are the gears and the pedals.
Spare wheel
Mini spare wheel supplied as standard.
Range information
Petrol engine options – 1.0-litre EcoBoost (123bhp); 1.5-litre EcoBoost (158bhp); 2.0-litre EcoBoost (237bhp). Diesel engine options – 1.5-litre (118bhp); 2.0-litre (148bhp, 178bhp, 207bhp). Transmission options: six-speed manual gearbox depending on model, plus six-speed automatic gearbox depending on model. Trim levels: Style, Zetec, Titanium, Titanium HEV.