January 2011
Ford Mondeo 2.2-litre Duratorq TDCi Titanium
Ford's Mondeo Estate has been refreshed inside and out
January 2011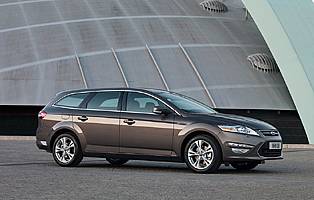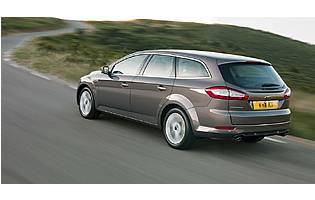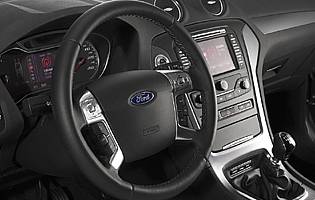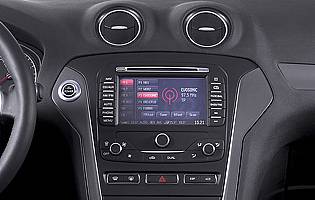 Overall rating

Likes:
Excellent dashboard display
Smooth and flexible diesel engine
Spacious and practical interior
Great ride and impressively agile for a big car
Gripes:
Centre console design is tidy but feels uninspired
Mondeo feels like a big car on the road and in traffic
Slightly heavy clutch for the manual diesel model
Exterior improvements are limited
There's no more stable a sight in the competitive UK D-segment than the Mondeo, but even this rep-car regular needs updating every now and again to stay on top of its game. The latest version boasts exterior revisions and the option of a re-engineered 2.2-litre diesel unit, offering greater power and efficiency.
The Ford Mondeo is one of the most instantly recognisable models on UK roads and its popularity refuses to wane thanks to a combination of style, practicality and renowned driving dynamics. The model range has been facelifted for 2011 with slight revisions to the exterior and interior design and changes to the engine line-up.
The saloon variant has now been dropped from the UK Mondeo range leaving the five-door hatchback and practical estate variants. The Mondeo Estate benefits from the same range of exterior and interior revisions and is also available with the uprated 2.0-litre, 237bhp EcoBoost petrol unit and the heavily revised 2.2-litre, 197bhp Duratorq diesel engine.
The most powerful version yet, the revised diesel unit uses new piezo injectors with eight smaller holes and a higher injection pressure of 1,800 bar, which improves fuel atomisation. The combustion-chamber bowl has also been redesigned for more efficient combustion and lower emissions and a new engine control offers more flexibility. The resulting lower CO2 emissions and fuel economy will appeal to the company car drivers who make up a vast percentage of Mondeo customers. Greater refinement also results.
Furthering the efficiency cause is a raft of new additions including an adjustable flap behind the front grille that improves aerodynamic efficiency when cooling is not required and standard energy recuperation through the drivetrain. Inside, lane departure warnings a Driver Alert system and Blind Spot Assist all make their debut.
Our verdict on the Ford Mondeo 2.2-litre Duratorq TDCi Titanium
Although the visual refinements to the Mondeo are subtle they are enough to bring the model in-line with constantly developing competitors in terms of a fresh feel and kerb appeal. The 2.2-litre Duratorq unit may not me as fuel efficient as the smaller diesels available within the range but the sacrifice in favour of greater performance is a success - with the 2.2-litre equipped model performing with enough vigour to appease demanding drivers.
Costs
Ford has driven down its actual purchase prices to make the Mondeo considerably more competitive on price, while generous specification for higher trim levels adds value. Models will need to be carefully spec'd to ensure a decent return in residual value but the more efficient engine options will drive down cost of ownership without having to sacrifice performance. The 2.2-litre Duratorq does an excellent job of combining performance with economy and additions such as the adaptive grille that can limit drag and save fuel when additional cooling is not required shows commitment on Ford's part to reducing running costs across the range.
Space and practicality
Storage options in the front are adequate with a very deep glovebox and room between the front seats for additional items but it's the Mondeo Estate's rear that will prove most appealing to buyers seeking practicality. Large and easily accessed, the standard boot space is impressive. Folding the rear seats flat offers up mini-van levels of load carrying ability. The rear bench could cope with three adults over longer journeys, too.
Controls and display
A simplified centre console design is neat and intuitive and the main switchgear all feels sturdy and slickly engineered. The main instrument cluster is now dominated by an excellent colour display that offers a wide range of pictorial and text information in an easy to read and pleasant to view format. The revised model's controls and displays are a real triumph and the pleasant experience from the driver's set could prove a key factor in such a competitive market.
Comfort
Excellent ride quality is a Mondeo hallmark and remains in the revised 2.2-litre diesel model. Road and engine noise remain at very low levels on the road, although the diesel unit is naturally a little louder than a petrol equivalent when cold. Climate control and electric windows are expected of a car in this segment and a spacious interior with quality materials and finish is the icing on the cake.
Car security
All of the usual security features are in place, from remote central locking to an advanced alarm system. For added convenience, a 'keyless-go' system is available. The Mondeo also contains plenty of covered storage inside the cabin and the boot contents can be concealed using the chunky roller cover.
Car safety
Adding to the built in crash safety cell, full array of airbags and ESP systems comes a raft of intelligent tech designed to make the Mondeo a safer car on the road. A lane departure warning system vibrates the wheel to alert drivers to a drifting situation, a Driver Alert system warns drivers when they are letting their attention slide by monitoring the vehicles behaviour and Blind Spot Assist proves highly effective at alerting to the presence of vehicles within the immediate vicinity. The Mondeo can even dim its own headlamps to prevent blinding oncoming traffic.
Driver appeal
For some time the Mondeo has been noted for its excellent driving dynamics and handling, and little has changed in this regard with the facelifted version. The more powerful 2.2-litre Duratorq unit is better able to exploit the model's impressive chassis than previous diesel versions and proves no slouch, as well as offering an impressive level of agility. The flexibility of the unit reduces the need for gear changing and the six-speed transmission is ideally suited to motorway cruising. Speed sensitive steering is excellent and fluid in its adaptability. A slightly heavy clutch is the only negative aspect.
Family car appeal
Ford offers an excellent range of MPVs, but the Mondeo Estate is perfectly capable of serving as a dual purpose family and business car. The rear will easily accommodate three growing children and the boot is comfortably large enough for pushchairs and the like. Safety is also well catered for, offering peace of mind for parents.
First car appeal
It's unlikely that the Mondeo will appeal to the first time driver. It's a big car, by novice standards, and will most likely prove beyond most first time car buyers' budgets.
Quality and image
Ford continues to be associated with mainstream, volume products, but the rapidly improving quality and upmarket appeal of its products has furthered its cause recently. The improvements to the Mondeo make it feel like an even more quality product and, although the badge remains less desirable than some of the traditional and mostly German premium manufacturers, the Mondeo's quality in terms of build and ability rivals the best.
Accessibility
The Mondeo Estate is a very practical and versatile car. A large tailgate offers good access to the well proportioned boot and, unlike some more curvaceous rivals, the roofline remains level towards the back meaning there's no need to stoop on entry to the rear. The rear doors are of a particularly decent size, too.
Stereo and ICE (In car entertainment)
Ford's premium sound system offers excellent sound quality through a 265-watt, eight-channel, ten-speaker configuration, plus a 17-litre boot located subwoofer. Naturally for a car competing in the business sector, Bluetooth and sat-nav are available or present depending on trim level choice, and the Titanium model boasts a healthy array of toys to make life on the road easier and more efficient.
Colours and trim
The Mondeo's exterior has seen revisions to the grille and lights in both hatchback and estate form, with the running lamps incorporated into the fog light units among the biggest changes. The estate version arguably carries the lighter shades with more success than the five-door. Inside, the black satin effect centre console is among the revisions - it's subjective whether it's an improved design but it certainly looks and feels upmarket. LED lighting adds a premium ambience and part Alcantara interiors are very welcoming.
Parking
In estate form there's no getting away from the fact that the Mondeo is a big car with dimensions that require a degree of experience to handle in tight parking situations, but speed dependent steering weight and decent visibility ease the burden. A rear view camera is now available with a clear picture displayed on the central screen. The clutch for the six-speed manual 2.2-litre diesel is a sturdy affair, however, and requires a little effort in low speed traffic or when parking.
Spare wheel
Space saver fitted as standard.
Range information
Petrol engine options - 1.6-litre (118bhp); 2.0-litre (143bhp); 2.0-litre (200bhp); 2.0-litre (237bhp). Diesel engine options - 2.2-litre (197bhp); 2.0-litre (161bhp); 2.0-litre (138bhp); 2.0-litre (113bhp). Transmission options: five-speed manual gearbox, six-speed manual gearbox, six-speed PowerShift twin-clutch automatic gearbox.
Alternative cars
BMW 3 Series Touring Benchmark for handling and dynamics but more expensive
Volkswagen Passat Estate Plain styling but supremely efficient
Honda Accord Tourer Stylish and well equipped but less impressive on the road
Vauxhall Insignia Sports Tourer Excellent engine range but less accommodating boot