July 2007
Ford Mondeo 2.0 TDCi (140ps) Titanium X Estate
High specification Titanium-badged Mondeo boasts a distinctive chrome grille
July 2007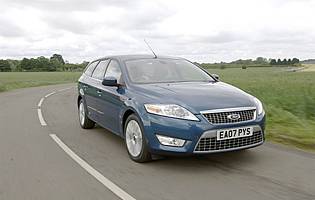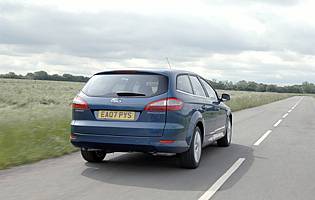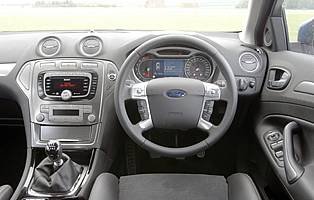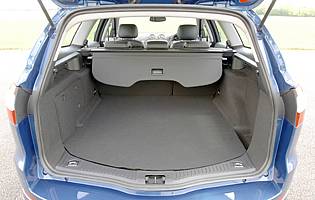 Overall rating

Likes:
Attractive exterior styling
Keen drivers will like the way the Mondeo drives
Solid and impressive engine line-up
Thoughtful selection of standard and optional equipment available
Gripes:
Despite the improved image, the Ford badge lacks the appeal of a BMW or Mercedes badge
2.0-litre diesel is smooth and refined but lacks a little punch
The move upmarket includes some unconvincing cabin wood trim
Manual gearshift on petrol cars could feel a bit more positive
With sales of compact executive cars from the likes of BMW, Honda, Audi and Mercedes on the rise and those of traditional mid-size cars on the decline, Ford took the brave decision to take its Mondeo upmarket. Essentially the move puts the car in line with other lower cost premium executive cars such as Honda's Accord, but the Mondeo offers a wider selection of equipment, engines and bodystyles.
The compact premium sector is a fiercely competitive one, but the focus is mainly on the traditional saloon bodystyle. Some premium estates have become popular, and it's this format - along with the five-door hatch - that Ford hopes will help its Mondeo stand out from the crowd.
Ford's decision to pitch this generation at the class above is a brave one, but a necessary act. With traditional mid-size cars on the decline thanks to the increasing popularity of more prestigious alternatives, it was felt that it was better to join such rivals than gamely soldier on.
The end result is a car that builds on past Mondeo successes - driving talent, exterior design - and adds a considerable dose of luxury to the mix. The fact that there's also a 1,733-litre loadspace and a price tag more in keeping with high-spec versions of the old car should have the people wavering between premium and traditional car buying options getting off the fence.
And for some it's the estate variant that's more attractive. Surprisingly, not all premium car makers offer one, and some that do produce cars with barely more carrying capacity than a mid-size hatchback. All of which makes the Mondeo estate something of a welcome all-rounder.
Our verdict on the Ford Mondeo 2.0 TDCi (140ps) Titanium X Estate
In isolation, Ford's Mondeo estate is a thoroughly competent car. It drives well, is generously equipped with comfort and safety kit and boasts a wide range of engines and transmissions. The acid test comes when the car is placed among its newfound premium peers. For all the baggage the Blue Oval comes with, the Mondeo is perfectly capable of matching - and often exceeding - the performance of many rivals. Time will tell if the Ford brand can be elevated to the same status as this Mondeo.
Costs
This Mondeo might now be rubbing shoulders with Hondas and Audis, but company bosses claim it will still only cost Ford money to maintain. Boasting generous service intervals and proven mechanicals, there are no unwelcome surprises here. Predictably, opting for diesel power will further reduce your bills - directly through fuel charges and indirectly through CO2-related taxes.
Space and practicality
It should comes as no surprise to learn that the car's cabin is a little bigger than before. It's a common trend these days, but at least in the Mondeo you can actually feel the difference. Elsewhere, save for the usual and expected storage spaces dotted around the Mondeo's cabin, the focus is inevitably going to be on its loadspace. The car's tailgate rises to reveal a wide floor and a usefully low load lip. With the split-fold rear seats in place, total volume is 542 litres, while folding the seats forwards increases the space available to a useful 1,733 litres.
Controls and display
Look past the impressive upmarket cabin ambience and Ford's long-held ability to make solid, dependable switchgear shines through. The column stalks are intuitive and slick, while the minor switchgear is sensibly located. The audio and ventilation controls are straightforward and not located too far down the fascia. Finally, the main dials are clear and easy to read. In high-spec models, a useful graphical display between the dials shows the trip computer, audio status and other important information.
Comfort
With Ford's desire to elevate the Mondeo to a more desirable status has come a welcome improvement in comfort. Road and engine noise is at very low levels during normal driving, and the car's seats prove to be extremely supportive. Even in the back, head and legroom should prove to be more than adequate for most adult passengers.
Car security
As the Mondeo moves up in status, so does its value. However, all the usual features are in place, from remote central locking to a n advanced alarm system. For added convenience, a 'keyless-go' system where you can leave the key in your pocket and press a button to start the car is available.
Car safety
It is a cliche but this Mondeo was built very much with safety in mind. You might associate Volvo or Mercedes more with such activities, but through the help of the former, Ford has equipped the Mondeo to a very high standard. Airbags and electronic aids are plentiful in every Mondeo, making it an exceptionally safe car, be it avoiding an accident or protecting you from the aftermath of one.
Driver appeal
In keeping with recent Ford products, this Mondeo has been designed to entertain the keen driver. Depending on engine choice, progress can be brisk and the actions of the steering, brakes and suspension all inspire confidence. Despite the estate car's extra bulk, it performs will in all situations, although as you'd expect when loaded its reactions aren't quite as sharp. Ride comfort is impressive whether you're pressing on or not, and the car's ability to deal with poorly surfaced urban roads is very good.
Family car appeal
If a conventional people carrier has been dismissed for whatever reason, the Mondeo estate can easily save the day. Granted, it doesn't come with rear seats that move or are removable, but there's enough room in the back for a growing family and more room in the boot for a bulky pushchair and the weekly shop.
First car appeal
It's unlikely that the Mondeo estate will appeal to the first time driver. It's a big car, by novice standards, and will cost a fair bit to run. If, however, a new driver found him or herself in the driving seat through other circumstances, at least the car's light controls and good visibility would make them feel at ease.
Quality and image
Since the dawn of time Ford products in the UK have been associated with mainstream, volume values. This Mondeo's task is to broaden those perceptions. The use of higher quality materials and promoting the car alongside rivals such as cars from Honda, Audi and BMW is all part of Ford's plan to move the Mondeo upmarket. In isolate the car is indeed a high class product, but only time will tell if buyers are prepared t look past the Blue Oval badge.
Accessibility
In estate form the Mondeo is a very practical and versatile car. Accessing the cabin is easy from both front and rear doors, while the car's tailgate requires minimal effort to operate. It also opens high to reveal a wide and flat loadpsace.
Stereo and ICE (In car entertainment)
There's a plethora of options and functions available with the Mondeo. Ford is famed for offering good quality audio units and this Mondeo is no difference. The default radio/CD player works well, and can be upgraded to include and in-dash CD changer. Remote controls on the steering wheel prove intuitive, as does the optional sat-nav and infotainment system.
Colours and trim
Moving up in the world hasn't altered the Mondeo's sense of style. Dark hues still work best, only this time they better complement the increased amount of exterior chrome trim. Inside much has changed, with a bright centre fascia dominating the cabin. Alternative wood trim isn't as appealing or convincing, however.
Parking
The Mondeo estate is a big car, but even without the assistance of parking sensors parking is a relatively straightforward task. Forward vision is good, with the view aft not bad considering the distance to the rear window. Steering assistance is good also.
Spare wheel
Space saver fitted as standard.
Range information
Petrol engine options - 1.6-litre (100bhp, 125bhp); 2.0-litre (145bhp); 2.3-litre (161bhp); 2.5-litre (220bhp). Diesel engine options - 1.8-litre (100bhp, 125bhp); 2.0-litre (130bhp, 140bhp). Transmission options: five-speed manual gearbox for all engines except 2.5-litre petrol and 2.0-litre 140bhp diesel, which get six-speed manual gearboxes. Automatic gearboxes are standard with 2.0-litre petrol and 2.0-litre 130bhp diesel units. Trim levels: Edge, Zetec, Ghia, Titanium X.
Alternative cars
Vauxhall Vectra estate Stylish exterior, attractive interior and boasts a capacious load space
Honda Accord Tourer Accord estate looks better from the front than the back. Quality is high throughout
Audi A4 Avant Fashionable choice in the premium compact sector. Well made, and extremely desirable
Saab 9-3 Sportwagon Less expensive compact exec than others; boasts trademark Saab design but is no driver's car