Ford Ka Style 1.2 3dr
Funky styling ticks the boxes for the youth movement
November 2008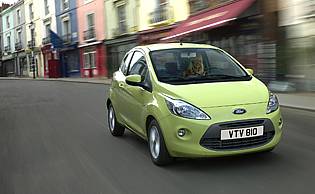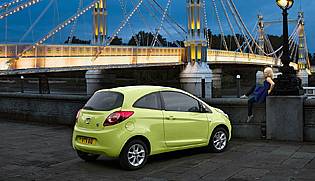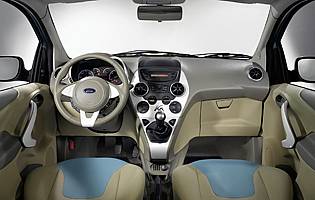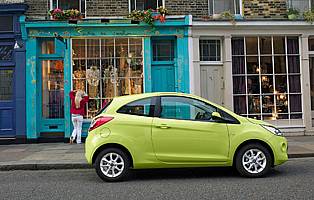 Overall rating

Likes:
Funky styling ticks the boxes for the youth movement
Refinement levels greatly improved over previous Ka
Good driving position and slick controls
Supple ride – ideal for city motoring
Gripes:
Engines could be more powerful
Modest amount of room in the back
High-spec cars overlap with larger Fiesta
Keen drivers have a wider choice of rivals second time around
It's always difficult for a car maker to repeat the success of a particular model. One way to dodge the issue is to go off in a different direction. That's exactly what Ford did when transitioning from one generation of the Ka to another.
What better way to banish the ghost of a car's past than by designing a replacement that is more revolution than evolution. This Ford Ka is just that, a revolutionary step forward. At its heart is the underpinnings of Fiat's hugely popular 500 – both cars are made in the same factory.
The end result is an obvious cost saving for both companies, while the end user gets a car riding on proven technology. In this case Ford chose to modify the 500's platform to squeeze out a little more in the way of driver-friendly behaviour. And it's worked; the Ka is a competent and enjoyable car to drive.
It's fair to say that the Ka is no motorway champion, though. Its role as a city car is what sets it apart form most other compact hatchbacks. Clearly targeted at singletons, couples and empty-nesters, the car promises low running costs, an acceptable amount of cabin space and, above all, a fashionable exterior.
There's no question that, after more than a decade on the road, the first generation started to show its age. This second generation model is more in keeping with the look of Ford's other current models. It also quashes the belief that Ford is a conservative company – the inclusion of Mini-like customisation options is a welcome inclusion.
Our verdict on the Ford Ka Style 1.2 3dr
It was always going to be hard to beat the first generation Ka. Punching above its weight in all the key areas, Ford opted to take tits replacement in a different direction. By switching the emphasis towards style, this arguably more fashionable car aims to steal some of the limelight away from other city cars. The basic cabin has gone; in its place a more outgoing ambience and appearance.
Costs
With a modest asking price and potentially low running costs, the Ka is not going to cause any financial hardship. The car's simple nature should also ensure that routine servicing won't break the bank. The same will be true for road fund licence and insurance.
Space and practicality
Front seat occupants won't have a major problem with the Ka; cabin width is sufficient and so is the headroom. Those in the back will need to be short of leg to enjoy the experience – lengthy trips in the back are the preserve of children. At least the boot is decent for this size of car.
Controls and display
Being the basic car that it is, there's not a lot to worry about inside the Ka. What is there is easy to understand and operate. The gearlever and secondary controls are mounted high up, ensuring nothing is too far away.
Comfort
With its raised front seating position and supportive seats, the Ka is a comfortable small car. When driven sensibly road, wind and engine noise is modest at best.
Car security
Save for the base Ka, you get central locking as standard on Ford's smallest offering. An immobiliser is also standard, but if you want an alarm you'll have to pay extra for it.
Car safety
Twin front airbags are standard fit across the Ka range, as is anti-lock brakes. You will have to pay extra for side airbags and ESP, though.
Driver appeal
While not pitched as a car for keen drivers, the Ka at least doesn't disgrace itself. The diesel and petrol motors aren't that powerful – the latter has a slight edge – the Ka can be hustled along if required. It's better at soaking up urban potholes, though.
Family car appeal
There's little point in considering the Ka as a family car – it's too small for starters. It could double as the second car in the garage, and in this role its modest boot, limited rear seat access and limited storage space wouldn't be an issue.
First car appeal
Cars like the Ka were made for the first time driver. With its light controls, good driving position and not too powerful engine range, it's a perfect combination. It's also boasts affordable running costs.
Quality and image
Image-wise it's hard to be negative about Ford's Ka culture. The original kick-started a new movement in the low cost city car sector. This redesigned offering is no less dramatic, just in a different direction. And fans will notice this in the improved quality of everything, inside and out.
Accessibility
When looked on as a simple two-door city hatch, there's little to complain about. The car's doors are big, but this just makes access easier – tight car parks might be a different matter. The slightly raised seating position is a welcome bonus, although you do have to be agile to get in and out of the back.
Stereo and ICE (In car entertainment)
The standard fit unit works well and is of good quality. The various controls are easy to understand and the display large and clear. Anyone seeking a sat-nav option would do well to purchase an inexpensive aftermarket unit.
Colours and trim
Taking a leaf out of the Mini style guide, not only can you have a Ka in a bright colour but also one bedecked in various graphics as part of tailored packs. On the inside the ambience is refreshingly light and airy thanks to well chosen colour schemes.
Parking
Parking shouldn't be a problem with the Ka. It's a small car with good forward visibility and a raised driving position. The light steering also helps, while the optional parking sensors are nice to have if this isn't your specialised subject.
Spare wheel
Space saver wheel included.
Range information
Petrol engine options – 1.2-litre (69bhp). Diesel engine options – 1.3-litre (75bhp). Transmission options: five-speed manual gearbox. Trim levels: Studio, Style, Style Plus, Zetec.