Ford Ka Sportka 1.6i 8v Duratec SE review
Feisty engine capable of raising smiles
September 2004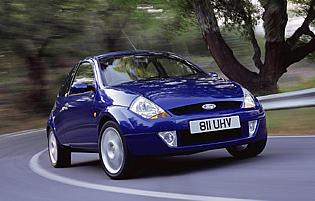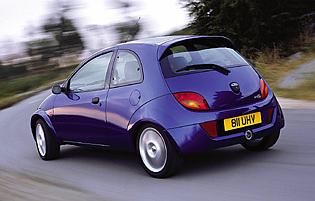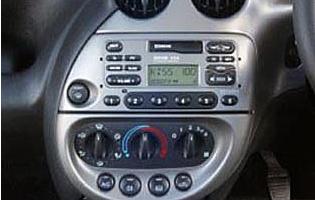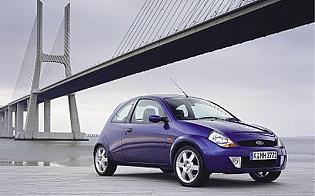 Overall rating

Likes:
Looks funky in the right colour and with big alloy wheels.
SE's standard leather seats are a boon in a car of this price.
Feisty engine is capable of raising a few smiles along country lanes.
Low insurance grouping makes it an affordable option for under 25s.
Gripes:
Aural intrusions into cabin become tiresome on long journeys.
Lack of space for rear passengers and boot hinders practicality.
Small petrol tank and unimpressive fuel economy means frequent trips to the pumps.
Some interior plastic is of the hard and shiny variety.
Ford is best known for producing everyday cars for the average motorist, but every now and then the firm behind the Blue Oval produces something a little different. The funky Sportka is a good example of this. This hot supermini is a lot more fun than the standard model and even turn a few heads.
With the Sportka and Streetka, Ford has given a youthful twist to its trusty supermini. The Streetka is pitched as the girly choice, while the Sportka is designed to be one for the lads. Both look far more attractive with their body kits and large alloy wheels than the regular Ka.
Surprisingly, the competition in the performance/style orientated supermini market is quite fierce. Seat has its Arosa Sport, Toyota its Yaris T Sport and Smart has the Brabus version of the Fortwo. These machines aren't really designed for out and out performance, but they are supposed to have a little extra poke and a lot of extra style.
In the right colour, the Sportka has what it takes to mix it with the best of them. What's more, it is a good deal cheaper than much of the competition. A low insurance group classification also makes it a sensible option for the younger motorist.
Our verdict on the Ford Ka Sportka 1.6i 8v Duratec SE
Ford Sportka is excellent value for money and punches well above its weight in the street cred stakes
Costs
One of the Sportka's most attractive characteristics is that it offers a lot of style for not very much money. Its group six insurance classification will also make it fairly cheap to insure. However, fuel consumption isn't fantastic for a car of this size and performance – a problem compounded by one of the smallest petrol tanks in its class. But cars wearing the Blue Oval are notoriously affordable to repair and maintain, so all in it should be a pain-free relationship.
Space and practicality
By supermini standards the Ka isn't bad in terms space, but it is still a supermini. Four adults will just about fit, but expect it to be intimate and don't count on any room for bags and the like. Front occupants under six feet are swallowed easy enough. The slightly longer of leg will struggle to get comfortable, however. There is very little room for in-cabin storage. The Sportka features what is perhaps the smallest glove box ever – it is fit only for a packet of sweeties or a bunch of keys.
Controls and display
A small, chunky steering wheel and a machined aluminium gear knob ensure that the Sportka's points of contact have a racecar feel to them. White dials are one man's caviar and another man's Big Mac, but they are reasonably well laid out. The rest of the switchgear is standard Ka and as such, pretty cheap looking. It all works, but you are left in no doubt as to the humble underpinnings of this 'warm hatch'. The air conditioning featured as standard on SE models works well and should help to keep occupants cool and unflustered.
Comfort
The sporty seats are comfortable and supportive enough and adjust easily. Road, wind and tyre noise is less pleasant, however, particularly at motorway speeds. The fat six-inch wide tyres let you know they are there the whole time. The engine, though, remains impressively quiet even at high speeds and when stretched.
Car security
A Thatcham Category One alarm, immobiliser and remote control central locking should be enough to deter any would be thieves. Be careful of cars in the more vibrant colours, though, as these may well attract the attention of drunken passers-by and delinquent children.
Car safety
All buyers can expect to find in the way of standard safety kit is a driver's airbag and seat belt pre-tensioners, which is far from generous. Passenger and front side airbags are available from the options list, but both are standard kit on all of its main rivals. In a car this small people understandably want as much added safety equipment as they can get and the Sportka will loose points in many people's estimations here.
Driver appeal
The Sportka's 'wheels at each corner' design coupled with sports suspension means that it is an accomplished road holder. While no rally special, the supermini is more than capable of inducing the occasional contented chuckle on a bendy B road. On paper a 0-60mph time of 9.7 seconds doesn't sound overly impressive, but it feels a good deal faster that that when you're behind the wheel. The 1.6-litre Duratec powerplant's 135lb/ft of torque supplies ample pull for overtaking and motorway hill ascents.
Family car appeal
Being a supermini, families of more than three had better resist the Ka's impish charms. Limited rear space and a small boot (186 litres with the rear seats up) really restrict practicality. But we are not talking about a Volvo estate here, so it would be harsh to overly criticise the baby Ford.
First car appeal
For the average teen driver the Sportka is more than adequate. Good looks, nippy performance and reasonable insurance costs should all appeal to the young, the free and the single. Ford is pitching the Sportka as one for the boys and the convertible Streetka as the ladies' choice, which is probably just about right. The Blue Oval badge isn't as cool as the VW emblem or Mini, but it is significantly less expensive.
Quality and image
Ford is very much the everyman of motoring. Its image is one of honest, affordable, reliable cars that aren't exactly exciting, but that do the whole A to B thing as good as anything else on the road. Being the baby of the outfit, the standard Ka is seen by many as being a little plain, but in Sportka guise it certainly shakes of this dull persona. Fords are also pretty reliable and even when they do go wrong they are cheap to fix.
Accessibility
Gaining access to the front seats is easy enough and even the slightly stiff of limb will manage without too much fuss. Getting into the two rear seats is a little trickier, however, as the forward two chairs need to be folded forward to make the most of the narrow aperture. A low roofline and narrow bench compound the problem.
Stereo and ICE (In car entertainment)
A CD player comes as standard and a six-disc changer unit is available from the options list. The speakers do a good job of drowning out any aural annoyances and the control panel is easy to use. No steering wheel mounted controls, though.
Colours and trim
Sportkas are extremely colour sensitive: some colours suit it; others don't. By far and away the best choice is Imperial Blue, which really sets off the little car's muscular haunches. Deep Navy, Magnum Grey, Machine and Magnum Silver and Panther Black are all also available. The standard model gets Streetline fabric interior trim, while SE versions benefit from perforated leather seats in Racing Blue. Unfortunately, both models are blighted by some of the hardest, shiniest and cheapest looking black plastics known to man.
Parking
No parking sensors as standard or on the options list, but if you require the little sonar devices for parking a car this small, then you may seriously wish to reconsider whether or not the automobile is the mode of transport for you. The steering feels ultra-light at low speeds and good all round visibility is afforded to the driver.
Spare wheel
Space saver fitted as standard.
Range information
One engine option – 1.6-litre, 8-valve Duratec (95bhp) petrol. Powerplant is fitted with five-speed manual gearbox. Sportka is available in either standard or SE trim.