Ford Fusion Plus 1.6 TDCi 5dr review
Chunky-looking Fusion is different take on Ford's Fiesta
Aug 2006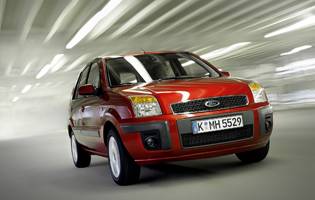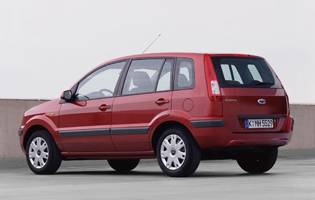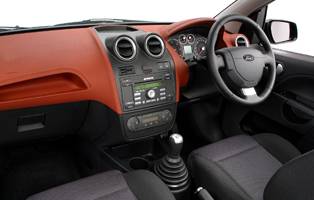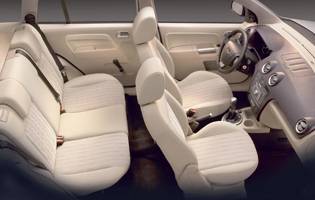 Overall rating

Likes:
Mild facelift adds some much needed character
Entertaining driving experience and warbling exhaust note
For a supermini, the cabin is big enough to accommodate a small family
Revamp has boosted quality of materials used inside and outside the cabin
Gripes:
For all the car's good points, steering feel is lacking
Selecting even some of the new gadgets offered puts the Fusion's price in a class above
Although cabin quality has improved, there's still too much black plastic on show
Ford's promotional efforts have failed to get the Fusion accepted by trendy urbanites – despite its chunky, 4x4-inspired looks
With the Fiesta blazing a trail through the supermini landscape for the best part of three decades, you'd have thought that Ford's lifestyle orientated spin-off, the Fusion, would be a roaring success. The reality is somewhat different; more choice in the supermini sector and a greater variety of niche vehicles have blunted the car's impact. Marketing concerns aside, the concept of a chunky, Fiesta-inspired urban holdall is a good one. You've got to hand it to Ford – historically the company is not known for its ability to think outside the box. Happy to produce sensible cars for sensible, modest folk, the Blue Oval's dominance largely grew from being able to give people straightforward cars. To its credit it did step up its game and produce the Focus to maintain its dominance in the family hatch market. But you could tell that it was a big effort for the firm and it did provoke plenty of reaction – not all of it positive. Which is probably why the Fiesta that followed wasn't quite so radical. But with so much choice in the once easy to fathom supermini small car market, Ford needed something else. The arrival of the Fusion was supposed to be the answer. Alas, the Fusion has never quite been able to tap into its proposed target market. Young people are notoriously fickle and fashion conscious, and the Fusion's urban off-roader looks and raised stance were created to tempt people away from compact 4x4s and traditional city cars. It would appear that the Ford badge is not enough of a draw for trendy young things, and the Fiesta – along with hip urban 4x4s – continue to reign supreme. Some good has come from the Fusion's birth, though. Its core attributes - raised stance, spacious estate-like rear, Fiesta underpinnings, and affordability – have clicked with buyers at the other end of the age spectrum. The appeal is said to be twofold: circumstances often dictate a car that's easy to drive and get in and out of, and the Fusion's appearance is a refreshing change from the traditional inoffensive offerings from the usual Far Eastern suspects. It's rewarding to drive, too.
Our verdict on the Ford Fusion Plus 1.6 TDCi 5dr
Initially it looked a little bleak for Ford. The rollout of a new youth and lifestyle orientated is always tricky, but Ford's offering failed to be fully embraced by the target demographic despite a lot of on-message advertising. Proving that marketing is more luck than skill, a new breed of buyer embraced the car for what it offered. The Fusion's mainstream badge appeared to be a barrier for many, but once you look at its attributes it starts to make a lot of sense.
Costs
Anything sporting the Blue Oval badge rarely costs much to run. This is true of the Fusion, which should be no more expensive than its Fiesta stablemate. Unless you do a lot of miles it's doubtful that a diesel engine will pay for itself in a reasonable amount of time, although there's no denying the day-to-day performance benefits. Regular expenses such as servicing and insurance will also be modest, and there's the bonus of a large dealer network if you feel the need to shop around for competitive service.
Space and practicality
View the Fusion as a Fiesta estate and the concept starts to make sense. This 'Fiesta Plus' is more practical than the hatchback in day-to-day use. You can easily sling stuff in the back, odd-shaped objects fit easier and with the rear seats folded flat you've got yourself a small, posh van at your disposal. Up front the Fusion's cabin is no different from the Fiesta, which is a good thing. Adult passengers shouldn't feel cramped, and there are enough oddment storage spaces dotted around for mobile phones, loose change and the like.
Controls and display
The Fusion's controls and displays are pleasingly clear and concise. The main dial are easy to read, the centrally located ventilation and audio controls are intuitive and within easy reach of both front seat occupants. Where fitted, the audio unit's supplementary steering column mounted controls prove invaluable when driving, while the gearshift and handbrake require only modest effort - the gearshift being particularly short and snappy. The adjustable steering wheel is a good size and power assistance is not too light but more than enough for parking duties and a spirited drives on B-roads.
Comfort
Despite the modest size of the Fusion's cabin, space can be found reasonably easily for a quartet of adults. Road and wind noise is pleasantly low. The car's slightly raised stature means access and egress is straightforward, although the Fiesta doesn't lag far behind in this department.
Car security
A low value car in the grand scheme of things, it's unlikely that the Fusion will cause many thieves to make a double take when out looking for victims. That said, you get a sturdy central locking system plus remote locking and boot release. The usual immobiliser is present as a last line of defence, although a visible deterrent such as a steering lock will do much to deter the advances of the casual car thief.
Car safety
You get all the airbags you need in the Fusion, plus the all-important anti-lock brakes. Electronic stability aids are model dependent, but with the car hardly in Ferrari territory it shouldn't been seen as to critical. For what could easily be a family vehicle, all the cabin materials should pose no problems and are nothing feels too hard to the touch.
Driver appeal
Although not set up to be a car for the enthusiastic driver, the Fusion's Fiesta underpinnings ensure that it's a responsive car in most situations. The steering's assistance is well balanced, allowing enough feedback at speed and plenty of assistance during parking manoeuvres. Handling and grip levels are both impressive for a car in this class, and the Fusion's raised driving position doesn't appear to exaggerate car movement as you'd expect in a full-blown off-roader. Engine choice isn't critical for enjoyment, as all units perform well. The diesel options are ideal if you cover a lot of miles, though.
Family car appeal
If the Fusion came before the family, there's no need to think about changing the car just yet. Prams and pushchairs should fit in the car's boot, and access to the rear seats is reasonable, meaning equally easy access to child seats and uncooperative children. The Fusion can be purchased with the likes of a roof mounted drop-down DVD screen to keep the little 'uns happy, while the basic car won't be expensive to run. Modest headroom will probably negate keeping it during the lanky teenager stage, though.
First car appeal
Just like the Fiesta, the Fusion would make a good first car for anyone seeking something with a bit more room than the default choice of a supermini. Parking the Fusion presents few problems, as where the car's tailgate ends is easy to judge and the slightly raised driving position should make town driving and forward observation easy. And being a Ford, running costs – fuel, servicing, insurance – should be very low.
Quality and image
Historically Ford hasn't been associated with high quality products. All its past efforts have been adequate but not much more. The new range (Fiesta, Fusion, Focus and Mondeo) has done wonders for Ford's image. Cabin plastics look and feel good, while equipment levels have risen to new heights. That said, the Blue Oval remains a mass market brand, and cannot compete with premium German marques, or low cost Far Eastern companies with lower costs.
Accessibility
Boasting good entry and exit characteristics, it's easy to get into and out of the Fusion – you slide across, not down, into the car's front seats. The front doors open wide for a small car, with the rears also helping to provide sensible access despite their smaller dimensions. At the rear the tailgate requires little effort to raise and lower, and the load lip is at a sensible height.
Stereo and ICE (In car entertainment)
The centrally placed audio unit boasts easy to use controls and an easy to read display. A welcome touch is the remote control cluster, fixed to the right-hand side of the steering column. The supplementary display in the centre of the instrument pack is also useful. Sound quality is good, while options run to an in-dash CD changer and a flip-down screen and combined player so rear passengers can watch DVD films.
Colours and trim
Bright exterior colours do much to help lift the car's mature image, and there's enough cladding to give the impression that the Fusion is a wannabe off-roader without going overboard. Inside, there is a lot of dark coloured plastics, although the quality is high. Seat fabrics are pleasing to the eye, although the leather option doesn't look quite right in a car at this modest price point.
Parking
While not a large car, the Fusion's semi-estate shape gives the impression it's a little bigger than a supermini. Thankfully the car's straight down tailgate makes judging distances easy, as do the optional parking sensors. The car's mirrors are a good size, and the steering is light enough to make manoeuvring straightforward.
Spare wheel
Space saver fitted as standard.
Range information
Petrol engine options – 1.4-litre (80hp); 1.6-litre (100hp). Diesel engine options – 1.4-litre TDCI (68hp); 1.6-litre TDCI (90hp). Five-speed manual gearbox is standard issue accross the range, Durashift auto is a cost option. Trim levels: Studio, Style, Zetec, Plus.