Ford Focus 1.5 TDCi Titanium Estate review
Impressive ride quality helps promote a relaxing drive
Jan 2015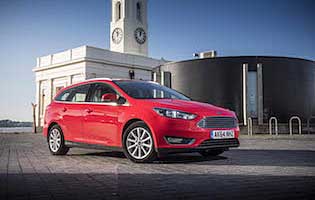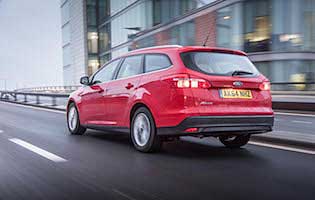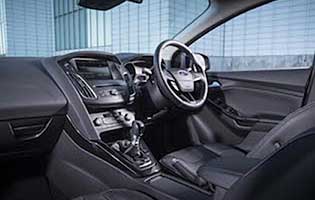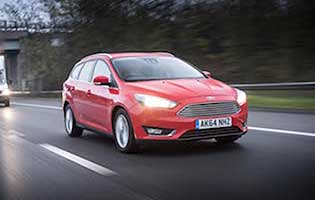 Overall rating

Likes:
Impressive ride quality helps to promote a relaxing drive
Advanced voice recognition system controls more functions than ever
Even in estate guise Focus will please keen drivers
New infotainment system is easy to use
Gripes:
Load space lacks clever packaging solutions of some rivals
Voice control occasionally requires unconventional word orders
Entertainment-wise the car's limits are now even higher
Some cabin trim materials still fall short in quality compared to some rivals
A cornerstone of the mid-size car market, Ford's Focus has picked up many awards since its original launch. The intervening years have seen a steady evolution of a tried and tested formula. This is also the case with this latest variant, which boasts improved quality inside and out, more efficient engines and a broader range of comfort and safety kit. In estate guise it also offers a sensible and practical alternative to the now default compact people carrier option.
Ford has given this car a set of upgrades at the halfway point in its life cycle, including more available technology, improved cabin quality and new engines. The individual changes are often subtle but the overall result is a car better equipped to challenge more upmarket rivals from the likes of Volkswagen, Skoda, Mazda and Peugeot.
Downsizing plays a big part in this car's future, with Ford making a new range of 1.5-litre petrol and diesel engines available alongside its three-cylinder Ecoboost petrol motor. The upshot is a car that should be more efficient than before, yet performance is the same or better.
Continuing Ford's focus on new technology, the car maker has developed a suite of new driver aids to help make driving safer. Variations on adaptive cruise control and low speed collision avoidance tech can be added for a modest price, while an automated parking function helps to facilitate perpendicular parking in addition to parallel parking. The star of the show is the brand new infotainment system borrowed from the Mondeo, which is a big and welcome leap forward.
And in a nod to new drivers and nervous parents everywhere, the Focus can also be had with Ford's MyKey safety system for the first time, which allows the main user to set speed limits, control audio functions to minimise distractions and generally keep a distant eye on inexperienced drivers for their safety and your peace of mind.
Our verdict on the Ford Focus 1.5 TDCi Titanium estate
For all the changes to this generation of Focus – and there are many – Ford continues to demonstrate a canny knack of understanding what the buyer wants. There's very little about this Focus that's gimmicky or unnecessary. This is ably demonstrated by the wealth of useful safety tech available, while cabin ergonomics are some of the best in the business. In estate guise this Focus is a useful load-lugging tool for buyers not keen on people carriers or SUVs. Easier to park and likely cheaper to run, you sacrifice little in your quest for a spacious, affordable family car.
Costs
Lower emissions and higher fuel economy are both promised as a result of big changes to the car's engine line-up, which should please both business and private buyers. Gentle drivers will find the 1.5-litre diesel the most frugal, but the petrol models have lower purchase prices and can be refuelled for less expense. And while much of the advanced safety kit is optional, the individual prices are pleasingly modest.
Space and practicality
A good size, flat load bay ensures the Focus estate is a practical workhorse. The tailgate opens up easily to a good height, while the rear seats fold almost flat to further boost loading capacity. The lack of any trick load dividers does mean you'll need to improvise, but that's the only gripe. Elsewhere, the car's cabin offers ample oddment storage space for mobile phones, drinks and the like, and occupants fore and aft experience good levels of space.
Controls and display
The main instrument cluster is clear and easy to read, with white against black characters. The digital displays; the large one on the dashboard and the smaller one between the speedometer and rev counter, are both generally easy to decipher information from, but can sometimes be guilty of trying to display too much at once, crowding the screens. The same is true for the many menus offered, which require a lot of button pushing. Still, the all-new colour infotainment system is a huge leap forward in the usability stakes.
Comfort
Thanks to effective damping, which minimises suspension jarring, ride comfort is good and this Focus is definitely more stable than the car it replaces There is plenty of space for front seat occupants, and rear passengers are unlikely to feel particularly short-changed either. The rear seats are a little flat-backed and not as pleasant as the fronts, but at least there is enough legroom behind an average-height driver. Occupants are separated from the load area by a substantial cover, which does a good job of keeping noise at bay.
Car security
There is no special security equipment over and above what has now become the norm on cars of this value. Buyers can expect remote central locking with deadlocks and an immobiliser is also present, but perhaps the Focus' most significant security feature is its commonness. At the rear the car's load cover is a sturdy item that does a good job of shielding your valuables from prying eyes.
Car safety
Ford has introduced new safety systems for this Focus, specifically targeted at low-speed manoeuvring, which could help avoid frustrating low-speed bumps. The Focus already has an extensive array of active and passive safety systems, but buyers will need to spend more to benefit from most of the active ones. The MyKey safety system can set maximum speeds and stereo volumes for inexperienced drivers.
Driver appeal
Despite being the more practical estate model, this Focus is just as entertaining as its hatchback relation. You will notice a difference when it's fully loaded, but that's to be expected and still only mildly blunts performance. New petrol and diesel engines in 1.5-litre trim offer a good balance of refinement, performance and economy, while the various controls are weighty enough to generate confidence but also light enough to make town driving easy.
Family car appeal
If people carriers and SUVs don't appeal for whatever reason, this Focus estate could prove to be a worthy alternative. For families the ability to throw al your belongings in the large boot will be a bonus, although you're still faced with the same cabin layout as the hatch – a people carrier will likely offer more flexibility. At least the front the passenger-side airbag can be switched off while carrying a rear-facing child seat.
First car appeal
It's hardly the most glamorous choice but if you need a practical, affordable mid-size estate then the Focus is, at least, easy to drive and likely affordable to run.
Quality and image
Thanks to the many revisions the car now feels more of match for the class leaders. Its brand image is one of accessibility and familiarity, which has stood it in good stead for many years. Technological advances such as new engines and enhanced infotainment options should boost the car's profile, while the estate variant always does well with buyers seeking a practical, conventional alternative to a people carrier.
Accessibility
At the rear the estate variant's tailgate opens with little effort and the low load lip makes reaching in to load or retrieve items straightforward. Further forward and the car's four doors offer good access to the cabin, although the rear apertures are modest in size but will still allow an adult to slip in and out without too much hassle.
Stereo and ICE (In car entertainment)
The standard audio experience isn't extraordinary, but more attention will be drawn to the new touchscreen and easy to operate user interface, which in music playback and navigation functions boasts clear and intuitive graphics. The usual audio connections are present, along with DAB and voice control, which can take time to master.
Colours and trim
Standard colours are a safe bet, but the metallic offer the best look for this revamped Focus wagon. The car's new centre console trim is much improved, while the seat and contact point materials are impressively upmarket.
Parking
Visibility is good in all directions out of the cabin - even to the rear in the estate variant, and on higher-grade models like this one there are parking sensors at both ends to help you avoid any bumps. This generation of Focus also introduces a new level of automation, which enables the car to park itself into both parallel and bay spaces with minimal driver input.
Spare wheel
Emergency tyre repair kit supplied as standard.
Range information
Petrol engine options – 1.0-litre (99bhp, 123bhp); 1.5-litre (148bhp, 179bhp); 2.0-litre (247bhp). Diesel engine options – 1.5-litre (94bhp, 118bhp); 2.0-litre (148bhp). Transmission options: five and six-speed manual gearbox depending on model, plus auto gearbox. Trim levels: Studio, Style, Zetec, Zetec S, Titanium, Titanium X, ST, ST-2, ST-3.