Ford Focus 2.0 TDCi Titanium review
Mass appeal and impressive technology
Sept 2014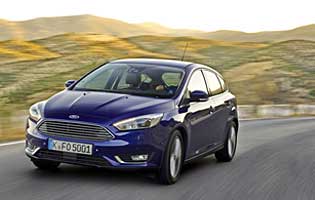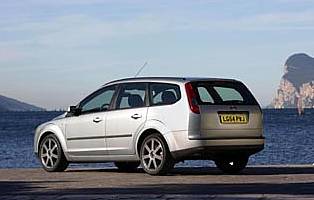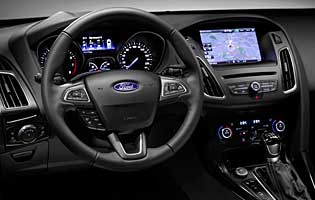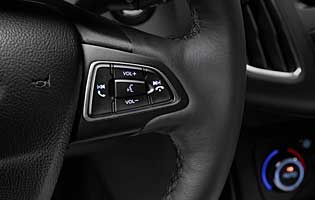 Overall rating

Likes:
Comfortable ride quality smooths out roads for a relaxing drive
Advanced voice recognition system controls more functions than ever
Linear, lightweight steering offers ease of use and predictable road manners
New interface screen is clear and large enough
Gripes:
Boot lacks any clever packaging solutions or hidden compartments
Voice control occasionally requires unconventional word orders
Little steering feel or communication from the road surface
Engines struggle to get close to their official economy figures
Ford's Focus has been around for quite some time. And while competitors have come and gone, the Blue Oval's family hatch offering has undergone a gradual evolution in terms of looks and technology, reaching a stage where it can genuinely challenge more upmarket models. Ford has bucked the usual trend with its technology, as prospective buyers don't have to wait for clever safety related kit to trickle down from more expensive models. And then there are the car's looks, dominated by the firm's corporate grille and edgy styling theme.
Ford's decision to replace the Escort nameplate with the Focus in the late 1990s has paid dividends for the brand, and now the Focus is the world's best-selling car. Ford has given the car a set of upgrades at the halfway point in the current model's life cycle, to include more available technology, revised prices and new engines.
In line with the way Ford has been developing its new models for years, older non-turbocharged engines have been replaced with newer, downsized ones with turbochargers. Ford claims that used gently the new engines are more efficient than the old ones, while they are also more powerful than before. This model marks the first appearance of the new 1.5-litre EcoBoost engine.
Technology is becoming more and more important to car buyers, so the Focus has additional sensors that facilitate automated perpendicular parking, in addition to the parallel parking systems that were already in place. There is also a new, larger colour screen in the dashboard to act as the media and SYNC 2 connectivity interface, which includes wider voice command recognition.
Integrated navigation is more affordable to add, as costs have fallen of late. The redesigned Focus also features Ford's MyKey safety system for the first time, which will be useful for parents to know. Several models in the range will be targeted at buyers for whom minimising emissions is a priority, but there should be a model to suit everyone.
Our verdict on the Ford Focus 2.0 TDCi Titanium
The Focus combines mass appeal with easy driving manners and impressive technology. While the march of automation illustrated by the Focus' new parking systems may outstrip owners' desire to use it, this is nonetheless a car that can take over in situations if needed. Its position as the keen driver's choice is in serious question against its contemporaries, but as an all-rounder it's tough to beat.
Costs
Lower emissions and higher fuel economy are both promised by this updated 2.0-litre engine, but it's not the cheapest choice in terms of running costs. Gentle drivers will find the 1.5-litre diesel the most frugal, but the petrol models have lower purchase prices and can be refuelled for less expense. The low-emission models will be popular with company car users.
Space and practicality
The boot is neither class-leading nor particularly cleverly thought-out, lacking hidden compartments or a particularly effective network of hooks. As befits its everyday appeal, the car's boot is big enough for most typical loads, and with careful packing it's surprising what will fit in there. Inside the cabin there is a good spread of storage available, although most of the compartments and bins are quite small.
Controls and display
The main instrument cluster is clear and high-contrast, with illuminated white against black. Some might prefer the speedometer numbers to be more spaced out. The digital displays; the large one on the dashboard and the smaller one between the speedometer and rev counter, are both generally easy to decipher information from, but can sometimes be guilty of trying to display too much at once, crowding the screens.
Comfort
The roughest roads will not upset the Focus much at all thanks to remarkably effective damping, which minimises suspension jarring. In corners bumps can still pitch the car off its line slightly, but it's definitely more stable than the car it replaces There is plenty of space for front seat occupants, and rear passengers are unlikely to feel particularly short-changed either. The rear seats are a little flat-backed and not as pleasant as the fronts, but at least there is enough legroom behind an average-height driver.
Car security
There is no special security equipment over and above what has become the standard these days. Buyers can expect remote central locking with deadlocks, which when activated stop the doors from being opened from the inside. An immobiliser is also present, but perhaps the Focus' most significant security feature is its commonness. Thieves are much less likely to target a Focus than they are to pick out something more distinctive.
Car safety
Ford has introduced new safety systems for this Focus, specifically targeted at low-speed manoeuvring. While this is unlikely to save lives directly, it could help avoid frustrating low-speed bumps. The Focus already has an extensive array of active and passive safety systems, but buyers will need to buy higher in the range to benefit from most of the active ones. The MyKey safety system can set maximum speeds and stereo volumes for inexperienced drivers.
Driver appeal
Ford's long-standing claim that the Focus is the best car to drive in its segment is under serious doubt, with Volkswagen Group and Korean rivals all feeling somewhat tighter and more stable in corners. However, suspension revisions have gifted the Focus an outstanding ride quality for the class, so the majority of owners will find extra appeal in this new approach.
Family car appeal
As an all-round proposition the Focus should offer families all they really need. Additional safety kit is very welcome for families, but it will come down to the parents as to whether the boot is large enough or whether it might be better to go for the estate version. Isofix child seat mounts are standard on the two outer rear seats, while at the front the passenger-side airbag can be switched off while carrying a rear-facing child seat.
First car appeal
As a diesel family car placed towards the top of the range, there are few reasons why a first-time car buyer would choose this model to top their four-wheeled shopping list. It's not the most engaging drive and is larger than a novice typically wants or needs, and it's quite expensive compared to the usual first driver fare of superminis. Insurance premiums are likely to be the real hurdle for new drivers, though.
Quality and image
Interior quality is definitely a step up from the outgoing Focus, and now the car feels more of match for the class leaders. Its brand image is one of accessibility and familiarity, which has stood it in good stead for many years, but it could use some work on its reliability. Ford rarely performs well in ownership satisfaction surveys or reliability indexes, although the new 1.5-litre engines are untested in the public domain and may improve this.
Accessibility
The roofline and door shapes remain the same as before for this car, so it scores similar points for ease of access. It has five doors, an easy-opening tailgate among them, and a convincing amount of entry space. The car can't match the pillarless design of Ford's B-Max for outright ease of access, but overall it manages to make life easy enough. Getting things into the boot is simple thanks to a relatively low load lip.
Stereo and ICE (In car entertainment)
Ford's relentless drive to increase the amount of on-board technology includes making sure that there are a wide variety of music playback options. There is Bluetooth connectivity to allow drivers to make hands-free mobile phone calls as well as playing music wirelessly. The standard stereo itself is nothing special, but more attention will be drawn to the new screen, which in music playback is clear and uses fresh graphics.
Colours and trim
Neater, tauter lines give the restyled Focus a cleaner look than its predecessor, which helps lift what was a terribly bland look. The standard red is a good bet, but white in particular should be avoided. There are blue and silver options, too, but the strongest colours are reserved for the high-performance ST models. The new centre console trim is much improved and looks higher quality, while the seat and contact point materials are impressively upmarket.
Parking
In parking the Focus manually, drivers should have nothing to fear. Visibility is good in all directions out of the cabin, and on higher-grade models like this one there are parking sensors at both ends to help you avoid any bumps. This generation of Focus introduces a new level of automation, though, which now enables the car to park itself into both parallel and bay spaces with minimal driver input.
Spare wheel
Emergency tyre repair kit supplied as standard.
Range information
Petrol engine options – 1.0-litre (99bhp, 123bhp); 1.5-litre (148bhp, 179bhp); 2.0-litre (247bhp). Diesel engine options – 1.5-litre (94bhp, 118bhp); 2.0-litre (148bhp). Transmission options: five and six-speed manual gearbox depending on model, plus auto gearbox. Trim levels: Studio, Style, Zetec, Zetec S, Titanium, Titanium X, ST, ST-2, ST-3.