Log in or register
close
My AA Account
Sign in to see your cover and request assistance online
Don't have a My AA account?
You'll need your policy or membership number
Ford Focus RS500 review
Street cred and desirability usually reserved for supercars
July 2010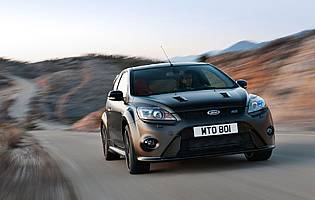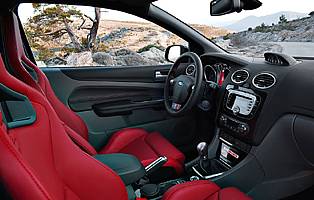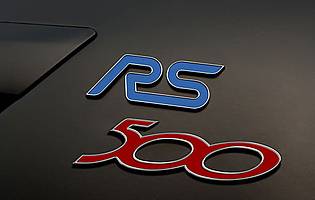 Overall rating

Likes:
Distinctive exterior worthy of limited edition model
Even more powerful engine is incredibly flexible and sounds great
Handling remains predictable yet capable of being fully exploited by a keen driver
Perfectly tractable away from the race track
Gripes:
Limited run immediately sold out
High seating position requires a dealer to be altered
Dark interior is moody but gloomy
Access to the rear seats is a little awkward
As if the performance of the much-vaunted Focus RS was not enough, Ford has seen fit to bring production of the model to a close with an even more powerful limited edition example, rekindling the famous RS500 moniker into the bargain.
Few names are as likely to stir up fond memories among fans of the Ford brand as RS500. The fiercely styled and supremely quick Sierra Cosworth RS500 was a homologation model that allowed Ford to go racing, and only 500 were produced. The badge has been given a second outing, this time to celebrate the final run of Focus RS models. Again, only 500 examples are to be built.
The good news is that the Focus RS500 boasts even more power and performance. The bad news is that all sold out immediately news of the production run was announced. Only 101 will go to UK customers who will benefit from an additional 45bhp from the 2.5-litre turbocharged engine, totalling 345bhp and allowing for 0-62mph in 5.6 seconds and a top speed of 165mph.
The high power version retained the same underpinnings as the Focus RS, including the Quaife differential and RevoKnuckle front hub system to eliminate torque steer despite the front-wheel drive format. The engine has received a larger air-to-air intercooler, a larger air filter box for increased airflow, bigger diameter exhaust downpipe and an uprated fuel pump, along with an updated software calibration.
Each of the 500 examples will be finished in stealthy matt Panther Black paint, boast 19-inch alloy wheels and red brake callipers for extra effect. Inside, a host of additional equipment comes as standard, including dual-zone automatic climate control, heated windscreen, rear parking distance sensors, tyre deflation detection system, automatic headlights and rain-sensing wipers, auto dimming rear-view mirror, Ford key-free start, enhanced connectivity with Bluetooth, voice control and USB port and Recaro sports front seats with partial leather trim.
Our verdict on the Ford Focus Focus RS500
The additional performance of the RS500 model is only a small part of its appeal. The genuine street cred and desirability levels on show are usually reserved for supercars. The stealthy paint finish, considerable extra power output and limited production run will doubtless serve to ensure its status. The fact that it performs so well in a range of conditions is the icing on the cake.
Costs
Servicing should be no more painful than if you were running a regular Focus, thanks in part to the Blue Oval's extensive dealer network and the car's basic underpinnings with the exception of the redesigned front hubs. Fuel costs will be higher than even the Focus RS and insurance may prove financially demanding but the biggest problem will be getting hold of an example in the first place.
Space and practicality
Occupants will struggle to find serious fault with the Focus interior, although space in the rear is modest, reduced slightly by the larger front seats. At the rear, the boot is a decent size and is unchanged over the standard car.
Controls and display
There's nothing wrong with the standard car's main controls and, thankfully, Ford refrained from changing the basic package. It has jazzed up the main dials to impart a sportier ambience and, on the whole, the new colour scheme works well. The three supplementary dials positioned atop the dashboard are largely there for effect, yet they don't look contrived or out of place. Elsewhere the usual Ford kit is evident, such as the useful remote audio controls and easy to understand ventilation console.
Comfort
All the usual Focus creature comforts are present in the RS500, including high levels of sound deadening and supportive seats. Given the engine's vocal nature when pressing on, cruising in the RS500 is refined, calm and relaxed. The car's sports seats are excellent and should accommodate a broad range of body sizes.
Car security
The usual alarm and immobiliser package applies to the Focus RS – and so it should given the car's looks and predictable desirability among both law abiding individuals and the criminal fraternity. Given the attention the old RS and Cosworth-badged fast Fords used to generate, it would be worth fitting an aftermarket tracking device for peace of mind - and to placate your insurer.
Car safety
All the usual airbags are in place in the RS's cabin, as you'd expect from a car costing more than the average Focus. Also present is ABS and ESP, although the ESP system has been recalibrated to cut in later, which means drivers will be less tempted to switch it off in order to enjoy the car's full potential.
Driver appeal
Building on the already outstanding performance of the Focus RS with its additional 45bhp, the RS500 boosts driving appeal even further. The RevoKnuckle system continues to ensure torque steer is limited despite the front wheels doing all of the work. As with the RS, the ride is not as stiff as some rivals, but grip and road holding are first rate. The steering offers good levels of feedback and acceleration is relentless thanks to the wide torque band and huge power output. It even sounds great; the signature five-cylinder warble mated to a trick induction system will have heads turning. Despite this, it remains an undemanding car to drive, and is tractable at slower speeds.
Family car appeal
Its three-door only nature means the RS500 is not an ideal family car, although the minor reduction in rear room is not enough to make it unviable as a family wagon. Although the rear seats can't be removed or reconfigured like a conventional people carrier, there's plenty of room for children. The boot is also big enough to swallow the weekly shop, but you might struggle with shopping and a pushchair.
First car appeal
The powerful nature of the RS500 makes it an unsuitable car for the novice driver, despite its easy nature. Insurance costs and availability will also prove restrictive for younger drivers.
Quality and image
The three-door focus shape will be familiar to road-users and car buyers, but access to the rear of the RS500 is a little more restricted than usual because of the bulky Recaro seats. They also feature high thigh support, meaning a substantial lip has to be negotiated for front seat access. Regardless, it's a small price to pay for the excellent support on offer.
Accessibility
In quality terms the RS500 is as good as any Ford and holds up well in comparison to the limited opposition. In terms of street credibility and desirability, the models high performance appeal is only surpassed by the limited edition nature, which sees just 101 examples come to the UK, all of which sold out before many potential customers could even secure a test drive. The RS500 boasts supercar appeal despite its humble origins.
Stereo and ICE (In car entertainment)
The standard RS comes with a six-CD/tuner with DAB, which offers very good sound quality and remote controls. The RS500 gets enhanced connectivity with Bluetooth, voice control and USB port thrown in free of charge.
Colours and trim
All 500 RS500s, only 101 of which will find owners in the UK, are finished in Panther Black paint then wrapped in a Matt effect coating that prevents damage from stone chips and the like. Inside, the Recaro bucket seats remain and can be specified in leather as one of the few optional extras available. Part leather is standard. The dark plastics, cloth and roof-lining are atmospheric, but quite gloomy.
Parking
The RS500 is much like any Focus to park and so relatively straightforward, except that the rear wing and large seats restrict the view over your shoulder. Rear parking sensors are among the many standard additional fittings on the limited edition model.
Spare wheel
Mousse kit replaces spare wheel.
Range information
Petrol engine options – 1.4-litre (80bhp); 1.6-litre (100bhp); 1.6-litre Ti-VCT (115bhp); 2.0-litre (145bhp); 2.5-litre (222bhp, 300bhp, 345bhp). Diesel options – 1.6-litre (109bhp); 2.0-litre (136bhp). Transmission options: five-speed manual gearbox, six-speed manual gearbox, five-speed automatic gearbox, six-speed automatic twin-clutch automatic with manual over-ride. Trim levels: Studio, LX, Sport, Zetec, Zetec Climate, Titanium, ST, RS, RS500.