June 2009
Ford Fiesta Zetec 1.25 3dr
raksih-looking Fiesta is radical departure from previous models
June 2009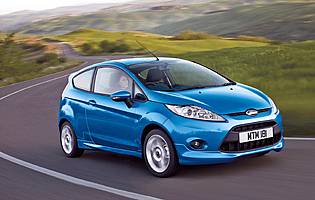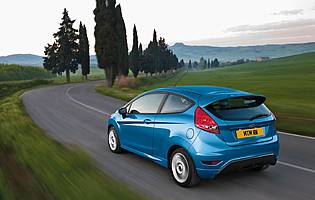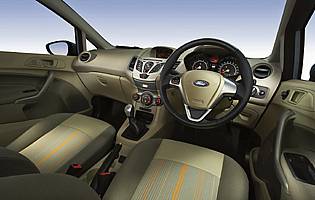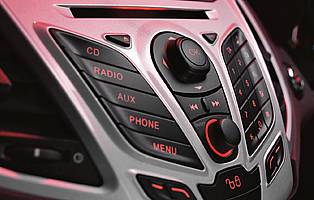 Overall rating

Likes:
Striking exterior design
Wide choice of engines and transmissions
Standard and optional equipment range up to big car standards
Engaging and refined driving experience
Gripes:
Fascia design biased a little too much towards form and not function
Cost cutting still evident in the form of lower grade cabin materials
Rear seats don't fold completely flat
Rear legroom could be better
Buoyed by the positive reception given to the Focus, this generation of Ford Fiesta borrows much from the bigger car in terms of style direction. Although always a favourite, time has seen the number of rivals increase. Boasting more dynamic styling, improved dynamics and big car levels of equipment, Ford hopes to maintain the car's popular edge.
With more than a nod to the Focus, this Fiesta presents a more modern appearance than its predecessor. It has also evolved in terms of design inside - the most obvious change being a radical new fascia design. Ford is keen to consign the previous car's conservative interior to history, and there's no question that the goal has been achieved.
There is, of course, more to this Fiesta than just a jazzy fascia. Overall interior build quality is a noticeable step above that of the previous car. A quick look around the cabin shows the evidence of higher quality plastics, although look a closer look reveals that lower grade materials are plentiful away from your regular gaze.
It's hard to fault the car's performance on the road, though. The Fiesta has always had a reputation for being a car that delights keen drivers. It might be pitched as a regular city car but it's also an accomplished B-road entertainer. Thankfully this version carries on the good tradition. The combination of a capable range of engines and thoroughly developed suspension ensure that this Fiesta remains head and shoulders above its rivals.
On a practical front it comes as no surprise that this Fiesta towers above the first generation car. Like so many small cars, the Fiesta is no longer small. In five-door form the car can be considered as a first family car - there's enough room in the back for children and, for short journeys at least, adults.
Our verdict on the Ford Fiesta Zetec 1.25 3dr
Ford's desire to be more than just a maker of cars takes another turn for the better with this Fiesta. Just like with the larger Focus, the combination of arresting design, entertaining dynamics and a practical cabin should ensure a bright future for this latest generation model. Some rivals may be better performers in one particular area, but the Fiesta trumps many with its all-rounder status.
Costs
With its modest asking price and, by and large, modest running costs, the little Fiesta should leave most of your finances intact. Some options, such as ESP, might prove tempting, but the individual prices are reasonable. Low tax bands, decent economy and a proven reliability record should ensure a low annual outlay.
Space and practicality
When considered as an all-rounder the Fiesta scores highly. Some rivals might offer more boot space or a bigger cabin, but the little Ford's rounded personality helps it shine though. There are niggles, though. The rear seats flip forward but don't lay flat, rear head and legroom could be more generous and the boot load lip could prove awkward if you're manhandling large or heavy items.
Controls and display
A significant departure from the previous model, this Fiesta sports bright silver surrounds for the main dials and an interesting layout for the main audio controls. The former is certainly more upbeat than before, but the latter is very much an acquired taste. Form has won out over function here, but at least the radio display is right in the driver's eye-line, thus minimising distractions. Much lower down are chunky, rotary ventilations controls, with the temperature position sometimes difficult to see - the digital climate control layout is more successful. Normality is restored with the conventional column stalks.
Comfort
Offering a combination of supportive seats, a multi-adjustable driving position, good forward visibility, refined engines and well-insulated cabin, the Fiesta delivers a 'big car feel' that's at odds with its modest dimensions. Rear headroom could be a little better, as could rear legroom.
Car security
For such an unassuming vehicle, it would be foolish to expect 'big car' security features. In reality the Fiesta does perfectly well with its central locking and immobiliser package. Move up from the base models and you have the option of purchasing an alarm. For added peace of mind a visible yet inexpensive steering lock would be a worthwhile investment to deter the casual thief.
Car safety
There's little to worry about here, as the basics are covered. Twin front and side airbags are standard across the Fiesta range, along with anti-lock brakes. That's where Ford's generosity ends though, as you will have to pay extra for ESP - whatever trim level you opt for.
Driver appeal
The Fiesta has often been the dark horse of Ford's line-up, as the various generations have been surprisingly enjoyable to drive. This version is little different; a selection of interesting engines, a slick manual gearshift, a measured ride and accurate steering all help to propel the Fiesta to the top of the class. When driven gently the car is refined and quiet, yet when pushed it comes alive. Bigger optional wheels can spoil the ride a little though, making it advisable to keep things standard and enjoy the car's supple ride.
Family car appeal
In three-door form the car is hardly an ideal choice, although it wouldn't disgrace itself if called into action. Access to the rear seats - securing children in their seats - would be a struggle, and it's here that the five-door variant scores higher. If you look on the three-door model as a family's second car it's not so bad, though.
First car appeal
There's no question that the Fiesta is a solid first car contender. Easy to drive and park, available with a selection of economical engines and, crucially for young drivers, a choice of bright exterior colours, it's hard to fault the package as a whole.
Quality and image
Always a favourite, Ford's Fiesta enjoys a large and loyal following. Appearances haven't always been to everyone's taste, but the overall package consistently performs well when up against key rivals. Build quality recently took a turn for the better, while this iteration boasts a more daring exterior than previous models.
Accessibility
In three-door form it's hard to fault access to the front seats. The big doors open wide, although this could be an issue when in a crowded car park. Access to the rear requires you to be reasonably agile - the front seat slides forward but the space is still modest. Once in, exiting the car is no less dignified. At the rear the Fiesta's tailgate opens wide with little effort, although there is a load lip to negotiate when transporting heavy or bulky items.
Stereo and ICE (In car entertainment)
The standard offering in the Fiesta is a competent unit. Sound quality is good, although the one drawback of the fancy mobile phone-inspired control layout is that it's a little fiddly to use at first. The option of a Bluetooth phone connection is welcome on a small car like the Fiesta, while the separate display is informative and easy to see at a glance when driving.
Colours and trim
To compliment the car's jaunty styling, Ford offers a wide range of vibrant exterior colours. With familiar favourites joined by the likes of 'Hot Magenta' it's obvious that Ford wants its supermini to stand out. It's much the same inside with generous quantities of silver trim for the fascia evident, although dark seat trim helps maintain a sensible balance.
Parking
Being a small car the Fiesta is not difficult to park. The combination of the slightly raised driving position, light but accurate steering and good forward visibility all help to make life easy. The Fiesta's small rear screen can prove a little obstructive at times, but this is only really an issue with the thick rear pillars of the three-door model.
Spare wheel
Space saver fitted as standard.
Range information
Petrol engine options - 1.25-litre (60bhp, 82bhp); 1.4-litre (96bhp); 1.6-litre (120bhp). Diesel engine options - 1.4-litre (68bhp); 1.6-litre (90bhp). Transmission options: five-speed manual gearbox, cost option of four-speed auto depending on model. Trim levels: Studio, Style, Style Plus, Zetec, Zetec S, Titanium, Econetic - 1.6 diesel only.
Alternative cars
Vauxhall Corsa Rakish styling combined with big car refinement
Toyota Yaris Premium supermini impresses with its refinement
Mazda 2 Drives well and looks good - hard to fault
Honda Jazz Hugely practical and versatile, not cheap and not a car for keen drivers either