July 2004
Fiat Ulysse 2.2 JTD Prestigio
Fiat's Ulysse has a more muscular appearance than equivalent models from Citroen and Peugeot
July 2004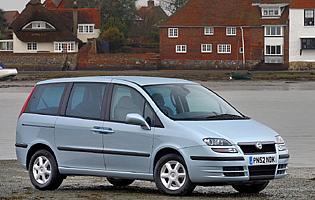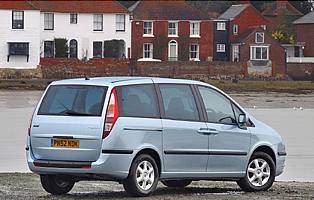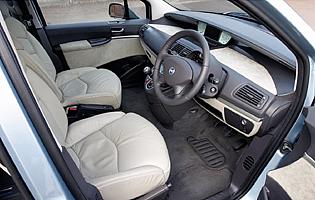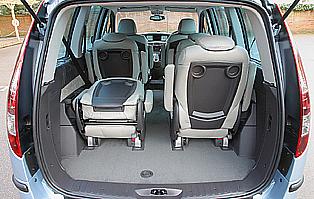 Overall rating

Likes:
Engines give good compromise between performance and economy
Loads of information displayed for driver's benefit
Some of the cleverest seating tricks yet seen
Bright, robust interior suited to families
Gripes:
Removing seats requires considerable muscle
Key fob functions are clever but mostly pointless
CONNECT NAV system is of limited utility
Residual values likely to be low
Fiat is a company usually associated with small cars such as the Panda and Punto, but in recent years it has proven itself equally adept at constructing large family vehicles. First came the quirky Multipla and then the excellent Ulysse. Happily, this vehicle shares nothing but its badge with the model of the same name that preceded it.
The modern Ulysse was developed as a joint project between Peugeot, Citroen and Lancia, who each produce their own models from the same platform. As a result, the Ulysse finds itself in a strange situation - it's an excellent full-size MPV in its own right, but everyone considering a purchase knows there are two (Lancia does not sell in the UK) almost identical alternatives out there as well.
Nevertheless, the Ulysse has enough going for it to edge ahead of the Citroen C8 and Peugeot 807 in many respects. It feels better built, better thought-out and offers a brighter, more family-friendly cabin. But the decisive factor could be the engines it offers, particularly its brace of fine JTD diesels which seem perfectly suited to the chassis, making the Ulysse good to drive - for an MPV.
In a people carrier, interior functionality and flexibility are key. Again, the Ulysse noses ahead of its rivals with three rows of comfortable, substantial seats offering more arrangements than a Rubik's cube. Upholstery is hard-wearing and chunky, while brightly-coloured switches and buttons create the sort of cabin space that is popular with kids.
Apart from bread and butter considerations such as these, the Ulysse even has a shot at playing the technology card. Multiple screens and lights give a reassuring amount of information to the driver. The key fob can remotely open the electric sliding doors and windows in various combinations and the latest climate control and communications systems can be specified, but few of these high-end features are particularly useful and certainly not worth spending extra money on. In any case, standard and mid-level Ulysses come with such a fulsome specification list that few real world buyers will require little more.
Our verdict on the Fiat Ulysse 2.2 JTD Prestigio
The Ulysse is probably the best of the identikit MPV trio. Its list price is slightly cheaper than the Citroen or Peugeot, but at any given time at least one of these manufacturers is likely to be offering an attractive discount which could swing a buying decision. In a straight fight, the Ulysse's superior interior is just enough to earn it the nod.
Costs
Purchase costs are reasonable - as they need to be, given the closely-matched competition from Citroen and Peugeot. The exact strength of the Ulysse's appeal will tend to be dictated by dealers' willingness to be flexible and offer substantial discounts. A dealer's proximity and reputation (sadly, Fiat's network is not generally regarded as among the best, though there are exceptions) are likely to be key factors, too. Residual values remain to be firmly established, but industry predictions are not particularly encouraging, meaning buyers of brand new cars will take a significant hit when it is time to re-sell. The flipside is that nearly new Ulysses could be real bargains. Fuel and insurance costs are decent, without being outstanding, and overall the Ulysse can be judged as fairly priced.
Space and practicality
Cunning trickery can be employed to rearrange, fold, flatten and remove seats from the second and third rows. Front seats can swivel through 180 degrees while rail-mounted seats in the second and third rows slide fore and aft and can be folded down and flipped forwards in a single movement, converted into tables, folded and stowed on board or removed altogether. The techniques required can be learned in a few seconds, but a well-fed male will probably be needed to lift seats out of the vehicle as they are heavy. More than 30 storage areas are dotted around the cabin, so there's room for all the requisite family kit and caboodle. With all rear seats removed, the Ulysse makes a convincing case as a luxuriously carpeted van with huge loadspace.
Controls and display
Drivers can't complain that they are uninformed, as the Ulysse supplies a huge amount of information to them. Particularly handy is a small display mounted on top of the steering column with trip information and warning lights that is rather easier to read than the large, central dials and electronic screen which is controlled using a rather confusing interface next to the gearstick and air conditioning controls. The positioning is far from ideal, though the Ulysse manages to avoid feeling cluttered despite its numerous switches and stalks.
Comfort
For once, promises of a 'car-like driving position' in an MPV prove to be well founded, so drivers have the best of both worlds - comfort and a raised vantage point at the same time. Seats feel substantial and, contrary to what used to be the case with Fiats, give the impression they will last for many years without becoming soft or lumpy. They are particularly supportive laterally, thus eliminating the MPV phenomenon of everyone leaning to one side through corners.
Car security
MPVs tend to be targeted by smash and grab merchants more often than they are targeted for outright theft. Security features include an immobiliser and alarm (not Dynamic models), while the central locking system can be programmed to operate automatically at speeds over 6mph. Security of a different sort comes from one of the Ulysse's cheapest but most effective components - a child surveillance mirror next to the rear view mirror so that the driver can keep an eye on goings-on in the back.
Car safety
Two multistage front airbags and twin front sidebags are complemented by two full length air curtains protecting the all-important people in the rear ranks of seats. Three-point seatbelts and chunky, full-size head restraints are fitted throughout, while electric child safety locks and ISOFIX attachments are present, as one would expect. On the downside, only 2.0 automatic and 2.2 JTD versions come with an Electronic Stability Programme (ESP) as standard.
Driver appeal
With a comfortable seat and well-positioned, stubby gearstick, the Ulysse does its best to lay on a decent driving experience. Body roll, perpetual enemy of MPVs, is largely kept at bay. Though inevitably favouring comfort over firmness, the ride quality isn't bad and engines offer enough power to avoid being sluggish even if they have little to spare with a full load on board. Most importantly, long journeys can be undertaken without problems, so that family holiday can finally be undertaken without a sense of foreboding.
Family car appeal
The Ulysse boasts a long list of family-friendly features that put it at the forefront of vehicles of this type. Each row of seats has its own 12-volt socket, and aircraft-style tables in the seat backs are a godsend for harassed parents to serve an impromptu picnic. Drink cans can be kept chilled in the central console and then disposed of in a moveable waste bin. Though not provided as standard, families might consider opting for the large sunroof to further brighten an already airy cabin area.
First car appeal
Almost by definition, MPVs tend to be purchased two or three cars into a car buyer's life, once the bargain banger and hot hatch have given way to family needs. Only someone who insists on ferrying friends wherever they desire to go on a daily basis would consider a Ulysse straight off the bat.
Quality and image
Despite the best efforts of Fiat's stylists to give the Ulysse some character, it's hardly a head-turner. But cars in this class rarely are and by the standards of the genre, the Ulysse isn't too bad at all. Relatively small numbers on the road could be interpreted as a sign of exclusivity or anonymity, according to preference. The Renault Espace and perhaps also the Chrysler Voyager remain some way ahead in the public's perception of desirability even though the Ulysse rivals the former and exceeds the latter in its build quality.
Accessibility
With the ability to open and close doors and windows in various configurations at a touch of the key fob, the Ulysse is exceptionally easy to access. Rear seats are positioned quite low, so it is not necessary to climb up into the cabin as is often the case with large MPVs. Seats are also easy to adjust, if not always to remove. The tailgate offers of plenty of assistance from its gas-filled strut so requires little strength.
Stereo and ICE (In car entertainment)
All models have a CD player and eight speakers (four tweeter and four woofer) which are fine for playing kids' favourite hits to keep them quiet. Dynamic models excepted, Fiat also provides a version of its technologically advanced CONNECT NAV system, though it is overly complex with numerous features most drivers are never likely to need or want. The turn-by-turn satellite navigation provided at Eleganza level is a welcome freebie, as is dual band GSM capability, but the direct line to a contact centre is superfluous and in any case is a subscription service that must be renewed after a year. The map-based sat nav of Prestigio models is seriously flawed. It's slow to react and its synthesised voice sounds like a Dalek down a well.
Colours and trim
Dynamic-badged cars are fairly well equipped but seem rather lacking when compared to the other trim levels. It really is worth stepping up to Eleganza trim level if at all possible, as it gains such valuable items as alloy wheels, electric doors, better upholstery, cruise control, folding trays on seat backs, extra storage drawers, upgraded climate control, rudimentary satellite navigation system and an alarm. An Ulysse Eleganza is a much more impressive vehicle than an Ulysse Dynamic, which feels van-like. Metallic paint is not provided as standard on any models.
Parking
Surprisingly, the Ulysse isn't too tricky to park at all, despite its size. Large wing mirrors help hugely, as does steering that becomes helpfully light at very low speeds. Even so, many drivers will like the reassurance provided by rear parking sensors, which are fitted to all Eleganza and Prestigio models. When a Ulysse has managed to squeeze into a tight spot, the sliding rear side doors allow rear passengers to embark and disembark easily and quickly. It's a different matter for the driver and front passenger, who still need to squeeze through conventional hinged doors.
Spare wheel
A full size spare wheel is provided but Fiat only provides locking wheel bolts on Eleganza and Prestigio models. Presumably the steel wheels of the entry-level Dynamic are deemed not worth protecting.
Range information
10 model line-up, with choice of three engine units: 2.0-litre (136bhp) petrol; 2.0-litre (109bhp) JTD turbodiesel and 2.2-litre (128bhp) JTD turbodiesel. Standard 5-speed manual gearbox range is joined by optional automatic sequential transmission on 2.0 petrol only. Entry-level vehicles are badged Dynamic, mid-range vehicles come in Eleganza trim and range-toppers gain the Prestigio name.
Alternative cars
Citroen C8 Despite being virtually identical to Ulysse, C8 feels more basic
Peugeot 807 Techno-styling attractive, but interior feels brittle
Renault Espace Beautifully designed but expensive and less functional than Fiat
Kia Sedona Seven seats at a bargain price. Inferior safety and build quality