December 2010
Fiat 500C Abarth 1.4 16v Turbo T-Jet 3dr
There's nothing lightweight about the 500C Abarth - keen drivers will love it
December 2010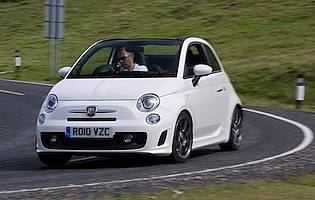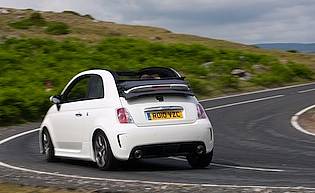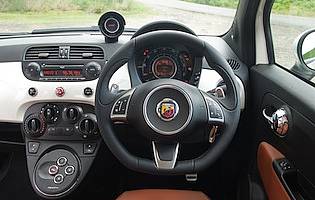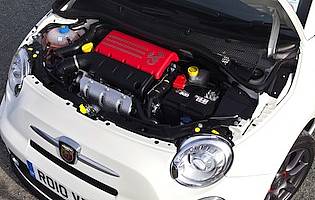 Overall rating

Likes:
Although not a true convertible, 500C's retractable roof is a useful feature
Cabin build quality is impressive
Wide range of options and considerable scope for personalization
In Abarth trim car looks purposeful and is fun to drive quickly
Gripes:
Semi-auto gearbox takes time and patience to master
Rear passenger space is limited - more so than in tin-top 500
View out the rear is hampered when in full convertible mode
Slow-responding gearbox when left in auto mode - manual is best
The combination of cheeky looks, fine engines and a high degree of personalisation make Fiat's 500 a very desirable car with a modest price tag. In convertible form the 500C variant offers buyers a genuine wind-in-the-hair experience. Factor in the feisty qualities of the Abarth variant and the open-top 500 comes as standard with fire in its belly.
After the launch of the second generation 500 buyers didn't have to wait long for a convertible version. The standard car has already demonstrated the right attributes to satisfy demanding buyers, whilst also being a viable small car for everyday use. The 500C has proven a hit with fashion-conscious motorists willing to sacrifice a little practicality for style.
Just like its tin-top counterpart, the 500C pays homage to the original 500, right down to manner in which the folding roof operates. Combining the best elements of a sunroof with that of a conventional folding roof, the 500C allows the driver to have the roof closed, or in three different open positions. A glass rear window and high-level brake light incorporated into the soft top indicate the level of detail development that has gone into the car.
Along with these model developments, fans of the 500 didn't have to wait long before the famous Abarth performance brand was resurrected. And, like its hard top cousin, the 500C can be had with a feisty 1.4-litre turbo petrol motor producing a heady 140bhp. Completing the package is a subtle bodykit, not so subtle twin exhausts and the unusual choice of clutchless semi-auto transmission.
Aside from the 500C Abarth's performance angle, like the rest of the range it benefits from a wide range or Mini-esque accessories. Even so, the standard Abarth specification is good, with seven airbags, Bluetooth handsfree technology, MP3 player compatibility, leather steering wheels and 16-inch alloy wheels.
Our verdict on the Fiat 500C Abarth 1.4 16v Turbo T-Jet 3dr
The 500C Abarth is much more than a regular 500. Aside from the obvious open top thrills, this car's fun personality is enhanced with the inclusion of that 1.4-litre turbo motor. A credible rival to the all-conquering Mini, Fiat's little hot drop-top is an interesting and engaging alternative. The semi-auto gearbox is an acquired taste, but once mastered is no barrier to having fun.
Costs
With the addition of the Abarth performance goodies, the 500C's asking price moves up a notch over some less powerful rivals. That said, the standard equipment list is generous and the car is no slouch. It will consume more fuel than a normal 500C though, and you'll likely pay a higher insurance premium too.
Space and practicality
For a small convertible, the 500C is surprisingly accommodating; space up front for two adults is fine, with head, leg and elbowroom all to a good standard. Storage space is modest though, as the door bins are shallow and there's no conventional glovebox but a deep shelf where one should be. It's a different story in the back as the car's rear seats really only suit children - legroom is at a premium. Further back, the 500C possesses a good size boot and the rear seats fold to further increase the space available.
Controls and display
For the driver, the focus of attention in the 500C is the large, cowled display behind the steering wheel. It plays host to the speedometer, rev counter, trip computer and various warning lights and is both clear and intuitive. The rest of the 500's switchgear is familiar Fiat items and all work well. The car's semi-auto clutchless gearbox is unusual, though. The default is 'auto' which can prove a little slow to change gear. Opt for manual mode and the paddle shifters allow a greater level of control; you can better coordinate smoother gearshifts. Switch to 'Sport' mode and, along with weightier steering, shifting gears is faster.
Comfort
Despite the Abarth's sporting character, it's supportive seats and not too firm ride make driving in a city environment a pleasing experience. The car is more vocal than a regular 500C, but that's part of the Abarth's charm. That said, relaxed - and quiet - motorway cruising is possible. It's also worth noting that the switch to a fabric roof has barely harmed the car's insulation from wind and road noise.
Car security
Aside from remote central locking and an engine immobiliser, an effective alarm system remains on the options list. With a fabric roof offering less protection than a conventional metal item, that along with any other aftermarket devices could prove to be a worthwhile investment. The Abarth is, after all, a little more distinctive than a regular 500C.
Car safety
Unlike some other small cars, Fiat has proven to be a generous provider of safety equipment, and the list includes seven airbags and ESP for the Abarth variant. The roof design also means that strong roof rails are still present, ensuring better crash performance should the worst happen.
Driver appeal
In standard trim the 500C isn't really a keen driver's car. The Abarth package changes this, and the little Fiat delivers a feisty and fun experience even at modest speeds. From its twin exhaust pipes the car's 1.4-litre turbo motor emits a purposeful growl, while the ride is noticeably firmer than standard. Drivers have a choice between normal and Sport modes, with the latter increasing steering weight considerably and encouraging the semi-auto gearbox to change up later. That the 500C Abarth comes with a clutchless 'box and paddle shifters highlights its sporting character. And for maximum fun and minimum frustration, it's best to use those paddles all the time, as the auto mode can prove frustratingly slow.
Family car appeal
As the sole car in the family the 500C would struggle to meet your requirements. It's not a bad car, just not one suited to carrying substantial amounts of shopping or accommodating children in their safety seats - access to the rear is less than perfect. As a second car it makes more sense, but it does pay to be aware of its limitations.
First car appeal
In principal the 500C is a great first car, assuming you don't mind paying a premium for the convertible experience. The Abarth version is, however a little more expensive again and a lot more powerful, making it less attractive if running costs and peace of mind are considerations.
Quality and image
The last few years have seen Fiat take great strides in improving actual and perceived quality levels. The 500's cabin is a perfect example of what has been achieved, with high quality materials evident throughout. Image-wise the 500 is clearly styled to tap into the demand for retro designed city cars and compete for a slice of the Mini's lucrative market share. Adding the Abarth sub-brand allows keen drivers along with the fashionistas to enjoy the car.
Accessibility
An often overlooked plus point with cars like the 500C is that they boast large doors that open nice and wide, making it easy to access the front two seats. Tipping those seats forwards allows access to the rear seat, although you will need to be reasonably agile given the car's modest dimensions. At the rear the 500's boot requires little effort to open and, cleverly, the roof moves out of the way if folded down to allow the boot lid to open. It also carries just three litres fewer than the hatchback model.
Stereo and ICE (In car entertainment)
Located high up in the fascia, the 500's audio unit boasts large controls and an easy to read display. Sound quality is more than acceptable for something at this price point. Abarth models gain Fiat's Blue and Me system, which consists of a Bluetooth telephone connection and a USB port for connecting media players to the audio unit.
Colours and trim
With the 500C aimed at fashion conscious buyers, there is little point in dictating what is good or bad. Ultimately the final decision will be a matter of taste, although it's fair to say that garish combinations could adversely affect future residual values. The 500C's interior can also be specified in a number of bright colours which are perfectly in keeping with the car's cheerful personality.
Parking
In general terms the 500C's size is a big help here, and with the light power steering at low speeds it's an easy car to manoeuvre. The only drawback is over the shoulder visibility, which is reduced by the roof and its large rear pillars. With it fully raised the rear window is smaller than the standard car and with it folded fully down it is very difficult to see over the rear. Parking sensors do help enormously, though.
Spare wheel
A tyre mobility kit is fitted as standard.
Range information
Petrol engine options - 0.9-litre (85bhp); 1.2-litre (69bhp); 1.4-litre (100bhp, 140bhp). Diesel engine options - 1.3-litre (95bhp).Transmission options: five-speed manual gearbox, six-speed manual gearbox, Dualogic semi-automatic gearbox, Abarth Competizione MTA gearbox (Abarth only). Trim levels: Pop, Lounge, Abarth.
Alternative cars
Mini Convertible Benchmark for keen drivers and those seeking a sensible financial investment
Mazda MX-5 Long-lived and well-respected roadster still delivers more thrills than its many, newer rivals
Volkswagen Beetle Convertible Popular cult car reborn with Golf underpinnings; a refined option but not a sporting option
Citroen C3 Pluriel Oddball roof system gives plenty of options, not a car for keen drivers though