Ferrari GTC4Lusso T
Futuristic styling
March 2017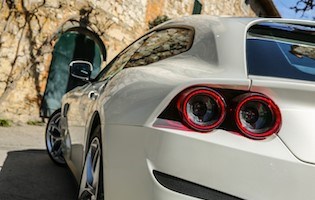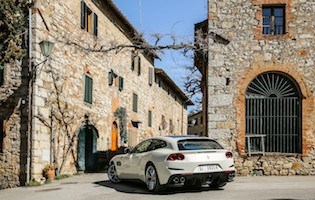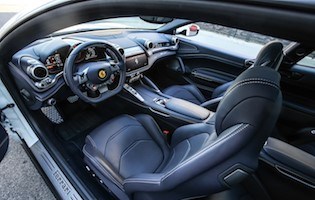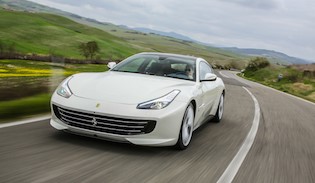 Overall rating

Likes:
Incredible cornering performance for a 1.8-tonne car
Lots of grip under acceleration despite the rear-wheel-drive
Futuristic styling gives the car amazing road presence
New infotainment system is well designed – it's like a tablet
Gripes:
Steering wheel doesn't adjust very far towards you
Deep, throaty exhaust note is not classic Ferraris
Not the most comfortable or luxurious car in this class
Some switchgear doesn't feel as premium as it should be
Ferrari has taken its GTC4Lusso shooting brake and placed the twin-turbocharged V8 found in the 488 supercar under the bonnet. It might sound comedic for 602bhp car, but this is all in the name of economy – thanks to the turbos the V8 has lower emissions and better fuel economy.
It's far from just a new engine to the range though. The engine has been so thoroughly looked at and the bodywork adapted for its new powerplant that the Italian manufacturer considers this a totally separate model to the V12-powered GTC4Lusso. And at £199,000, it's £30,000 cheaper.
The engine has been given new pistons and a new intercooler design, while the exhaust system has also been tweaked to reduce pressure. And if Ferrari's figures are to be believed, it's better suited to GT car duties because it'll go 30 per cent further between fuel stops.
Inside it's all theatre, but a particular highlight is the infotainment system. Introduced with the V12 GTC4Lusso, it works just like a tablet and is fast and easy to use – not something you could always say about such systems from the Prancing Horse.
The GTC4Lusso T is designed to be a relaxing cruiser but with the sharp dynamics we've come to expect from the company. It wants owners to be able to pack their holiday luggage in the back, but not have to make too many compromises for performance. With so much power, it's certainly not lacking on the latter.
Our verdict on the Ferrari GTC4Lusso T
By trying to make the GTC4Lusso T sharp and agile in corners while also being comfortable long distances, Ferrari could easily have suffered a 'master of none' outcome.
Fortunately, the result is an intoxicating combination. No, the ride isn't as cosseting as some rivals, but it's more than good enough – and when you find a twisty road all scepticism will be forgotten.
---
Costs
The cost of owning a Ferrari is huge – though in relative terms the GTC4Lusso T could be argued as a good deal. In some cases, the £199,000 base price is more than double what some very capable rivals cost, but it is a whole £30,000 less expensive than the V12 model.
And with a 30 per cent larger range, it's also better suited to GT car duties than its bigger-engined equivalent, and fuel costs should be lower thanks to fuel economy of 24mpg.
Space and practicality
Traditionally, Ferrari owners had to look to other brands if they needed a practical alternative, but that's all changed. The shooting brake shape means that there's ample boot space for all your luggage for a weekend away or a large shopping trip.
In the cabin, rear passengers might feel a bit claustrophobic on a long trip, but space is ample up front.
Controls and display
In this new era of digital displays, designers can get creative. The instrument binnacle here is beautifully laid out and the dominant information changes depending on what driving mode you're in. The central infotainment screen is a delight to use too.
Comfort
Considering Ferrari is used to making performance-focused cars, it has turned to comfort impressively well. Sure, the cabin doesn't quite come with the luxurious, cocooned-from-the-world sensation of rivals, but the seats aren't too hard and the ride isn't too sporty.
Turn the manettino (a small switch on the Ferrari steering wheel) to 'bumpy road mode' and the surface is ironed out further.
Car security
It's a sad fact that such a high-end luxury car will be appealing to criminals, and the exotic Ferrari badge will only increase that. However, the GTC4Lusso T comes with automatic locking and an alarm to keep people at bay.
Car safety
With such high performance on offer, safety is important, and Ferrari has addressed this by fitting plenty of airbags to protect occupants. It also comes with one of the most sophisticated traction control systems in the world, so grip is impressive even in the wet, while carbon-ceramic brakes offer impressive stopping power. There are fewer semi-autonomous driver aids available than on most rivals though.
Driver appeal
Here's where Ferrari's GT offering truly excels over its rivals. No other car in this class has the agility of the GTC4Lusso T, which darts along a country lane like a sports car rather than a big cruiser.
It's only let down slightly by its motorway cruising skills. Where other rivals cosset you in supreme comfort, the GTC4Lusso T feels slightly compromised as a result of that agility. The ride isn't quite as soft or settled on a poor motorway surface, so rivals from Porsche and Bentley might be more appealing if that is important.
Family car appeal
There's plenty of family appeal for the GTC4Lusso T thanks to the four-seat practicalities and decent boot space. Youngsters will be less concerned by the cramped rear seats, too. Up front, kids will love the passenger-side screen – if it has been optioned.
First car appeal
Although most learners would love the idea of a Ferrari as their first car, there isn't much about it that would make it a sensible idea. So much power could have disastrous results for an inexperienced driver, while the running costs associated with the GTC4Lusso T could also be prohibitive.
Quality and image
The Prancing Horse badge that adorns all Ferraris commands more respect than arguably any badge out there. The buy-in price of nearly £200k demonstrates as much, though, so you do need to be committed to the manufacturer's appeal for it to make sense.
Build quality is still a little bit of an unknown, though. Traditionally, Ferrari hasn't been the best in the business, but that's changed since the 458 supercar – if that's anything to go by, the GTC4Lusso T should last years of regular use.
Accessibility
For front passengers, accessibility is relatively easy despite the low-set seats meaning you have to drop in - the huge door apertures certainly help. Getting into the rear isn't quite so easy, as the front seats have to be folded forward. Leg room and head room is fairly limited for all but the shortest of people.
The boot is easy to access, though, which is important for a GT car. Automatic opening and closing means no getting your fingers dirty after a long motorway slog.
Stereo and ICE (In car entertainment)
Ferrari has really upped its game with the GTC4Lusso's in-car entertainment. The centrally-mounted 10.25-inch touchscreen is a delight to use and acts like a tablet. It's quick and responsive and the menu layouts are logical, while mobile phones connect easily.
The optional passenger-side screen has also been updated for the T to give more functions, such as changing the music or adding a waypoint to the satellite navigation system.
Colours and trim
Colour options are fairly limited, but there's a good spread that should account for most tastes – there's red, white, blue and grey. The white has a gorgeous, creamy finish that really accentuates the details of the design, while the dark grey gives a much classier, subtle appearance. Historical and triple-layer colours are also available, though they'll come at a significant premium.
Exterior trim options include diamond-forged alloy wheels, panoramic glass roof and a sports exhaust, while on the inside additional leather can be specified as well as a slew of colourful aesthetic changes.
Parking
Parking isn't too tricky in the GTC4Lusso T thanks to ample parking sensors and decent front visibility – though looking out the rear isn't the easiest. The biggest pain with regards to parking is the large doors, which require quite a bit of space to open – not ideal for tight spots.
Spare wheel
Emergency tyre repair kit supplied as standard.
Range information
Petrol engine options: 3.9-litre V8. Transmission options: Seven-speed dual-clutch. Trim levels: T.
---
Alternative cars
Porsche Panamera Turbo Updated version loses ungainly looks, even better to drive.
Bentley Continental GT Much bigger and feels it, but few can match its ride quality.
Aston Martin Rapide S One of the few cars that can match the Ferrari for badge appeal or engine noise.
BMW M6 Not quite as prestigious as Ferrari but BMW has a well-earned reputation for building fantastic cars.