May 2013
Ferrari F458 Spider
458 Spider shares the aggressive front end styling of the Italia coupe
May 2013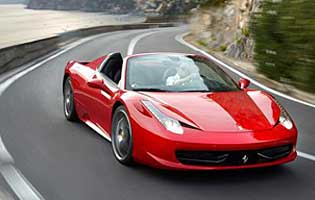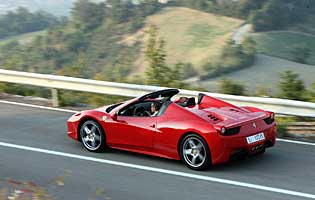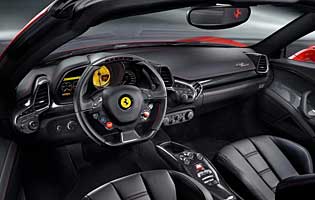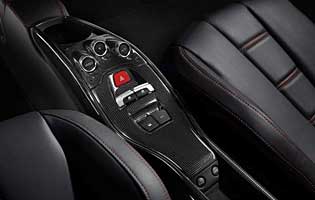 Overall rating

Likes:
Huge performance potential gives an exhilarating driving experience
Show-stopping looks attract attention everywhere the car goes
Breathtaking noise from a V8 engine capable of 9,000rpm
Surprisingly practical elements allow reasonable luggage capacity
Gripes:
Many commonly desired features are very expensive options
High purchase price places the car beyond most ordinary people's reach
Parking can be difficult thanks to reduced visibility and a poor turning circle
Optional lightweight carbon fibre seats are too hard for longer journeys
After building the beautiful F355 in the 1990s, Ferrari had struggled with negative press after the technically faster and better F360 and F430 failed to kindle the imaginations and emotions of customers in quite the same way. Now, with the F458 and following on from it the open-top Spider version, Ferrari has once again created the complete supercar package.
It is arguably the firm's flagship in popular culture despite the presence of more powerful and more expensive cars, just as the American Air Force's F18 Hornet fighter jet has a keener following than the technically superior F15 Eagle, and on both counts the popularity comes mainly through styling. The F458 Spider is an outrageous and stunning thing to behold.
On top of that it's the company's main sports car, meaning its chief purpose is to be driven as hard as possible, as often as possible. The coupe version is entirely uncompromised in that respect, although the Spider does add a little weight because of the electric, folding hard-top roof and officially becomes more about the experience than the speed.
Not that it lacks performance, with a top speed of nearly 200mph and acceleration that would dispatch almost every other car on the road. The open roof simply means that, with the adjustable 'manettino' driving mode selector set to the boisterous Sport or the extreme Race modes, those inside the cockpit are treated to an even more intense aural experience.
The F458 is built to be as thrilling as possible; an even more obvious fact in the Spider despite the roof's presence deleting the transparent panels above the engine. It's not as impractical as some people may think, either, and it can even fulfil grand touring duties - but with the standard seats rather than the unyielding optional alternatives.
Our verdict on the Ferrari F458 Spider
There is almost nothing about the F458 Spider that raises criticism. The lightweight carbon fibre seats that are expensive but popular options become uncomfortable after only a few dozen miles, and the technology interfaces are also outdated and occasionally illogical to use, but the key elements that really define the car cannot be faulted. Since its launch the car has received almost nothing but high praise, and deservedly so.
Costs
Costs in all respects are immense for this car, despite Ferrari's efforts to improve energy efficiency. Emissions are down, economy is up, but it can't hide the fact that the 458 Spider is still extremely thirsty for high-octane unleaded fuel. Residual values are generally not of great concern to owners of modern Ferraris, but due to the 458's great success the residual values are likely to start strong and depreciate relatively little.
Space and practicality
While the 458 Spider is not about to win any prizes for luggage-carrying capacity, it does have a surprising amount of raw space to exploit. Drivers less than six feet tall will find that there is more than enough room behind the seat to place coats, small bags and the like. Then, under the bonnet is the main luggage compartment, which is the full depth of the car but is tapered to suit the available space. Soft luggage is best for this car.
Controls and display
An exceptionally busy steering wheel greets any 458 Spider driver, but the driver-focused dials, buttons and levers are very well placed and can be snatched in a heartbeat. This does seem to come at the expense of the other controls, though, which from a design and placement point of view do seem to have taken a back seat. The central display is low-resolution and dated in most respects compared to a typical system from an average high-spec family car.
Comfort
This particular test car had been specified with optional carbon fibre seats that have reduced padding for a more racing car-like feel. Unfortunately they are very hard and after 40 miles or so of brisk open-road driving they become uncomfortable, despite their impressive grip and support through a hard-driven set of bends. The suspension is firm, too, but thanks to expensive components it feels well-damped and rarely overly harsh.
Car security
Most owners wouldn't think of leaving their car anywhere other than under high-security protection, but nonetheless there is an alarm, an immobiliser and an advanced tracking system as standard to afford owners much more peace of mind whenever they leave their cars somewhere different.
Car safety
In such a fast car a reasonable degree of safety should be expected, although owners would not accept any safety equipment that impinged on the car's performance pedigree. There are airbags to the front and side in case the worst should happen, as well as fast-acting traction control with several modes according to the ambition or skill of the driver. The main safety systems, however, are the wide, soft-compound tyres and huge brakes, all of which combine to produce massive grip and stopping power.
Driver appeal
The 458 Spider is arguably an even finer drive than the Coupe version because occupants get more of the raw, sensational engine noise as well as the wonderful open-air feeling that convertibles offer. The chassis dynamics have suffered little, although there is a tiny bit of shake over some larger bumps. The drivetrain, complete with a 9,000rpm-capable V8 engine and super-fast twin-clutch gearbox, is among the finest ever made. Only the hard, optional lightweight seats spoil the sensations.
Family car appeal
The 458 Spider is in no way geared up for family use, and there are many reasons why it would make a particularly poor choice even if a rear-facing child seat were correctly attached to the passenger seat. The ride may be too firm and prove unsettling for a baby - or their stomach - while the low seat makes it awkward to install a seat in the first place. The available load space is inadequate for pushchairs and toddler-related accessories, too.
First car appeal
There are probably very few cars that a learner driver would like more as their first car. In terms of desirability the 458 Spider is almost peerless, but the car simply isn't suitable for new drivers. Aside from the huge purchase price and astronomical running costs, it would be impossible to obtain insurance through normal channels and there are difficulties surrounding parking it. First-time buyers should look elsewhere.
Quality and image
Ferrari's brand image is probably the most fiercely protected in the world, but while the firm does very little conventional marketing, its chief method of image management is its Formula One programme. Motorsport technology is at the heart of the 458 platform; in its chassis, its bodyshell construction and its drivetrain, and Ferrari is extremely sensitive about any negative press it receives. The reality is that there are some small areas of cheap plastic in the cabin, and certain areas of stitching are poorly aligned across panels.
Accessibility
With any car as low as this there is an inevitable difficulty associated with getting in and out. The long, thick doors also make it essential to have plenty of space beside the car to allow the door to open far enough to allow entry. The roof line is equally low when it's in place and needs to be avoided, but the one advantage the Spider presents is that when the roof is folded away, the roof line is irrelevant.
Stereo and ICE (In car entertainment)
The 458 lags some way behind most ordinary cars for stereo functionality. The relevant buttons and dials are placed behind the steering wheel, often out of sight for the driver, and their positioning makes it quite awkward to use any of the stereo controls at all. There's satellite navigation as standard so the car comes with a colour touch-screen media interface, which responds quickly enough to inputs but relies too much on buttons placed well away from the screen.
Colours and trim
Ferrari's wealthy clientele tend to want to choose either a small number of more common colours or something entirely unique. The company can veto particularly tasteless requests if it chooses to, to avoid harming the brand's reputation, but the key colours of red, yellow and white are popular. On the inside the buyer can choose from several trim colours to complement the particular exterior shade, but while the extensive leathers are very plush the stitching is in some areas wayward.
Parking
It's obvious that no out-and-out supercar will also be designed to be as easy to park as a supermini, and the 458 Spider suffers the same limitations as many of its ultra-expensive compatriots. Rear visibility is somewhat hampered and the sheer width of the body makes it tough to negotiate a way into any sort of ordinary parking space. Its paintwork is also vulnerable to knocks and scrapes from goings-on around the cars next door, and the large and prominent alloy wheels are easy fodder for kerbs.
Spare wheel
Emergency tyre repair kit supplied.
Range information
Petrol engine options - 4.5-litre (562bhp). Transmission options: seven-speed dual-clutch gearbox. Trim levels: Italia, Spider.
Alternative cars
Lamborghini Gallardo Spyder Comparatively old under the skin, the Gallardo still has plenty of raw excitement
Maserati GranCabrio Softer than the 458 Spider, but also classier with a sonorous turbocharged engine
Bentley Continental GTC V8 Large and heavy but surprisingly good to drive, with peerless interior quality
Aston Martin DB9 Volante Effortless style and grace make this a supreme grand tourer, but it's no hypercar