August 2014
Ferrari F12 F12 Berlinetta
Sensational looks mix function with form
August 2014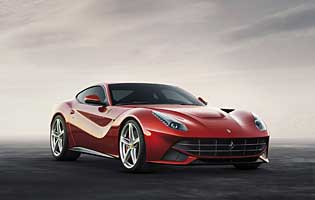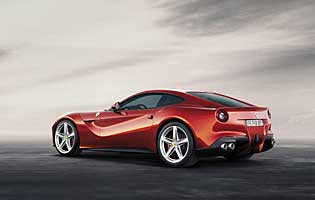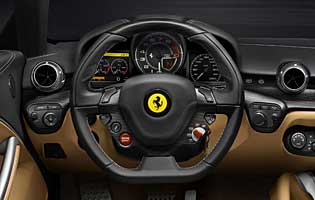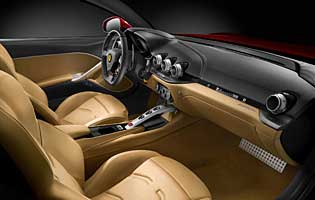 Overall rating

Likes:
Exterior is functional as well as beautiful with all-important 'wow' factor
Spectacular engine is a masterpiece of engineering
Benign yet thrilling handling
Surprisingly easy to live with in normal driving
Gripes:
Vastly expensive to buy and to run
Can be a handful on typical bumpy B-roads
Easy to become nervous in tight traffic with such a high price tag
Parking takes time and care even with standard cameras
It has been a busy few years for Ferrari, increasing the number of 458 Italia variants as well as unveiling the LaFerrari hybrid hypercar. In between that it has replaced the 599 with the F12 Berlinetta. Sitting at the top of the 'normal' Ferrari range it takes on the role of ultra-high performance grand tourer.
Reaching as far back as the 1960s Ferrari has offered a high-performance sports car with long-distance capability and a V12 engine in the front, and some of those cars have been the most revered and appealing that it has ever produced. The F12 therefore has to take up this mantle as well as stave off ever more exciting opposition.
The recipe for the F12 remains broadly very simple, although the execution uses the latest Ferrari has to offer and ties in with its Formula 1 exploits. The coupe body has many subtle and attractive aerodynamic devices dotted around it and some will activate automatically when conditions demand it.
Under the very long bonnet lies a naturally aspirated V12 engine that shares some history with the previous Enzo hypercar. It does without the modern fad of turbocharging and instead relies on sophisticated engine management, cubic capacity and a very high rev range in order to deliver its monumental power output. All that urge is also directed to the rear wheels only.
Transmitting the power is a seven-speed dual-clutch gearbox but marshalling the whole thing is Ferrari's now familiar manettino switch. Five different settings adjust the ESP system, traction control, gearchange speed, electronic differential and numerous other factors in order to ensure the driver can manage the car in the best way regardless of the situation.
Our verdict on the Ferrari F12 F12 Berlinetta
It is a challenge to be rational about a car that assaults the senses like this, but the F12 is a fantastically executed supercar that will fulfil the wishes of anyone fortunate enough to be able to afford one. Desirable, supremely fast and yet surprisingly manageable, it is one of very few cars where the reality is within touching distance of the dream.
Costs
Expect nothing but large, frequent bills from the F12. When pressed it will drink its 92-litre fuel tank in a very short space of time, and insuring it will require deep pockets. More than most cars the F12 will also require regular dealer servicing in order to maintain performance and resale value.
Space and practicality
Giving the F12 a purely two-seat layout means more luggage space can be provided, and there is a useful 500 litres of storage in the rear available as well as the ability to section it off in order to keep items in place. Up front there are a few storage areas but the centre console area and door bins are quite shallow.
Controls and display
Like the 458 Italia the F12 does away with conventional column stalks and instead puts indicators, lights, wipers and horn all on the steering wheel, leaving the space behind it free for the two large paddleshifters. That layout takes a little getting used to, but once it becomes second-nature it is no more effort than in a standard car. The display screens are comprehensive and clear, although it takes some familiarisation to know where everything is.
Comfort
Although this is a supercar capable of over 200mph it is also designed to cover long distances in comfort. The sports seats are excellent and the driving position very good, noise levels are well controlled when cruising and even the ride quality is good, although it is suggested that bumpy road mode is engaged whenever driving on public roads in the UK.
Car security
As well as an alarm and immobiliser the F12 is fitted with a tracking device as standard, which is reassuring given its purchase price and high desirability.
Car safety
The F12 is based around an immensely strong structure, high power carbon ceramic brakes, wide tyres and comprehensive set of electronic aids, all designed to make it manageable regardless of the conditions.
Driver appeal
Driving the F12 in a sedate fashion is incredibly easy given the amount of power and performance on offer. Left to its own devices the gearbox shifts reasonably well and the engine is docile when treated with respect. On the flip side unleashing the full 730bhp can only be done in the right conditions and with total respect; the acceleration is savage and unrelenting, the brakes are imperiously strong and the steering sharp and light. Even with the suspension in bumpy road mode however, at speed it requires concentration.
Family car appeal
With just two seats available the F12 can only manage one passenger, although it is perfectly possible for this to be a child seat. There's enough luggage space to swallow most pushchairs but the expensively finished cabin would soon suffer at the hands of a messy toddler.
First car appeal
Even a lottery winner fortunate enough to be buying their first car would do well to steer clear of the F12. Aside from the very high costs to purchase, run and maintain it is not a car for an inexperienced driver.
Quality and image
The dark old days of hit-and-miss reliability are long gone, and when well maintained an F12 will go on for many pleasurable years. Ferrari has in fact extended its warranty on new and approved used cars to reflect this. Arguably the Ferrari image is the best in the business, especially with the higher-end of the range such as the F12.
Accessibility
The F12 offers only two seats so there is a single door on each side offering straightforward access. The length of the door means careful parking is required though, and it is quite a drop down into the seats. Once inside it is possible to have some access to the rear luggage compartment, while opening the rear hatch gives excellent access.
Stereo and ICE (In car entertainment)
The F12 has sat-nav as standard as well as an audio system that will happily provide DAB, CD and auxiliary input as well as syncing with MP3 devices. The layout takes a little getting used to however, but after a few miles it is easy to operate on the move.
Colours and trim
As befits a car of this price tag there are a multitude of options for colour and trim. Unlike most Ferraris the F12 doesn't look its best in default red, instead lighter shades show off its curves and clever aerodynamic devices more readily. Inside there is very little in the way of black plastic, instead it is fine leather, aluminium and suede trim.
Parking
The view out of the F12 is predominantly forwards for obvious reasons and although rear vision isn't too bad it is relatively difficult to judge the car's dimensions. Parking sensors as standard as standard are a help, as are the parking cameras but care is still required.
Spare wheel
Emergency tyre repair kit supplied as standard.
Range information
Petrol engine options - 6.3-litre (730bhp). Transmission options: seven-speed dual-clutch gearbox only. No trim levels.
Alternative cars
Lamborghini Aventador Mad, fast and jaw-dropping to look at, less civilised in normal driving
Mercedes-Benz SLS Black Series Stunning track-ready version of gorgeous SLS, but still over 100bhp down on Ferrari
McLaren 650S A fraction smaller but no less capable than F12
Audi R8 GT A much cheaper option but still very entertaining despite its age