July 2015
DS 5 Elegance
The new grille dispenses with Citroen chevrons
July 2015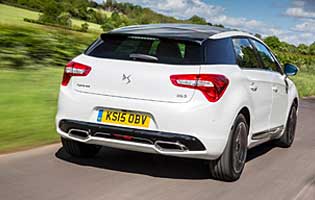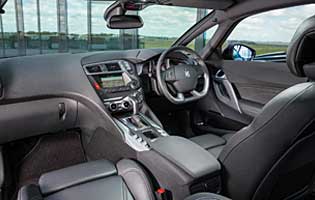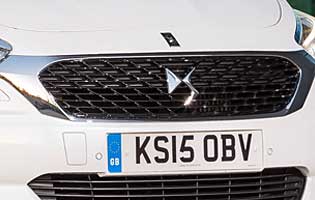 Overall rating

Likes:
Stylish and distinctive interior
Low-slung body gives a sporty, premium look
Diesel engines provide plenty of performance
Generally good body control in corners
Gripes:
Not as comfortable as it should be
Poor outward visibility in most directions
Not particularly refined at any speed
Precious few interior practicality features
The DS 5 is the first car produced under the DS brand following its deliberate separation from the Citroen name. It is not an all-new vehicle, instead simply changing the front grille and upgrading various technological features. The styling, especially at the front, is the template from which future DS models will be drawn.
Positioned as an alternative to the executive saloon norm, the DS 5 is a hatchback built almost in the style of a 'shooting brake' estate. It's long, sleek looks are aided by distinctive 'blades' running the length of the bonnet. Blacked-out door pillars again serve to emphasise the horizontal lines, making it seem low, long and poised.
Parent company PSA, which also owns Citroen and Peugeot, has some difficulty in defining the car's identity. It has attempted to distance it from the classic Citroen with which it shares part of its name while insisting that it looks forward, not back, despite it being essentially a re-branded Citroen product.
As well as distinctive styling it has various other clear identifiers that separate it from the crowd it competes with. Bold seat designs and a bulky, cockpit-like dashboard and console construction give it a unique feel. The large, quite oval-shaped steering wheel is another signature design with its broad, flattened lower portion.
Until an all-new model arrives to more clearly define what the young DS brand stands for, the existing 5 is the flagship. This version has placed comfort higher up the list of priorities than before and rides on much more compliant suspension, but its greatest strengths lie in its dramatic interior and its peerless ability to do things differently.
Our verdict on the DS 5 Elegance
As much as the people behind the DS brand might try, there is no escaping this car's recent Citroen past. It is a car built in an image it no longer wishes to have, which does present problems in terms of how well-resolved a product it can actually be. It has its merits and is good value when compared to German mainstream alternatives, but is unlikely to win many fans.
Costs
This car seems like poor value, depending on what it is compared against and by what measure. Versus German premium rivals it may seem like a cheaper alternative, but BMWs and Audis will hold their value better. The comparison looks especially bleak against similarly-priced executive cars from Volkswagen, for example, whose Passat is financially a much wiser option over a period of time.
Space and practicality
With the body unchanged from that of the Citroen it once was, the DS 5 remains hampered by a boot smaller than a car of its size deserves. While 465 litres is far from bad it falls some way short of cars like the Ford Mondeo, Volkswagen Passat and even the much cheaper Skoda Octavia. The hybrid DS 5's load bay is reduced to just 325 litres to make way for four-wheel drive components. There are few spaces in the cabin where everyday essentials, drinks and paperwork can be easily and safely stashed.
Controls and display
Unsurprisingly there is an unconventional arrangement of instruments in the main cluster. An analogue rev counter is underpinned by a digital speedometer, which can be annoying when it skips numbers as speeds rise or fall. The central media interface screen is good, albeit a little small for the class of car, and its means of operation are clear. The steering wheel features audio controls and menu navigation buttons in an easy-to-fathom layout.
Comfort
As if emulating the German premium cars it aims to rival, the DS 5 has very firm seats. It means they should last the test of time and high mileage well, which is good news for fleet managers looking for robust cars and less good news for drivers who may sometimes wish the chairs were a little more forgiving. While the centre console and dashboard almost wrap around the driver there is still plenty of legroom for all. The offset pedals on manual models could be a problem for driver comfort.
Car security
It could be argued that the DS 5 is quite a conspicuous car, with bright silver bodywork highlights gleaming in the midst of the paintwork and aggressive, blade-type wheels filling the chunky wheel arches. It's possible that the car might attract a degree of the wrong sort of attention. That said, alarms, an immobiliser and deadlocking, which is all linked to keyless entry, allow for a good degree of confidence in its anti-theft measures.
Car safety
For an optional extra fee drivers can add a head-up display, which consists of a small projector that beams speed, navigation and cruise control data onto a clear plastic screen that folds up out of the top of the instrument binnacle. It works very well, reducing the length of time the driver's eyes spend away from the road. The cosy cabin is lined with airbags to the front, sides and front corners, while the cruise control system is a non-adaptive type so will not slow the car automatically.
Driver appeal
The main improvement made to the DS 5 is in its suspension, where softer springs and more compliant dampers have replaced the terribly uncomfortable setup of the old version. That makes it a much more pleasant thing to drive under all conditions, although it is still on the firm side. Its body control is good, which gives confidence for brisk cornering, and it has excellent directional stability for motorway cruising. The noisy diesel engines do detract from the experience, though.
Family car appeal
The DS 5 is built primarily for form before function, despite the latter having been improved for this facelifted version. As such its basic proportions leave it at a disadvantage next to more sober alternatives, with a lower roof line over the rear seats reducing the available headroom when leaning in to try to fit a child seat. There are bigger boots to be had among rival cars, too, and cheaper ways of buying a family-friendly model.
First car appeal
It is almost impossible to conceive of a reason why a first-time car buyer would even seek out the DS 5 in the first place, let alone buy one with their own money. It is not particularly novice-friendly because of its restricted visibility and imposing size on the road, it is expensive to buy, costly to insure and has little going for it in terms of first-car appeal. Its one saving grace in this category is its uniquely aggressive looks, which may curry some favour among young drivers.
Quality and image
There are mixed messages within the DS 5's cabin, where high-quality leathers sit alongside smooth and shiny plastics that feel rather cheap by comparison. It looks like a dynamic car from the outside, which helps its image by adding desirability, but its reputation for an unforgivably hard ride will take time to change, if indeed it can ever be overcome. Under the Citroen banner the DS 5 developed an image of being easy to want, but hard to actually choose.
Accessibility
While it's fair to say the seats are not positioned as low as the sleek, coupe-like body might lead you to believe, they are low enough to necessitate dropping the last few inches rather than gently lowering yourself into place. The front doors are quite long and need a good amount of empty space beside the car, but they do at least open and close with less weight than their bulk might suggest. The tailgate opens easily after an initial tug at the handle.
Stereo and ICE (In car entertainment)
There are two Hi-Fi options; the standard item and an upgraded Denon unit. Both allow the user to play music from sources including CDs, FM/AM/DAB radio, USB and auxiliary inputs. Bluetooth is also included and can be used to play music, connect a mobile phone or both. The controls to operate the interface are fairly intuitive and fall easily to hand. Audio quality is very good.
Colours and trim
There are colours that a buyer would expect to find, including the commonplace black and white. There are four greys, one of which is the standard free option, and a blue, plus one left-field choice in the form of a deep, luxurious purple. The interior trim is a mix of many shapes, finishes and styles that, although less discordant than the DS 5's predecessor's was, can still feel a little overwhelming. Seat leathers feel high-quality while many of the plastics do not.
Parking
Visibility is a real Achilles' heel for the DS 5, thanks to one of the shallowest rear windows of any car along with thick pillars surrounding it. The twin A-pillars sometimes intrude when approaching roundabouts, too, leaving a narrow gap through which to peer out of, or forcing the driver to manoeuvre their body to see around the assembly altogether. In summary, the standard parking sensors are often essential in order to park safely.
Spare wheel
Emergency tyre repair kit supplied as standard.
Range information
Petrol engine options - 1.6-litre (163bhp). Diesel engine options - 1.6-litre (118bhp); 2.0-litre (148bhp, 177bhp, 197bhp hybrid). Transmission options: six-speed manual (118bhp and 148bhp diesels only), plus six-speed automated manual (163bhp petrol, 177bhp diesel and 197bhp hybrid). Trim levels: Elegance, Prestige.
Alternative cars
BMW 3 Series Uninspiring best-seller does everything it's required to do, and does it well
Ford Mondeo Spacious option can't match the DS 5's flair or style, but is good value
Mercedes C-Class Drab looks are disappointing, but interiors are high-quality
Volkswagen Passat Offers superb refinement, efficiency and comfort in a hard-to-beat package