November 2015
DS 4 Crossback 2.0 BlueHDi 180 EAT6
Large new DS grille dominates the front aspect
November 2015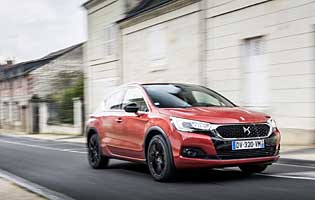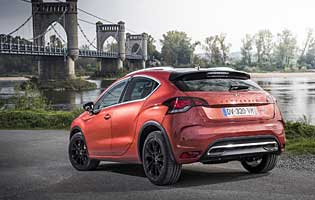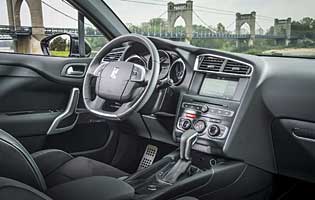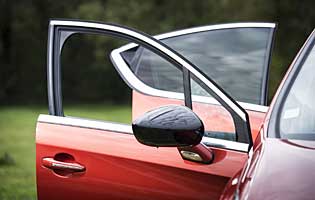 Overall rating

Likes:
Exterior additions create the look the DS 4 always should have had
High level of grip gives reassurance in corners
Laid-back diesel engine and automatic gearbox are excellent for cruising
Uniquely stylish interior in high-spec models
Gripes:
Ride rarely feels settled and feels jittery over rough surfaces
Large steering wheel is a little unwieldy
Engine still louder and more intrusive than class best
Black wheels especially vulnerable to kerb damage
The DS 4 has been split into two model lines following its separation from the Citroen brand. There's now the standard car, known as the hatchback, and a more rugged-looking, slightly higher-riding sister car called the Crossback. DS hopes it will draw eyes and capture imaginations a little more effectively than before.
Although all signs of the Citroen chevrons have been outwardly eradicated, the DS 4 has essentially changed little against its predecessor. The most significant revisions come with the contrasting wheel arch trim extensions, roof rails and a ride height that is simultaneously 10mm higher than before and 30mm higher than the new DS 4 hatchback.
DS has a point in terms of the visual benefit these changes bring to the Crossback. With these simple additions the car looks much more purposeful and eye-catching, especially in the bolder colour options. The roof rails aren't just for show, either; they can carry a roof box, bikes or even a surf board rack.
There are three engines to choose from, two of which are diesel. Fleet sales will form the greater part of sales, if DS meets its targets for the 4 in the UK, so fuel economy, tank range and style are among the most important qualities. Both diesel engines come with automatic gearboxes, although the lower-powered version is also offered with a manual.
The DS 4 Crossback will attempt to differentiate itself from other mid-to-high-end crossovers with exterior style and interior luxury. The familiar 'watch strap' leather seats are available on the highest trim level, for example, and there is a lot of tempting equipment on board. The model doesn't come cheap, though, and there are many tough rivals at this price.
Our verdict on the DS 4 Crossback 2.0 BlueHDi 180 EAT6
There's no denying the Crossback's position as a good-looking left-field option in an increasingly crowded and, to some extent, homogenised market. It has great visual appeal and performs well as a laid-back motorway cruiser, but lacks suppleness in its suspension and never really settles over rough surfaces. Its perceived quality is also a notch below the class best, which leaves it in a difficult position.
Costs
The biggest obstacle facing the Crossback, which is only available in one high-spec trim level, is its high purchase price and low predicted residual value. Scarcity may push real-world used values up, as sometimes happens with cars that don't hit sales targets when new, but monthly finance payments may be high. Fuel economy should be good after the engine covers a few thousand miles to loosen up, but it will need to be treated exceptionally gently.
Space and practicality
Comparing the Crossback to similarly priced or cheaper hatchbacks makes its perfectly spacious boot seem like a selling point, and it is until the same comparison is made with one of the rugged estate cars available at this price point or less, which all have much larger luggage areas. Nonetheless, the Crossback has a good-sized boot for its relatively compact length, and it uses its height to its advantage in providing more legroom.
Controls and display
Both DS 4 models share a strange colour-changing feature for the instruments. The standard is white, but users can cycle from deep blue to lilac and several shades in between, but nothing outside of this range. It's an odd setup that doesn't bring any benefit, and it's better off left on white. The wider control layout is a familiar and intuitive one, though.
Comfort
A jittery ride makes it hard to get fully comfortable on rough roads, but on long journeys some drivers will definitely appreciate the hard seats that keep backs straight. Other people, especially those running short journeys, might find them too firm and not very welcoming. The watch strap-style front seat option, which has lots of chunky pieces, is less comfortable than the standard ones. There is plenty of legroom in all seats.
Car security
There is little to report in terms of detail; DS has not shared details of any of the 4's security systems. An alarm and immobiliser are standard, though, and the fuel filler cover locks with the central locking.
Car safety
Buyers can rest assured that the Crossback has achieved the highest star rating for safety in the Euro NCAP crash tests. It has six airbags, stability control and Isofix child seat mounts. It also rides on wide tyres, which may not help it in terms of comfort but certainly do provide a great deal of grip when you need it most.
Driver appeal
Despite riding higher, the Crossback does not have softer or longer-travel suspension than the hatchback. Its extra height without significant suspension adjustments is actually a hindrance to its ride quality, and it never feels fully settled or composed unless the road is perfectly smooth. The new automated manual gearbox calibration has worked wonders for the most part, giving much faster and smoother shifts than before. The more powerful diesel automatic makes an excellent motorway cruiser.
Family car appeal
A lot of good things could be said about this car in terms of its suitability for families. It's compact on the road, spacious inside and its extra height versus an ordinary family hatchback gives raised seats and a higher roof line, both of which are crucial when installing bulky or heavy child seats. The boot is amply sized for child-related paraphernalia, although some chunkier buggies may fill it more or less completely.
First car appeal
There's little to recommend about the Crossback as a first-time car. It's easy to drive, feels relaxed, and the relatively slow-feeling steering, due in part to the sheer size of the wheel, is forgiving. But it's tough to imagine why anyone would single such a car out as an ideal first step after a driving instructor's supermini.
Quality and image
The Crossback looks great from most angles, especially the rear three-quarter. Only the look of the black wheels cheapens the first impression. The immediate feedback is positive from this high-grade interior, too, but looking a little longer and touching a few of the surfaces starts to put the brakes on any initial enthusiasm. In terms of materials quality the leathers are beautiful, but the plastics can't match the better cars in the class.
Accessibility
With a ride height 30mm higher than the DS 4 hatchback, the Crossback will be easier for some people to get into, but harder for others. This is splitting hairs, though, and people with normal mobility in an average height range will have no problems getting in or out of either. Rear passengers will find the bottom of the door aperture a little tight, which is perfectly normal for the size of car. The rear windows do not open.
Stereo and ICE (In car entertainment)
A seven-inch touch-screen is standard, and through it a driver or front passenger can control the AM/FM radio, DAB tuner, CD player and satellite navigation. There are also steering-wheel mounted audio controls. Bluetooth wireless connection compatibility allows a single device to be connected for hands-free phone calls and music playback. As standard the stereo has a mere six speakers, but the reasonably-priced Denon upgrade comes with eight speakers plus a subwoofer.
Colours and trim
Tourmaline Orange Metallic is the best colour for the Crossback, enhancing the fashionable exterior style and contrasting with the bodywork extensions. Black wheels are standard and match the black 'Crossback' lettering on the tailgate, but silver or dark grey ones would look better. There are six interior trim options covering cloth, black leather, grey leather and two-tone options. The watch strap leather seats are an option and look fantastic, albeit at the cost of comfort.
Parking
The Crossback's black wheels are especially vulnerable to damage from kerbs, which counts against it. They can be upgraded to grey diamond-cut items, but the larger size puts these even more at risk. Visibility is not bad in any direction by contemporary standards, but to assist the driver there are rear parking sensors and a reversing camera, although the budget may have been better spent on just one of those items and front parking sensors instead of the second. Front sensors are an option.
Spare wheel
Emergency tyre repair kit supplied as standard.
Range information
Petrol engine options - 1.2-litre (128bhp). Diesel engine options - 1.6-litre (118bhp); 2.0-litre (177bhp). Transmission options: six-speed manual or six-speed automated manual depending on model. Trim levels: Crossback.
Alternative cars
Mercedes-Benz GLA-Class More expensive but higher quality in most respects
Volkswagen Golf Alltrack Larger, more refined and better to drive, but more expensive
Seat Leon X-perience An excellent everyday car at a competitive price
Volvo XC60 Svelte looks and well thought-out interior