September 2007
Dodge Avenger 2.0 CRD SXT
From the front the Avenger is unmistakably a Dodge
September 2007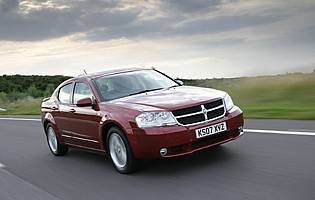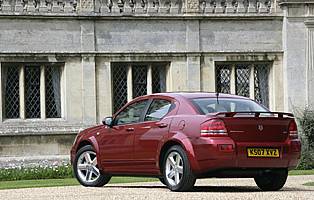 Overall rating

Likes:
Bold exterior styling
Good value proposition
Diesel option is a welcome one in such an obviously American-centric concept
High levels of equipment - and thoughtful too
Gripes:
Overall cabin build quality could be better
Rear seat space isn't that great despite the car's overall size
Diesel engine can sound gruff when accelerating hard
Driving dynamics don't quite match the competition
When you're introducing a new brand to the market, it helps if there's some 'baggage' to go with it. With Dodge, Chrysler's value for money, youthful brand, all of its history is very much rooted in the USA. However, not everyone knows this or, realistically, will be interested. Which is why the current Dodge line-up boasts of in-your-face design and generous levels of equipment, and the Avenger saloon is no different.
Even if you weren't aware of the heritage behind the Avenger name, there's no mistaking its butch origins once you catch sight of this current incarnation. The muscular wheel arches, squat stance, sweeping roofline and that unmistakable Dodge grille never fail to make an impact.
And yet this is a car being pitched against a pretty conservative opposition, to mainly conservative buyers. Only time will tell if the plan succeeds, but judged on the strength of the success of the firm's Caliber model, the Avenger could be another surprise hit.
Dodge - or Chrysler - only ever talks of modest sales; it has a modest presence in the UK after all. However, the combination of good looks, a long and generous list of standard kit plus an all-important diesel option should have buyers dissatisfied with their current car at least take a long look at the Avenger.
The saloon layout of the Avenger not only helps make the design work, but should also appeal to the fleet market. It's here that big gains can be made in terms of buyer acceptance, and when you want to stand out in the company car park there can be no better way than with an Avenger.
Our verdict on the Dodge Avenger 2.0 CRD SXT
The Avenger looks like a great car on paper: fantastic looks, generous levels of kit, a diesel and auto option plus a sensible pricing structure. On the whole the car is good, but build quality could be better and will be noticeable to anyone that's just stepped out of a Honda Accord, for instance. In its defence, many will be attracted to the Avenger precisely because it's not an Accord, Mondeo, Vectra, or 407.
Costs
Predictably, if you opt for the diesel variant you'll immediately save some money - assuming you do enough miles to justify the original cost premium. Being a saloon you might also get a slightly lower insurance quote, although the car's overall running costs shouldn't be high thanks in part to its proven mechanicals that are used widely on Chrysler group vehicles.
Space and practicality
Being a saloon, the Avenger can't match a hatchback for versatility, but at least its rear seats fold and the bootspace itself is generous. In the cabin, front seat occupants fare well thanks to decent head and legroom. Oddment space is also good. At the rear, the Avenger's sloping roof does impact slightly on headroom, but legroom should be okay for most people.
Controls and display
Anyone familiar with the current Jeep range of products will feel right at home in the Avenger. Coming from the same company (Chrysler), the car's switchgear is predictable and functional. It could be a little more polished in terms of quality, though. The car's main dials are simple and clear, while the standard audio unit is intuitive. The optional touch screen infotainment system is, despite its many features, also very easy to use.
Comfort
The Avenger's ride is on the plush side of firm and that's a good thing, as too many cars in the premium compact sector overdo the sporty suspension settings. Cabin noise is pleasingly low most of the time, although the diesel engine can be heard when it's being revved hard. Elsewhere, the car's seats provide a good level of support.
Car security
Remote central locking plus the usual immobiliser form the basis of the Avenger's security portfolio. Being a saloon, there's one more secure area as it's obviously difficult for thieves to actually see what's in the car's boot. If you want any more protection, a visible deterrent such as a steering lock would be an affordable option.
Car safety
As with so many cars in its class, the Avenger comes with all the usual active and passive safety systems you'd expect. Anti-lock brakes plus brake assist and all the airbags you'll need are present.
Driver appeal
In general the Avenger acquits itself well to most situations. It might not be as talented as a BMW 3 Series but the car's overall ride is refined and comfortable. It's a car that can be hustled along quickly, and the 2.0-litre diesel engine is the best option for this and more sensible activities. Frugal and powerful, it's not that quiet but a better all-rounder and likely to be a favourite with fleet managers then either petrol options.
Family car appeal
Cabin space is the Avenger is pretty good for a compact executive car, but you might struggle if you have to transport a grown up family. On the other hand, a growing family's demands should pose few problems. Oddment space is good and, so long as the leather upholstery is avoided, small children will feel right at home.
First car appeal
Although hardly a stand-out choice for the first time driver, the Avenger shouldn't pose any problems. It's an easy car to drive and manoeuvre, but one that probably won't be on a new driver's shopping list.
Quality and image
Coming from the USA, the Dodge brand is unlikely to mean much to the average European buyer. Certain design elements might look familiar if seen on traditional US muscle cars, but in the main this is a clean sheet venture. However, for all the Avenger's bold design cues, it's a little behind in the quality stakes - the car's interior is no match for a Mondeo's.
Accessibility
Front seat occupants will have no trouble getting in and out of the Avenger; the car's doors open wide and the seats are mounted at a convenient height. Rear seat occupants have to cope with a much smaller door aperture, and it might be a squeeze for the very tall or inflexible.
Stereo and ICE (In car entertainment)
Standard fit is a decent radio and CD player. The controls are easy to use and the sound quality is perfectly adequate. As if to give the Avenger an edge, there's also an optional multimedia system boasting a colour touch screen display, sat-nav, a hard disc for storing music and pictures. Although not especially cheap, it performs very well.
Colours and trim
Bright colours are the order of the day for the Avenger - it is a pretty bold design, after all. Darker hues tend to soak up the many details in the car's exterior. Inside, the cabin ambience is pleasingly light and airy, although the trim materials could be of better quality.
Parking
Although a saloon car, the Avenger shouldn't prove difficult to park. The view rearwards is good and the car's mirrors are also a good size. The steering offers plenty of assistance and the Avenger's overall dimensions ensure that it's never a handful even in small car parks.
Spare wheel
Space saver fitted as standard.
Range information
Petrol engine options - 2.0-litre (154bhp); 2.4-litre (167bhp). Diesel engine option - 2.0-litre (138bhp). Transmission options: five-speed manual gearbox on 2.0 petrol, four-speed auto gearbox on 2.4 petrol and six-speed manual gearbox on 2.0 diesel. Trim levels: SE and SXT - latter only on 2.4 petrol.
Alternative cars
Ford Mondeo Default fleet choice is now bigger and better than before
Honda Accord Premium Japanese offering is good to drive while build quality is exceptional
Volkswagen Passat Business-like Passat is well built and equipped - stylish, too
Peugeot 407 French offering delivers decent handling and cabin ambience plus is good value