March 2005
Daihatsu Sirion 1.3 SE
Chunky-looking Sirion is a radical departure from its predecessor
March 2005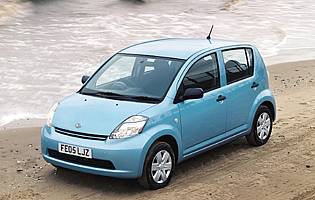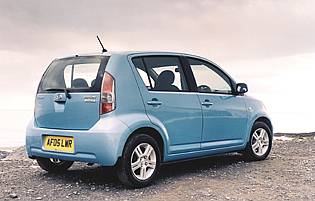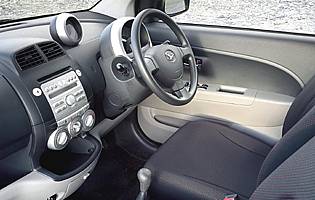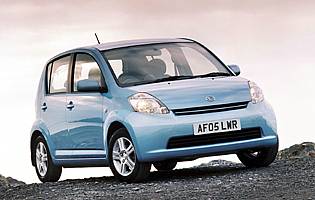 Overall rating

Likes:
Spacious cabin welcome in the supermini class
Youthful, quirky styling likely to attract younger buyers
Value for money motoring - high level of standard kit
Surprisingly refined at motorway speeds
Gripes:
Brand image has yet to gain wide acceptance with buyers
Despite jaunty styling, interior is dominated by blacks and greys
Sirion will roll and pitch a lot when driven hard
Lack of diesel option hinders the car's long range capabilities
Daihatsu's attempt at going mainstream in the supermini sector comes in the shape of a larger and more refined Sirion. Funky looks and decent road manners - of which the Sirion possesses both - are never enough to tempt buyers in this fiercely competitive sector, as also comes with a spacious cabin and a generous helping of standard equipment.
Whatever the 'experts' say about 4x4s taking over our towns and cities, superminis still rule the streets. That much is true from the numbers of Ford Fiestas, Vauxhall Corsas and Peugeot 206s that roam the urban landscape. What's also true is that few superminis boast enough space to be seriously practical, or enough standard kit so as not to feel like the poverty-spec cars that that they really are.
With one eye on the mainstream competition whilst maintaining its 'outsider' image, Daihatsu's 2005 model-year Sirion is clearly aimed at pleasing both camps: the traditionalists and die-hard Daihatsu fans.
The former is taken care by way of a long list of standard kit - all the more impressive given the Sirion's asking price. Four airbags, air-con, ABS, radio/CD player, electric windows and mirrors plus power steering rarely appear together on a supermini at the value end of the scale. Also, the car is almost as practical as a larger family hatch thanks to a generously cabin.
For the latter group, they get their Daihatsu fix in the shape of the firm's typically quirky styling. Although not as radical as some vehicles sold in the domestic market, the Sirion is sufficiently different from mainstream models to warrant a second glance. It's certainly not a car you can call bland or 'safe' like so many European offerings. And, true to Daihatsu form, the Sirion is powered by small capacity but willing, refined and economical petrol engines.
Our verdict on the Daihatsu Sirion 1.3 SE
The Sirion is not your average supermini. For starters it's roomier and comes with enough standard kit to embarrass some cars from the class above. That it sports a distinctive look along with numerous and welcome practical touches is more than a bonus. Taking the fight to the Ford Fiestas of this world will always be a tough task, but the Sirion's extra charm and its ability to behave all grown up out of town should win over more than a few buyers seeking something different.
Costs
Buying and running a Sirion is not going to break the bank. Standard equipment is high for a car in this class - ensuring you pay less for the finished article than you would for many of its rivals. And despite the absence of a diesel, both the petrol engines are frugal enough for it not to be an issue. Insurance and running costs should be modest and Daihatsu's solid reliability reputation should mean garage visits are infrequent. Buying cheap does mean selling cheap, so holding on to your Sirion for a good while will make more sense than selling it after only a few years.
Space and practicality
No complaints in this department - certainly in comparison with other cars in the supermini class. Four adults will have no problem getting comfortable in what is a surprisingly spacious cabin. The trade off is a boot of only modest proportions, however. It'll be more than adequate for most, but anyone with a small family might have trouble stowing a baby buggy or other such bulky items. That said, oddment space inside the car is generous, from a central cubby and almost 'shelf running almost the full width of the fascia to cupholders and a useable glovebox. A split folding rear seat is also standard.
Controls and display
The Sirion isn't a complicated car and it should come as no surprise to learn that its controls are simple and straightforward. The main instruments are housed in a pod-like structure that's part of the steering column that moves with the column. Opt for the 1.3 SE and you get a rev counter mounted Smart-style on the top of the fascia. The audio units controls are chunky and intuitive, with the rotary ventilation controls equally straightforward. The car's fuel gauge is a simple LCD display, but the number of increments from full to empty could be greater.
Comfort
With the Sirion's increased dimensions comes a larger, and roomier, cabin. Although still a car that belongs in the supermini class, the not-so-small Daihatsu is now a more accommodating and practical car. Four adults can fit with little trouble and rear legroom should be more than adequate for most people. Fore and aft headroom is also good, while wind and engine noise is pleasingly low - especially when driving at motorway speeds. The driving position is fine but the steering wheel adjusts for rake - not reach.
Car security
Although unlikely to be the most sought after car by the criminal fraternity, it's good to see that an immobiliser is standard along with remote central locking - even on the entry-level model. With so much uncovered cabin storage space available it would be wise to keep anything valuable out of sight, though.
Car safety
Daihatsu should be commended for fitting driver, passenger and front side airbags as standard. While no big deal on bigger cars, their presence should force other rival car makers to do the decent thing sooner rather than later. The Sirion also comes with anti lock brakes, which is something that's no longer a luxury - even on small cars.
Driver appeal
The Sirion's wide track and larger than previous footprint ensures that the car is stable around town and feels reasonably secure on the motorway. The car's steering does lack feel, but that's hardly a major criticism. Tasked with delivering a jolt-free experience around town, it does a good job and the wheel requires little effort to turn. With decent, predictable brakes and a slick manual gearshift, the car is surprisingly competent. There's little to separate the two engine options, but the 1.0-litre unit feels more suited to the urban stop-start while the 1.3 feels less stressed over long distances.
Family car appeal
Supermini's rarely make successful family cars and the Sirion is unlikely to buck this trend. However, thanks to its decent sized cabin, it could suffice if you're just starting a family and have a small budget. Interior space should prove sufficient but it's worth noting that the car's boot will struggle as it's not that big. Conversely, as a second car for urban duties the Sirion makes perfect sense.
First car appeal
The Sirion would make an ideal first car: it's not too powerful, inexpensive to buy and run, loaded with standard-fit safety and comfort kit and easy to drive. It's difficult to be negative about the car when it boasts so many positive attributes. Key to the car's appeal is its modest price tag and how easy it is to drive. Jerk-free progress is almost guaranteed thanks to the smooth engines and easy to use gearshift. The Sirion's lofty driving position helps, too.
Quality and image
Image-wise Daihatsu is probably better known for making rough-tough little 4x4s, but the firm is no stranger to producing clever little superminis. Sadly this market is dominated by the big volume producers and anyone else - Daihatsu included - always finds it difficult to break through. The second generation Sirion is closer to the mainstream opposition than any other Far Eastern offering, though; build quality is impressive, equipment levels are high and the styling is bold.
Accessibility
Front seat occupants will have little trouble getting in or out of the Sirion. The doors open nice and wide - for a supermini - and the seating position is slightly raised, making it easy to slide in and out. Back seat occupants don't have too hard a time, as the car's generous dimensions mean that head and legroom is reasonable. But, the rear doors don't open as wide as the front ones, making egress a little tricky if you're not careful. The car's boot does open nice and wide though, even if the space available is modest.
Stereo and ICE (In car entertainment)
No expense has been spared - well, for a supermini. The Sirion comes with an easy to use radio and CD player. The unit dominates the car's fascia, and is both easy to use and delivers a good quality sound. The various controls are in the shape of large buttons, while the display is easy to read.
Colours and trim
Bright colours suit the Sirion's fun personality best, and also show off its various styling features. Dark colours don't seem to do the car's cheeky face any favours. Inside, the mood is more subdued. Dark hues dominate the cabin, but the effect works, as the feeling is one of above average quality. The modest sprinkling of silver does a good job of brightening the cabin ambience, though.
Parking
Slotting the Sirion into a parking space should be the least of your worries. The car's light steering makes easy work of manoeuvring, while its tight turning circle should make light work of negotiating cramped multi-storey car parks. From inside the car, visibility is good both fore and aft thanks in part to the lofty driving position. SE specification cars even get rear parking sensors as standard.
Spare wheel
Space saver fitted as standard.
Range information
Two engine options - 1.0-litre (68bhp) petrol; 1.3-litre (86bhp) petrol. Both fitted with five-speed manual gearbox, latter available with four-speed auto gearbox. Two rim levels: S and SE.
Alternative cars
Suzuki Swift Rejuvenated Swift better to drive but not outstanding value for money
Ford Fiesta Default mainstream choice is a good, if unimaginative, motor
Fiat Panda Like the Sirion, Panda is fun to drive and funky to look at. Cheap, too
Hyundai Getz Far Eastern rival lacks style of the Sirion but gets a longer warranty