July 2004
Daihatsu Charade 1.0-litre EL
The Charade is the quickest car in the 1.0-litre city car class
July 2004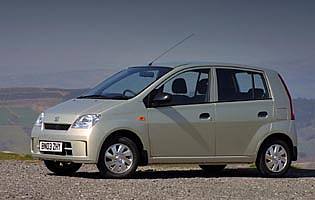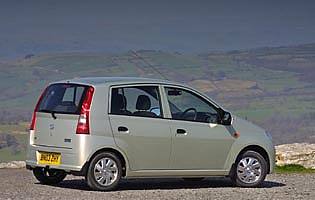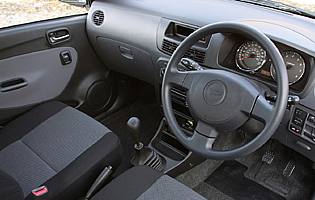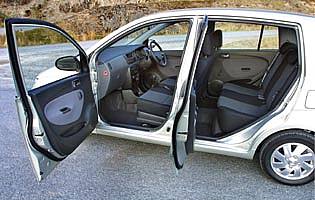 Overall rating

Likes:
Lively acceleration and performance for a 1.0-litre car
Nimble and engaging handling can make dull urban journeys a bit livelier
Three-cylinder engine offers up an unexpected aural treat
Standard levels of specification are impressive for a car of this price
Gripes:
Styling is very boxy and too Japanese
Lack of boot space dramatically restricts practicality
Stereo quality leaves a lot to be desired
Motorway crosswinds will scare the life out of even the bravest Charade buyer
The burgeoning city car market is chock full of little Far Eastern offerings, but none as nippy or as much fun as the Charade. Daihatsu's baby is the quickest, most aerodynamic and most refined car in its class, with a price tag that belies its abilities. This blend of aptitude and affordability should stand it in good stead when it comes to taking on the more stylish and marketable European offerings.
You may not be aware, but Daihatsu was the first of the Japanese manufacturers to export cars to the UK all the way back in the summer of 1965. Other manufacturers have since come to the fore and left Daihatsu somewhat in their shadow. The likes of Toyota and Mazda are without doubt the more established brands.
That said, the south Japanese firm has continued to plug away with models like the Hijet van, Sportrak and, of course, the Charade. The plucky little supermini has been around now almost as long as the Volkswagen Golf.
Aside from longevity, the Charade also has build quality, affordability and class leading levels of refinement and performance in its armoury. Modern day versions are the quickest in their class, leaving the likes of the Toyota Yaris, Perodua Kelisa and Daewoo Matiz in its wake.
It may not be an accomplished motorway cruiser or come with enough boot space to accommodate a bag of peanuts, but in its natural environment cruising around city streets and ducking in and out of tight parking spaces, the Daihatsu Charade is king.
Our verdict on the Daihatsu Charade 1.0-litre EL
It may not look it, but the Charade is an absolute hoot to drive around town. While not so much fun on the motorway, it will cope with three lane roads and manages to keep its cool when passing menacing-looking lorries. But it's in town where the Charade excels, and its in this environment that you'll question the need for anything else when the quirky little Daihatsu is so good at dodging traffic and squeezing into tight parking spaces.
Costs
Even the most expensive Charade is hardly likely to break the bank. You could go nuts with the options list, ticking every single box and the price tag would still be affordable. An insurance grouping of 5 across the range and a combined fuel economy figure of 59mpg make the plucky little Daihatsu about as cheap a form of transport as is imaginable.
Space and practicality
Micro cars by definition are limited to the levels of practicality they can afford. The Charade is no different to any other city car in this respect. Four adults will fit, although six-footers may struggle bit in the back. The boot cavity at just 157 litres will struggle to swallow two full-sized suitcases or a pushchair, for example. There are several pockets and cubbyholes dotted around the cabin, though, that provide enough space for mobile phones, purses and the like.
Controls and display
While there are uglier and plainer instrument binnacles and control dials to be seen in cars costing more money, the Charade's controls and displays are definitely at the budget end of the scale. The climate controls are functional, but lack a weighted and connected feel. The CD player (a standard feature) performs all the functions one would expect of it, but does so without any flair or panache. In the Charade's defence, one can't exactly expect cruise control and a Bang and Olufsen stereo at this price.
Comfort
Engine, road and wind noise above city speed limits are a bit of a problem in the Charade, as it's thin panelling and sound insulation struggle to fend off aural intrusions. This is largely to be expected from a car in this price bracket. The seats are fairly comfortable, if a little park bench-like and all but the tallest of front seat passengers should have more than enough room.
Car security
Although it is hard to image the Charade being at the top of any car thief's list of desirables, it still pays to exercise caution. To that end, buyers can expect burst proof door locks, central locking, an engine immobiliser with coded transponder key and a 'key left in ignition' warning light as standard. An alarm is available from the options list, as is a set of locking wheel nuts for those who plump for an alloy wheel-kitted SL five-door model.
Car safety
Child proof locks, a collision deflecting front frame, driver and passenger airbags, energy absorbing steering column, fore and aft crumple zones, seat belt pre-tensioners, Full Impact Safety System (FISS), a high level brake light, a rigid safety cell and side impact protection beams make up what is an extremely impressive level of safety kit for a car of this price. However, given its diminutive stature, the Charade is likely to come off worse in any collisions with larger cars.
Driver appeal
Believe it or not, the Charade is an absolute blast to drive around town. It's nippy off the mark, handles tight bends well (despite a little body roll) and the engine sounds like it should be under the bonnet of a rally special. Whereas most cars will have to slow down from the 30mph speed limit to take that 45-degree bend safely, the Charade's low centre of gravity and 'wheels at all corners' set up means that you don't have to. Even a boring trip to the supermarket will be livened up by the Daihatsu's propensity for embarrassing hot-hatch owners at the traffic lights. Stick to the urban roads, though, as motorways and Charades don't mix well. It isn't that it can't keep up - the plucky little city car has a top speed of just under 100mph - but side winds and articulated lorries tend to give it a hard time.
Family car appeal
As long as it is just going to be Mum, Dad and no more than two kiddies at a time the Charade can supply just about enough seating space. Stowage space, on the other hand, is notable by its absence. The Charade is far better suited to a young couple or single urbanite who only rarely have to worry about carrying anything larger than the weekly shop.
First car appeal
The Charade's trump card; young motorists fed up of driving around in an old banger or their Gran's hand-me-down could do a lot worse than purchasing this diminutive Daihatsu. Cheap insurance, good levels of performance for urban motoring and a fairly modern look should all appeal to the budget-conscious if not quite the style-conscious motorist. Given the way in which petrol prices continue to skyrocket, 47mpg around town will make trips to the pumps mercifully infrequent for the young and the cash-poor.
Quality and image
Image is a bit of a sore point with Daihatsu. For most people the name is still synonymous with the Hijet vans that bring us our pizza and plumbing supplies. The funky little Copen roadster has gone someway to solving this problem, but many people still believe it to be a grey import rather than a proper UK spec car. Quality is less of a problem for the Far Eastern firm that started the Jap invasion of the UK market. As with all Oriental manufacturers the build quality and general standard of engineering is ahead of many European rivals.
Accessibility
Gaining access to and exiting from the front two seats should present no particular problems given the large door openings. In three-door guise access to the back bench is a bit tricky, particularly for the large of foot and long of neck. Buyers who regularly need to utilise the aft seating arrangement can always plump for the five-door model, which will make life a lot easier.
Stereo and ICE (In car entertainment)
Cheap is probably the best word to describe the Charade's stereo system. The sound is far from hi-fi and the head unit itself feels a tad flimsy. That said, buyers can expect a front-loading CD player as standard, which is far from being the rule in this market segment. Satellite navigation isn't available from the options list, but the chances of any buyers undertaking long and arduous journeys in the dinky Daihatsu are somewhere between slim and none.
Colours and trim
Daihatsu seems hell bent on putting off as many potential punters as possible by proliferating pictures of a pink Charade to all and sundry. A far nicer colour scheme is offered by the champagne silver or royal blue paint options. On the inside the dark plastics used on the dash aren't particularly oppressive, but they are far from stylish. Wood-effect trim is offered as a cost option for parts of the centre console and instrument panel, but seeing as it looks nothing like wood you're probably better saving your money for something else.
Parking
If there is anyone out there who struggles to reverse park a Charade, then they should seriously consider giving up driving altogether. Large windows, light steering and very little fore or aft overhang make the Daihatsu about as easy to park as it gets. Parking sensors are available across the range as a cost option, but only the most timid of drivers will require these bleeping aids.
Spare wheel
Space saver fitted as standard on both models.
Range information
There is only one engine option available - a 1.0-litre (58bhp) petrol. The unit is available with either a five-speed manual or four-speed automatic transmission. There are two trim level indicators: EL (base) three-door or five-door and SL (top) five-door only.
Alternative cars
Perodua Kelisa Are there any cheaper ways into new car motoring?
Daewoo Matiz Performance is poor, even for this class. Five-year warranty is anything but
Fiat Panda European car is a favourite among buyers, but top spec models are a bit pricey
Hyundai Getz A pleasant supermini, which is fun to drive. Interior looks downbeat, though