Citroen Nemo Multispace 1.4i VTR review
Upright, open mouthed stance is bold and pleasingly different
May 2009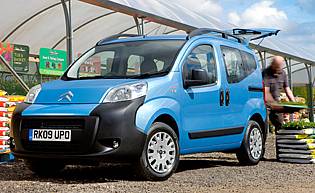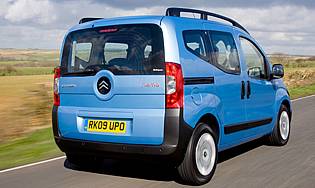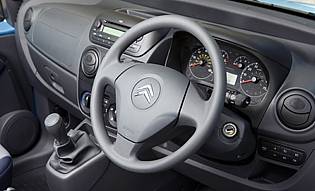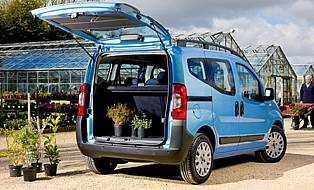 Overall rating

Likes:
Upright, open mouthed stance is bold and pleasingly different
Supple ride makes urban motoring comfortable and stress-free
Rear seats fold to transform load bay
Modest price and low running costs should appeal to families on a budget
Gripes:
Large tailgate needs space before it can be opened fully
Although on paper performance looks acceptable, petrol engine can struggle away from city limits
Wipe clean floor might be practical but it's a visual link to the Nemo's van origins
Difficult to see the extent the car's nose extends when behind the wheel
The stereotypical people carrrier is often thought to be a big, cumbersome vehicle. Over time more and more car makers have looked to create new opportunities, and something small enough for city use but big enough to be practical has proven to be increasingly popular. With its compact footprint, Citroen's Nemo Multispace is pitched to fill that (small) void.
Those with a keen eye will have observed that the Nemo Multispace bears a striking resemblance to Citroen's Nemo van. It's not unusual for people carriers to possess some light commercial DNA, and the Nemo is no different. The vehicle's upright stance is a welcome attribute when it comes to cabin space and comfort.
Citroen has a track record when it comes to no nonsense, compact people carriers. The firm's first generation Berlingo won many fans over the years, and it originally came from solid van stock. The Nemo follows in the same vein, with its wipe clean floor, simple seating layout, upright and lofty driving position plus supple ride.
The Nemo is no C3 Picasso; it's more utilitarian approach to life is refreshing and will, no doubt be welcomed by families. There are no precious or plush cabin fabrics to spoil, while the car's twin sliding side doors soon become an integral part of your motoring routine.
What the Nemo lacks in sophistication it makes up for with its do-anything character. You can thorough all your weekend clobber in the back and head off for an overnight stay, pile the weekly shopping in the back or fold the rear seats forward and load the Nemo up with all you waste destined for the local recycling centre.
Our verdict on the Citroen Nemo Multispace 1.4i VTR
On paper the Nemo Multispace might look a little lightweight, however in practice the car is a four-wheeled holdall and family taxi all rolled into one. For a growing family it's hard not to recommend the little Citroen; it seats five, can be transformed into a van with windows and never feels less than safe and secure on the road. A compact family hatch for similar money doesn't come close on the practicality front.
Costs
With its modest asking price and the engine options delivering solid economy and emissions performances, you can expet running costs to be low. The temptation to go diesel will be strong for many, although to make any diesel pay you've got to rack up the miles. With that in mind, if your Nemo will be a city car the petrol option might be the better option.
Space and practicality
With its split, fold and removeable rear seats plus a flat load bay, the Nemo easily trumps anything in the regular family car class. The rear sliding side doors are a welcome addition - especially when in tight car parks. Oddment storage is good for a small car, with the Nemo boasting a large glovebox and door bins.
Controls and display
A simple car, the Nemo's few controls and displays reflect this. The various main controls are chunky and intuitive, while the instruments are clear and easy to read. The audio unit follows the same pattern, and the high mounted gear lever is perfectly placeed to minimise fatigue and effort.
Comfort
Support but not overly firm seats and a general lack of wind and engine noise at urban speeds make the Nemo a pleasant travelling companion. The cabin is wide enough so that you're not knocking elbows with fellow passengers and the overall ambience is a pleasant one.
Car security
Remote central locking is a standard item on the Nemo, which will prove useful at busy times and you would ordinariliy have to check individual doors to see if they were locked - not unusual with children constantly getting in and out. There's no alarm but you do get an immobiliser. And with the large covered load bay there's plenty of space to hie valuables out of sight.
Car safety
All the basics are covered with the Nemo, so you get anti-lock brakes and twin front airbags as standard across the range.Side airbags join this list, which is a welcome addition on what some will view as a basic car. That said, ESP is not offered.
Driver appeal
The Nemo's tall stance ensures that it does roll and pitch more than a regular car, although given its modest performance you won't be racing into corners in the first place. The engines offered will get the job done but don't expect there to be any great enthusiasm displayed because overall performance is average at best - away from the city you'll need to work the Nemo hard at times. That said, the car steers and stops without any fuss, which is what most people will looking for.
Family car appeal
For any small family on a budget the Nemo makes a lot of sense. Its spacious and versatile cabin can adapt to a variety of activities, while the car's low-key interior makes it acceptable to get it dirty once in while. Those sliding side doors should ensure ease of access when belting in small chidren, and the car's boot is a good size.
First car appeal
With its compact size, ease of use and light controls, there's a lot to like about Citroen's Nemo. The lofty driving position helps with all-round visibilty, while the optional parking sensors are a worthwhile investment.
Quality and image
It would be wrong to expect too much from the Nemo; its practical, utility underpinnings make the appearance of bare floors and average quality plastics perfectly acceptable. And when Citroen repeatedly hits the spot with cars like the Nemo, such vehicles are purchased primarily for their ability, not image.
Accessibility
With its sliding side doors, the Nemo offers a greater level of practicality than conventional family hatchbacks. Access to the front seats is okay, with the slightly raised seating position making a positive difference. At the rear, the car's large tailgate needs some space to open and close with ease.
Stereo and ICE (In car entertainment)
The split-level audio unit appears to work well. The display is right in your eye line, and the main controls are large and easy to use. Remote controls on the steering column would have been nice to have. Overall performance is good - both reception and sound reproduction.
Colours and trim
Bold colours work well here, if only because they will emphasise the Nemo's jolly, can-do attitude when it comes to lugging loads or people. Surprisingly, subdued hues also work well - must be related to the vehicle's commercial roots. It's plain and simple inside, though. Regular plastics and the option of wipe-clean flooring make perfect sense if you plan on using the Nemo to the full.
Parking
With a lofty driving position, good all-round visibility and light but accurate steering, parking the Nemo is rarely a chore. Parking sensors do help, but even without them the Nemo's straight-down rear makes judging distances easy.
Spare wheel
Space saver fitted as standard.
Range information
Petrol engine options - 1.4-litre (75bhp).Diesel engine options - 1.4-litre HDI (70bhp). Transmission options: five manual gearbox, five-speed semi-auto SensoDrive gearbox (diesel only). Trim levels: one trim level for all models.