Citroen C8 2.2 HDi Auto Exclusive review
Spacious and practical interior
August 2008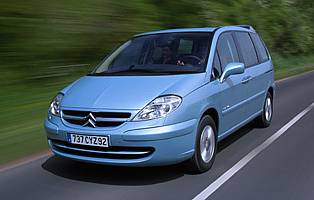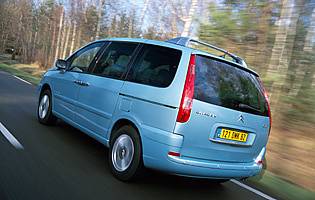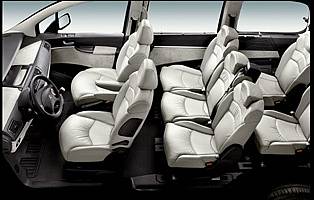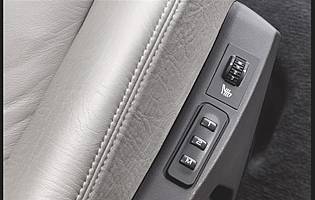 Overall rating

Likes:
Spacious and practical interior
Good motorway ride
Surprisingly swift performance
Clever dashboard and control layout
Gripes:
Wobbly chassis promotes squeaks and rattles inside
Noisy diesel engine
Long boot door requires lots of room to open
Lack of a defined boot with rear seats in place
A joint effort between a number of European manufacturers, the C8 shares a platform and body with several other models, and therefore cuts a familiar shape. Citroen has attempted to put its own spin on the seven-seat MPV with a high power and high specification model designed to be the last word in luxury family transport.
Originally available with a two-litre petrol engine or a choice of two-litre diesel engines with high and low outputs, an even more powerful 2.2-litre diesel unit has since been added to the Citroen C8 range. Available only with a six-speed automatic gearbox, the engine offers more car-like on road performance and is more capable at high speed cruising, making the C8 feel more like a large family vehicle and less like a minibus.
Despite the change to the engine line-up, C8 trim levels remain the same. The Exclusive model is the range topper and boasts an impressive amount of standard equipment to justify its positioning. Leather interiors and Bluetooth phone integration give the model an executive feel, meaning it can function not only as a family vehicle but as transport for the business user as well.
The C8's main focus is as a family vehicle, however. It comes with seven seats as standard in a two-three-two formation, but can be specified with a final row of three seats at no extra cost, making it an eight-seater. In seven-seat form it's adaptable - both rear rows can be slid backwards and forwards independently. They can also be folded and stored vertically, freeing up the rear of the van-like body for luggage space.
As a family vehicle, Citroen has concentrated on safety in the C8. ESP is standard, a useful addition in a vehicle of this size, and structural, passive and active safety systems are also prevalent. As the range-topper, the 2.2 HDi Exclusive also features exterior details including alloy wheels, tinted windows and integrated roof bar, again giving it the appearance of an executive vehicle rather than a family people carrier.
Our verdict on the Citroen C8 2.2 HDi Auto Exclusive
The C8 manages to combine style, practicality, performance and strong equipment levels to good effect. A rounded model it does most things well and families will find it a comfortable and competent friend. The powerful diesel engine looks like overkill on paper but makes a lot of sense on the road. Despite missing some of the distinctive features that make Citroens so uniquely appealing, it still encapsulates the spirit of the French manufacturer.
Costs
The C8 is not a cheap vehicle to buy, but you do get a lot of car for your money. In Exclusive trim it has a surprisingly high insurance grouping, however the reasonably low running costs of the high-power diesel unit should help make up for it.
Space and practicality
The huge cabin means there's plenty of room for all seven occupants in the C8, although with the rear seats in place there's no discernable boot, just unshielded empty space between the third row and boot door. Both rows of passenger seats can be folded and stored upright to increase luggage space considerably and they fold independently to offer a wide variety of seating arrangements. The cabin is brimming with storage places; under seats, in the doors and around the voloumous dash assembly.
Controls and display
The Citroen C8 boasts an unusual dashboard layout, with the stylish back-lit dials moved to the centre of the dash alongside the screen, and only a small digital display left behind the steering wheel. Controls are neatly incorporated into the stalks behind the wheel and a centrally located pod that also houses the gear lever. It's an unusual approach, but it works very well. The Citroen fixed hub steering wheel is not present.
Comfort
A spacious body makes the model inherently comfortable, but the luxurious specification of the Exclusive model means it's a very pleasing car to travel in. Separate climate control for front and rear passengers, sun blinds and a comfortable ride make it the ideal way to travel long distances.
Car security
The lack of an enclosed boot might be considered something of a security issue, but hidden and secure storage elsewhere makes up for it. The C8 features an advance security system with an alarm and immobiliser, doors that lock after 30 seconds of non-use and when on the move plus child locks.
Car safety
A five-star crash test rating speaks for itself, and the C8 also plays host to a wide range of safety systems including window airbags for all occupants, an intelligent braking system, ESP and traction control, automatic hazard lights and a fuel cut off device in the event of an accident. In the Exclusive trim level, a tyre pressure warning system is also included.
Driver appeal
The powerful 2.2-litre diesel engine offers a surprising turn of pace and combines well with the six-speed automatic gearbox to provide swift and smooth progress. In-gear acceleration is particularly impressive. Considering the size and height of the vehicle, it feels relatively responsive and stable, too. The diesel unit can be quite raucous, however, and the chassis flexes in response to bumps in the road curtailing the otherwise impressive handling characteristics.
Family car appeal
Everything about the C8 is designed with family life in mind. Excellent access and seven seat capability will appeal to large families with small children. The Exclusive trim level even features a special fish-eye mirror that allows the driver to observe what's happening in the rear and picnic tables in the back are a useful child-friendly feature.
First car appeal
The C8 is unlikely to register on a first time buyer's wish list. Although stylish it lacks street cred and youth appeal. A large vehicle it might also prove a little cumbersome to handle for inexperienced drivers.
Quality and image
A stylish exterior and highly specified interior goes some way towards masking some of the issues in the C8, the biggest of which is flex in the chassis which highlights itself as rattling and squeaking with the cabin. The model outwardly seems well put together though, with tight shut lines and solid fixtures inside. The myriad of drawers and picnic shelves seem sturdy, as do the folding seat and electric door mechanisms.
Accessibility
Five large doors make the C8 a fantastically easy car to get in and out of. The high seating position and roofline means no stooping is required and twin electrically operated rear doors on the Exclusive model open and close swiftly at the push of a button, meaning access is not restricted no matter how close anyone parks. The middle row of seats slides forward to offer easy access to the rear, although the top hinged boot door requires some room in which to be opened fully.
Stereo and ICE (In car entertainment)
The large cabin uses eight speakers to ensure the RD4 radio, and MP3 compatible CD player can be heard from all of the seven seats. The C8 Exclusive also features a speed sensitive volume system; useful as the diesel engine has the potential to drown out the sound for those furthest from the speakers at speed. The NaviDrive option thankfully does away with some of the fiddly buttons present in some Citroens. It incorporates the sound system, sat-nav and Bluetooth integration into buttons and controls located behind the wheel and on a pod connected to the dash. Once familiar with the control locations, this works very well.
Colours and trim
A conservative range of exterior colours is available for the C8, the most vibrant of which is a pearlescent blue. Silvers and dark shades are the most common; blacks and dark greys suit the people carrier particularly well. The Exclusive trim level comes with a full leather interior trimmed with alloy effect panels, which gives it an aptly exclusive air. Fully lined with plush carpet and with copious extras inside and out including alloy wheels, it's certainly a generously adorned vehicle.
Parking
The model's boxy shape, large mirrors and great visibility make the C8 a cinch to park. Front and rear sensors are standard on the Exclusive and a respectable turning circle also aids parking. Regardless, it's still a large vehicle so requires some careful manoeuvring in tight car parks.
Spare wheel
Full size spare wheel as standard.
Range information
Petrol engine options - 2.0-litre (143bhp). Diesel engine options - 2.0-litre (120bhp); 2.0-litre (136bhp); 2.2-litre (173bhp). Transmission options: five-speed manual gearbox (2.0-litre petrol), six-speed manual gearbox (2.0-litre diesel), six-speed automatic gearbox (2.2-litre diesel). Trim levels: LX, SX, Exclusive.