November 2004
Chrysler PT Cruiser 2.4 GT
The PT Cruiser's retro styling is an acquired taste
November 2004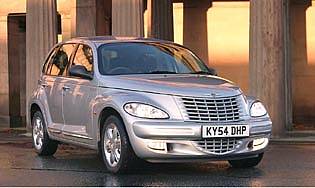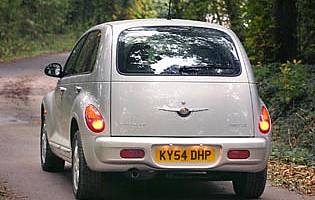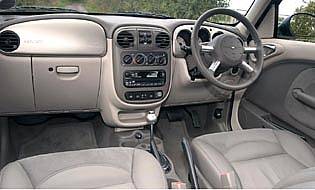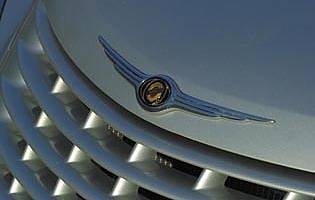 Overall rating

Likes:
Individual styling means people will see you coming
Good levels of standard specification across the range
Being American the Cruiser has a solid, well-made feel
Large bases of forward seats make PT and comfortable cruiser
Gripes:
Retro looks will be too ostentatious for many buyers
Most engines are noisy and performance is average
Central control console is a little utilitarian
PT possesses a small glovebox, and other cubbyholes are in short supply
Chrysler's PT Cruiser is a very divisive car: you either love its 1950s, retro styling or you hate it. However, there aren't too many midi-MPVs that turn as many heads or provoke as much of a reaction.
An American hotrod may not seem like a likely styling basis for a small MPV family car, but that's exactly what Chrysler decided to model its PT Cruiser on. The PT or 'Personal Transportation' is certainly the funkiest car in its class, but how does it stack up in the more important categories of practicality and comfort?
While it isn't as spacious as its European rivals the Citroen Xsara Picasso or Volkswagen Touran, the Cruiser is still large enough to move the kids and their various bits and bobs around in. The Picasso is much more of an out-and-out MPV than the PT, but the Chrysler is more car like to drive.
Certain elements do slightly hinder the car's practicality, such as the paucity of in-cabin stowage, but for its size the American is a good compromise between stylish, comment-provoking looks and a fair amount of practicality. It is also becoming better value for money as its original launch date has slipped further and further back into the mists of time.
Our verdict on the Chrysler PT Cruiser 2.4 GT
You either love the styling or you hate it. However, the PT Cruiser is well made and represents good value for money.
Costs
All but the top-of-the-range Limited edition models are reasonably priced and therefore shouldn't break the bank. Go for the diesel for the best fuel economy, as it returns 10mpg more on the combined cycle than its petrol brethren. Insurance for cars in this class is traditionally reasonable and servicing should also cause little anguish. Dealers will be more than open to the idea of a discount, as the PT is still a minority model.
Space and practicality
For families with up to three kids, the Cruiser makes sense. Trips involving large amounts of stuff and things may be a bit of a squeeze, but in general it lives up to its title of midi-MPV. Cabin storage isn't fantastic, though, as the PT features slim door bins and a very small glove box. This could lead to problems with items rolling about on the floor.
Controls and display
The instrument binnacles are neatly laid out and easy to read. The only criticism would be that they are perhaps set too deeply into the console. The stereo, air-con and other controls located on the central control console are chunky but basic looking and are certainly more functional than funky.
Comfort
A fair amount of wind noise is thrown up by those large wing mirrors and chunky A-pillars at motorway speeds and above. Otherwise the ride is refined with only that annoying engine whine impinging upon your motoring pleasure. The seats are comfortable with good lumbar support. Unfortunately, it is all too obvious from the way the interior is laid out that this car was designed as a left-hooker. The passenger's footwell is larger, there isn't anywhere for the driver to rest his left foot and the pedals are too close together.
Car security
Across the range the PT Cruiser benefits from a lockable fuel cap, remote control central locking with an alarm and immobiliser and a visible Vehicle Identification Number (VIN) should the worst occur. However, given that the PT is both an MPV and extremely conspicuous it is hardly likely to be to number one on your local neighbourhood thieves' hit list.
Car safety
Three-point seatbelts on all seats, ABS, dual front and side airbags, seatbelt pre-tensioners, childproof door locks and side impact protection guards should make the Cruiser a fairly safe bet. It also has a solid, robust feel to it that inspires a little extra confidence.
Driver appeal
Both engines start to throw up rather a lot of noise above 4,000rpm and, for the performance gained, this aural assault really isn't worth it. The 2.4-litre petrol unit is more than capable of cruising comfortably at motorway speeds and above, but when it comes to bendy B-roads, the suspension set-up feels soft and unstable. It isn't a 'driver's car', but the Cruiser is a midi-MPV in which you can do a little posing - most unusual for this market segment.
Family car appeal
As a midi-MPV the PT is suited to family life. It obviously isn't as practical as the full-blown Grand Voyager, but it is a great deal more car-like to drive and easier to park. Three children or two adults will fit comfortably in the back and the boot is spacious enough. With the rear seats folded forward enough space is freed up to accommodate the spoils of a booze cruise or trip to the local DIY store. There isn't a passenger airbag cut-off switch, however, which will be a problem for those with infants.
First car appeal
Midi MPVs aren't usually the type of cars associated with first timers, but when they look as off the wall as the PT Cruiser, it is a possibility. Few younger motorists will need all of the car's space and the size of the powerplants will likely count against them when it comes to insurance, but it is far more desirable than a Volkswagen Touran or Xsara Picasso. The lack of parking sensors with that elevated rump may cause a few problems for the inexperienced.
Quality and image
Chrysler is still largely perceived as an American brand still trying to break into the European market. That said, the brand has been around for a while now and many people have been wooed by the Voyager MPV and Neon saloon. Quality certainly isn't an issue, as all models in the range are robust and well engineered - they are American after all. As far as image is concerned the golden winged badge of Chrysler remains largely an unknown quantity for most UK buyers.
Accessibility
Wide door apertures and large seat bases make gaining access and egress simple. The same is true of the rear seats, which sit slightly higher making life even easier. At the back, the tailgate swings up high with minimal effort and the load lip is a sensible height.
Stereo and ICE (In car entertainment)
All models get a six-speaker system with a CD player and radio. There are no steering wheel mounted audio controls or disc changer available, not even as options. Sound quality is acceptable, if not quite hi-fi, but the stereo unit itself looks a little dated and utilitarian. Air con is a standard fitment and it does a decent job of maintaining an ambient temperature. Satellite navigation is not available, which won't help residual values.
Colours and trim
Subtlety, something that many motorists hold dear, isn't on the PT Cruiser's agenda; so going for a discreet colour goes largely against what the car is all about. With that in mind, something like 'Dark Plum' or 'Linen Gold' seems appropriate. Lighter interior colours are best, as black trim with black leather seats is fairly oppressive. Limited trimmed models benefit from some flecks of aluminium-effect detailing and body coloured trim.
Parking
An elevated rear end and a pair of fat C-pillars hinder rearward visibility significantly. Parking sensors, which would be particularly useful in this instance, fail to make it onto either the standard spec or options list. This will make reverse parking manoeuvres a little more difficult for new or timid drivers. The steering is light, however, and forward visibility is good.
Spare wheel
A space saver spare wheel is fitted as standard across the range.
Range information
Two engine options - 2.4-litre (143bhp) petrol; 2.2-litre CRD (119bhp) diesel. CRD fitted with five-speed manual gearbox. 2.4-litre petrol comes with either the same five-speed manual or four-speed auto box. Trim designators are: Classic (base), Touring, Special and Limited (top-of-the-range).
Alternative cars
Honda CR-V Japanese offering is typically reliable and solid
Renault Scenic Avant-garde styling makes French model desirable
Citroen Xsara Picasso Great value and the 1.6 HDi engine is a gem
Volkswagen Touran Desirable badge, but German offering is a tad dull