May 2012
Chevrolet Volt 1.4
The styling combines typical Chevrolet cues and more futuristic elements
May 2012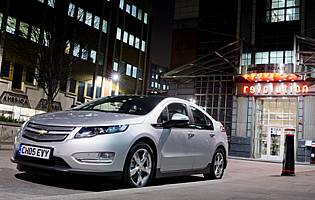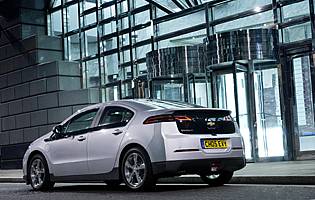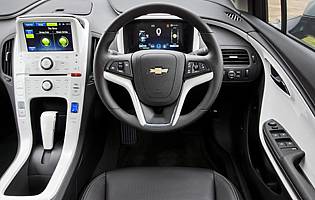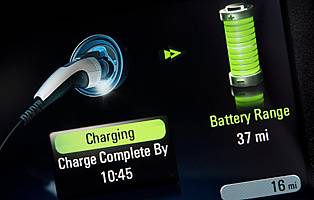 Overall rating

Likes:
Smooth drivetrain seamlessly incorporates electric and petrol power
Good ride quality makes light work of most road surfaces
Excellent rear legroom for average adults
Useful electric-only range will minimise fuel bills
Gripes:
Fussy interior console design detracts from user-friendliness
Boot isn't fully enclosed, potentially leaving luggage on show
Engine can cut in and rev unexpectedly
Visibility is restricted, particularly around the rear
The Volt is a trailblazer among new cars, combining many of the benefits of an electric car with a small, efficient petrol engine to extend the car's overall range to 300 miles at a time. As a plug-in hybrid it can provide around 30-35 miles on a single charge, but needs to be recharged using a separate cable.
With the ability to last a day's urban driving on electric power alone the Volt offers the benefits of a fully electric car, but with a petrol engine in reserve for longer journeys. Chevrolet wants it to be a no-compromise choice, although it is quite expensive.
Four driving modes allow finer control of the way the electric motor and petrol engine interact. Getting the best from it does require more thought than is needed in a conventional car, and the system can behave a little unexpectedly at times. That's because it's always the electric motor that drives the wheels - the engine is effectively just a supplement.
One of the Volt's benefits is a fast-charging system that can replenish the battery fully in only two hours. It costs extra to buy and have installed, but it allows owners to make the fullest use of the cheap mileage potential electric cars currently offer. One thing to remember, though, is that the Volt only has two rear seats.
Aside from the car's technical highlights, the Volt also offers prospective buyers an opportunity to save a significant sum of money through the ownership cycle. For companies this runs from the ability right down the car's total value to paying only modest sums in tax. And, predictably, the Volt escapes city congestion charges.
Our verdict on the Chevrolet Volt 1.4
A combination of low running costs, great looks and the prestige afforded by the plug-in hybrid technology makes the Volt a desirable car. It rides well, has a generally seamless drivetrain and gives four people lots of space. There are a few niggles with its design and functionality where certain aspects have been over-developed and have become a little clumsy, but in the main the Volt is a good car.
Costs
Aside from its large purchase price the Volt offers tempting running costs with a low, tax-friendly CO2 output figure and the opportunity to run on cheap electricity for much of the time. Business users will find the Benefit in Kind rates attractive.
Space and practicality
This is not the Volt's primary function and it shows with a high boot floor that, although providing a good amount of load area, offers little in the way of height for large items. There are two cup holders, but the door pockets are unusually awkward to access and restrict the type and size of objects you can easily store there. The central storage bin in between the two front seats is useful, though.
Controls and display
Thanks to a large, high-resolution colour screen at the top of the centre console, a wide variety of data and technical readouts can be displayed. It's a fantastic feature and works by touch, making it extremely intuitive and easy to get to grips with. The controls on the centre console are not easy enough to identify at a glance or to find by touch, so it's best to stick to using the touchscreen whenever possible.
Comfort
Drivers intending to use the Volt's extended range will be pleased by the well-shaped seat backs that offer good support for longer drives. Cabin refinement is excellent at low speed, especially when only using battery power, but at high speed on coarse road surfaces there is notable tyre noise. While sharp bumps can intrude into the cabin too much, the edge is taken off most normal imperfections in the road.
Car security
There are simple areas where the Volt lacks security, despite its Thatcham approved Category One alarm and immobiliser. The boot, for example, is not completely enclosed and items can potentially be seen through the gap in between the rear seats. There is an extendable cover that stops luggage being seen through the rear hatchback window, though. In addition the alarm will sound if the charging cable is removed while the car is locked.
Car safety
Along with a good spread of airbags there is traction control, brake assist for powerful, even stops even on changeable road surfaces, stability control and ABS. It's a standard, albeit comprehensive set of electronics that graces most, if not all of the Volt's key rivals so the car doesn't necessarily stand out. Active headrests are present to help prevent whiplash injuries and the passenger airbag can be deactivated for when carrying a child seat.
Driver appeal
Well-engineered electric cars offer impressive driving pleasure, and the Volt joins that club when running on battery power alone. It scores further points for the generally smooth and seamless way the engine cuts in and out. However, very occasionally the engine revs highly to provide a power boost when the motor alone falls short, and the sudden and incongruous noise is not welcome. For the vast majority of the time the driving experience is positive, though.
Family car appeal
While the drivetrain offers the perfect family solution, enabling fuel-free urban commuting by weekday and long range capability by weekend, there are caveats attached. There are Isofix seat mounts within both rear seats, but three-child families should look elsewhere. The boot volume is too small for some families as well; especially those with very young children. The cabin is solid, but not the most apt for kids with a habit of bashing or scratching surfaces.
First car appeal
There's no doubt that many tech-savvy youngsters will like the Volt and would love to own one. It's user-friendly to drive, full of technology to help with parking, and carries much of the latest safety equipment. It doesn't restrict new drivers' ability to travel far and wide either, if they so wish. The purchase price, however, is prohibitive. Even after a government incentive grant the Volt is still way beyond the reach of most first-time car buyers.
Quality and image
The Volt brings with it a fresh image and gives Chevrolet a much more impressive product to market. It's a trendy car with trendy technology and the UK market is warming to the brand just at the right time as the Volt arrives. In terms of build quality the car is generally good, with only a few areas of questionable fit or finish. For its price some people might expect better, but the drivetrain absorbs most of the budget.
Accessibility
With higher seats than might be expected of it, the Volt is quite easy to dip into and climb out of. Older buyers have been targeted; drivers with the means to afford the car but potentially not the ability to comfortably lower themselves too far down. It's a little more of a squeeze to get into the back seats thanks to a slightly smaller door aperture, but it's nothing anyone of typical height would complain about.
Stereo and ICE (In car entertainment)
There is a large colour screen as standard, on which the media interface can be displayed. The touch-panel arrangement is not as clear or as easy to use as conventional buttons and trying to use the stereo's functions can be frustrating at times. The same display can also show off the car's current energy usage pattern and how well the driver is doing at keeping energy usage down, which boosts driver involvement with the systems and makes it more interesting.
Colours and trim
There is only a small selection of colours available and they are all quite subtle. The Volt's bold lines are better suited to understated colours anyway, or else it might appear too brash. Silver suits it well but is one of the cost option choices. The interior is dominated by a large white expanse of plastic without gaps between the centre console buttons, so it functions almost like a touch-panel. Drivers will love it or hate it.
Parking
Front and rear parking sensors are standard, and that's a useful thing since visibility around the Volt is not as comprehensive as it is in some alternatives. It's not especially wide so bay parking is quite straightforward, but the doors open quite wide by the time they reach their first resting point on their hinges, so care needs to be taken not to hit the car next door. The steering lock could be better, too.
Spare wheel
Emergency tyre repair kit supplied as standard.
Range information
Petrol engine options - 1.4-litre (85bhp). Trim levels: n/a.
Alternative cars
Vauxhall Ampera Based on the same chassis and drivetrain, the Ampera has the same strengths
Toyota Prius Plug-in Japanese reliability meets the latest plug-in hybrid technology
Citroen DS5 Available with a diesel-electric hybrid engine the stylish DS5 is worth a look
Nissan Leaf Entirely electric with excellent ride quality and impressive luxury