May 2013
Chevrolet Trax 1.7 CDTi LT
The Trax has low front ground clearance for an aggressive stance
May 2013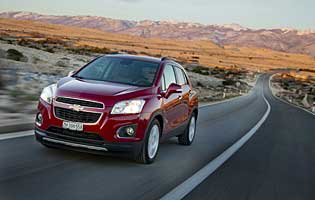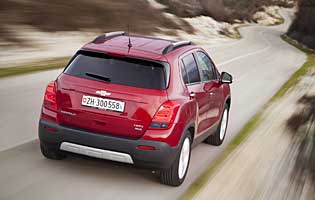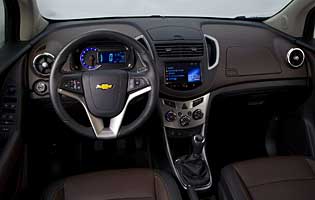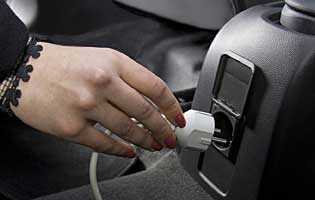 Overall rating

Likes:
Bold, chunky stance gives real attitude and presence for roads and car parks alike
Peerless interior practicality provides a space for everything you need
Large additional under-boot storage well provides significant extra baggage room
Fresh and stylish interior design is new and interesting
Gripes:
Aging diesel engine is noisy and unrefined
Limited engine choice restricts buyers to relatively low-performance options
Unnecessary off-road technology needlessly adds cost to the car
Some interior trim fit and finish is not up to scratch
If you think you might have seen the Chevrolet Trax before, you're probably right. It's based on the same platform as the Vauxhall Mokka and has the same sort of chunky stance - but even more of it. The Trax is heavy on style, light-footed around town and surprisingly spacious when it comes to everyday life.
Arguably the Trax is better looking than the Mokka; its more muscular and taut bodywork somewhat upstaging its more reserved cousin. That isn't its only rival, though, because the compact SUV segment is one of the fastest growing anywhere in the car market. Every mainstream brand is getting in on the act so Chevrolet knows the Trax has to be good.
The Trax is built to be as practical and user-friendly as possible, despite its brawny American looks. On the outside its ground clearance is hardly off-road friendly, but the functionality is there thanks to on-demand four-wheel drive and admittedly unnecessary technology like hill descent control. In truth it's on the inside where the Trax really shines.
A modest boot is boosted by a capacious under-floor storage area that in some global markets will hold a spare wheel. For the UK it acts as a significant extra - hidden - load space to boost luggage capacity. In the cabin there are seemingly endless compartments, both open-faced and enclosed, where everyday items like receipts and gadgets can be stowed.
On the road the Trax shows up one area that is still lagging behind the competition. The 1.7-litre diesel engine can trace its roots far back into the deeps of General Motors history, and shows its age in the amount of noise it makes. However, the ride quality is fine, the driving position is excellent and visibility is good.
Our verdict on the Chevrolet Trax 1.7 CDTi LT
The Trax is very likeable for two chief reasons. Firstly its looks top the class, making most alternatives look a little boring. Secondly its huge everyday practicality is a surprise in a car this compact. There are still some flaws, in particular with the engine range, but better replacements are on the way and when they arrive there will be little else in the class to match the Trax.
Costs
The Trax may be excellent in several departments, but it's not cheap to buy. Its purchase price strays well into the realms of larger family hatchbacks and as such its true value for money must come into question. Its engines are due an update to boost their efficiency, upon which the car's CO2 emissions ratings would no doubt be improved. This is one of the more desirable small SUVs though, and time may show that it retains more of its value than others.
Space and practicality
If the Trax has an ace up its sleeve it comes in this department. Myriad storage bins of various shapes and sizes, including three in each front door, make sure that if you've got something to put away, there's somewhere ready-prepared to put it. Boot space may look modest at first but the large under-floor compartment adds a significant shot of extra possibilities. The Trax proves very impressive when it comes to stowing all kinds of luggage.
Controls and display
The Trax uses a combination of an analogue rev counter and a large digital speedometer, the latter of which can sometimes flick rapidly and annoyingly between speeds. Backlit in pale blue, the digitised portion of the display is at least different to the norm and otherwise functions very well. Particularly impressive are the chunky and robust-feeling ancillary stalks, which lend a tactile sense of substantialness that matches the exterior look.
Comfort
As a relatively tall car the Trax inevitably suffers from wind noise around the A-pillars and door mirrors, making motorway cruises louder than they could be. However, all occupants will find themselves amply provided for in terms of headroom and legroom, which is quite generous in the back seats. There is a slight harsh edge to the ride on cars with bigger wheels, but it's nothing severe enough to put buyers off.
Car security
As well as an alarm and an immobiliser on this high-spec model, there are more basic security factors to consider. The wealth of storage solutions, which includes covered bins, two glove boxes and a hidden compartment beneath the boot floor, means that valuables can be placed completely out of sight. The alloy wheels come with locking wheel nuts, too, which ensure that they cannot be removed without the correct tool.
Car safety
The Trax is fitted with a generous complement of airbags and active safety systems. All occupants will find some measure of protection from airbags, while stability control, traction control and anti-lock brakes are also standard.
Driver appeal
Cars like this are rarely bought for high-mileage applications and stick instead to urban and suburban running. On that basis the noisy and more expensive diesel makes less sense than the 1.4 turbocharged petrol, which is much quieter, smoother and sounds nicer under acceleration. The diesel will give greater satisfaction with regard to miles per gallon, but the lighter petrol is the better all-rounder and permits more balanced handling. Only strangely elastic-feeling steering spoils things.
Family car appeal
Families will find the Trax very well suited to their needs. Much of its impressive practicality in everyday life transfers to life with children, so for example the rear bench seat is set at a convenient height for mounting child seats to the Isofix hook-up points built into the outer rear seats. The boot is big enough to swallow folding pushchairs, and the interior plastics shouldn't prove too vulnerable to over-zealous young hands.
First car appeal
There are several reasons why the Trax would make an excellent first car. It's compact enough to be easy to drive around town, there is plenty of space for friends and its raised driving position makes for a confidence-inspiring view ahead. The engines aren't the most budget-friendly though, so road tax on the petrol models in particular is not especially low, and the outright purchase prices could understandably put first-time buyers off.
Quality and image
Chevrolet is a brand on the up, perceived as offering more car for a given price than more established mainstream brands in Europe. For a little less money than rival cars cost, the Trax offers a little more equipment and desirability, which helps it stand out as much financially as it does in a simple brochure comparison. The car's quality is a step up from previous Chevrolets, but in one or two interior areas there are still flaws.
Accessibility
The Trax's combination of a five-door layout, a high roof and a well-judged seat height mean that getting in and out is a breeze. There is relatively little knee-bend required and the front doors in particular are nice and large. The rear doors don't afford quite the same accessibility to passengers, but it's still surprising how easy it is to manage given the relatively short overall car length.
Stereo and ICE (In car entertainment)
A large, clear touch screen gives users a very modern, clean and inviting media interface. It also has a full complement of connectivity possibilities on this model, so USB devices, SD cards and Bluetooth can be used. There is a clever degree of smartphone integration that allows the use of certain apps to source additional music on demand, as well as a satellite navigation service that looks great on the screen and does a good job.
Colours and trim
The Trax is almost certainly the best-looking car in its class. It looks bigger than it really is thanks to deep side profiles and tightly-penned lines that hug the body and enhance its shape. It comes in a welcome selection of colours covering understated silver and slightly menacing black to stunning blue and red options. There is also white, which looks almost as good. The interior trim is also design-heavy, modern and will divide opinion.
Parking
The raised seating position that small SUVs like the Trax offer is one of the main reasons why buyers prefer them to the superminis on which they are based. It gives a better view of the surroundings, but an unfortunate by-product of that is the positioning of the door mirrors, which like on many SUVs of all sizes tend to block a portion of the diagonal view, but not in a way that impedes parking too much.
Spare wheel
Emergency tyre repair kit supplied as standard.
Range information
Petrol engine options - 1.6-litre (113bhp); 1.4-litre turbo (138bhp). Diesel engine options - 1.7-litre (128bhp). Transmission options: five and six-speed manual gearbox depending on model, plus auto gearbox (1.7-litre diesel only). Trim levels: LS, LT.
Alternative cars
Fiat Panda Great looking and very capable off-road, the Panda only lacks interior quality
Peugeot 2008 Sharply-styled new kid on the block has efficient engines and the latest technology
Vauxhall Mokka Shares a platform with the Trax and offers more reserved looks
Renault Captur Funky two-tone colour scheme and engines delight