July 2008
Chevrolet Epica 2.0 LT Diesel 4dr
Bold Epica looks classy from every angle
July 2008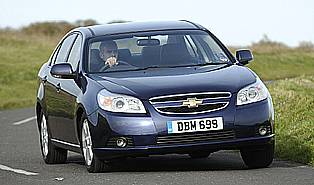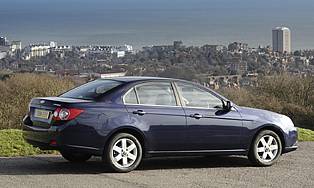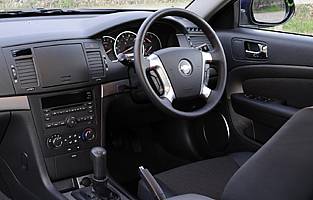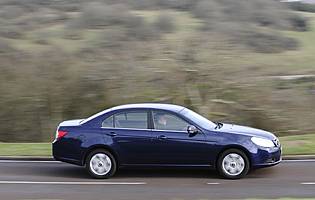 Overall rating

Likes:
Well appointed cabin
High level of standard equipment
Practical and spacious boot
Attractive exterior design
Gripes:
Overall cabin build quality could be better
Large steering wheel feels a little old fashioned
Rear legroom could be better despite the car's size
Although offering a lot for the money, badge snobs will likely give the Epica a wide berth
You can be forgiven for thinking that the mid-size saloon sector is populated solely by traditional European cars. Granted, there's the occasional appearance by something from Japan, but the general rule is that it's got to be glossy, European and expensive. With that in mind, it's fair to say that Chevrolet's Epica is a little different from the norm.
For most people, the Chevrolet name represents small cars. The Epica is not a small car in the mould of the Matiz or Aveo. On the contrary, the Epica inhabits Mondeo country. Only the big Chevrolet is a four-door saloon, not a five-door hatch like so many of its contemporaries.
For most people, the Chevrolet name represents small cars. The Epica is not a small car in the mould of the Matiz or Aveo. On the contrary, the Epica inhabits Mondeo country. Only the big Chevrolet is a four-door saloon, not a five-door hatch like so many of its contemporaries.
And there's no question that, financially, the Epica is attractive. This large, spacious Chevrolet boasts a relaxing ride and plenty of space for passengers and your possessions. It is a little lacking in the detailed premium touches that you'd find in, say, Honda's Accord, but one look at the asking price puts it all into perspective.
Yet the Epica's price is no barrier to compromise. With the choice of a petrol or diesel engine, it's right up there with the competition in terms of real-world economy and running costs. The diesel is particularly impressive, as it's not often that budget motors perform this well.
Our verdict on the Chevrolet Epica 2.0 LT Diesel 4dr
If you're looking for a stylish, unpretentious, spacious and practical mid-size car, this four-door Epica might be for you. Appealing on the outside and perfectly acceptable on the inside, Chevrolet's saloon might be a left-field choice for some but for others the car's no nonsense approach will prove refreshingly attractive.
Costs
Chevrolet's asking prices for the Epica range aren't likely to break the bank. You are getting a medium-size saloon car with much of the kit from a high-end Euro rival for less cash. Opt for the diesel variant and you'll also save some cash - assuming your annual mileage tally is considerable. Otherwise, the petrol car will likely cost less in the long run. Either way, overall running costs - tax, insurance, servicing - should be modest, as the Epica is no highly stressed sports car.
Space and practicality
Cabin space shouldn't be an issue for most people; the Epica's generous proportions ensure that both front and rear seat occupants don't clash elbows or bump heads against the headlining. For what could be described as a regular four-door saloon, there should be enough storage options to keep a growing family happy. At the rear the Epica's capacious boot should banish any doubts over the car's versatility.
Controls and display
A simple fascia greets you when you open the door of the Epica's cabin. This will be good news for many, as the car's various controls (in truth not that many) are all immediately intuitive. The manual gearshift could be more positive and the steering a little less vague in feel, but these are the only minor gripes.
Comfort
Big, comfortable seats fore and aft set the tone in the Epica's cabin. The overall interior ambience is a pleasing one too, with noise and road imperfections on the whole failing to disturb the peace.
Car security
As you would expect, remote central locking comes part of the standard package with the Epica, but only an immobiliser and not an alarm is included. That said, the Epica is no Porsche so there's more than a fair chance that the career criminal will look elsewhere. Purchasing a high visibility steering lock should deter the casual thief, though.
Car safety
While hardly cutting edge, the Epica's safety systems are reassuring. Twin front and side airbags come as standard although, disappointingly, you will have to trade up to the LT variant for factory-fit ESP.
Driver appeal
Chevrolet makes no claims that the Epica a car for keen drivers. As such, you can expect the big four-door saloon to behave in a sensible and refined manner. It might not be the height of sophistication like, say, Ford's Mondeo, but the Epica possesses a surprisingly compliant ride. Chevrolet's choice of two engines (2.0-litre petrol or diesel) offers an interesting choice for buyers as both are strong, refined and willing performers. Ultimately the decision will centre on economics - if you travel many miles the diesel will be the best bet. Refrain from thrashing the Epica and you'll be rewarded with an executive car-like experience.
Family car appeal
For a growing family a people carrier would be more appropriate, but if this isn't possible the Epica will acquit itself well to the task of transporting a family. You might want to pass on the LT's full leather upholstery, though. Being a saloon the Epica is slightly compromised regarding family duties - it will swallow pushchairs and shopping, but a hatchback will do it easier.
First car appeal
There's no reason not to drive away in an Epica if you've just passed your test. Despite its size, the big Chevrolet is an easy car to drive. The experience is notable for the Epica's light but positive steering, easy to use controls and good all-round visibility. It should also be an inexpensive car to run.
Quality and image
The Chevrolet brand has been around for a little while now, yet is more famous for its small cars than something rivalling Mondeos and Lagunas. The Epica can't match the mainstream opposition directly in terms of quality, though. The car's cabin does feel one or two generations behind Europe's best. On the flipside, Chevrolet's unpretentious and welcoming image should tempt people fed up with the posturing and overtly flamboyant behaviour of some European brands.
Accessibility
Being a conventional four-door saloon cabin access is pretty straightforward. All the doors open wide to aid access, with the front seats mounted just high enough to ensure egress is equally easy. At the rear, the car's boot can be opened from the key fob or a button on the inside of the driver's door. With a low load lip, heavy items can be easily retrieved from the spacious load area.
Stereo and ICE (In car entertainment)
The standard audio provision does a fine job of entertaining; the combined CD and radio unit is easy to use and the sound quality is more than acceptable. The LT's disc changer is a welcome addition, but overall it would be nice if the audio units' displays were easier to read in sunlight.
Colours and trim
Bright and bold exterior colours do much to enhance the Epica's already distinctive shape. The same isn't true for the car's interior, which is dominated by a considerable amount of grey plastic. While acceptable and durable, a few brighter trim accents would help boost the interior ambience.
Parking
Big saloons can cause problems for some people, but luckily all-round visibility is good in the Epica and the car's steering requires little effort at parking speeds. You'll need to move up to the range-topping LT for rear parking sensors, although they do take a lot of the guesswork out of reverse parking.
Spare wheel
Space saver fitted as standard.
Range information
Petrol engine options - 2.0-litre (143bhp). Diesel engine options - 2.0-litre (150bhp). Transmission options: five-speed manual gearbox is standard fit, with a six-speed auto available for 2.0 Diesel LT only. Trim levels: Ls, LT (diesel only).
Alternative cars
Kia Magentis Similar format: generously equipped saloon, and boasts similar, average presentation skills
Volkswagen Passat Premium VW saloon cost more but it's obvious where the money has been spent
Ford Mondeo Fleet favourite is an excellent all-rounder
Peugeot 407 French offering is good value and good to drive but lacks the polish of Ford's Mondeo