May 2012
Chevrolet Colorado ZL1 4x4 2.5 Duramax
Chevrolet family grille sits comfortably on the front of the Colorado
May 2012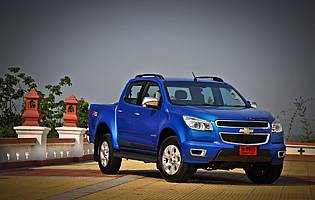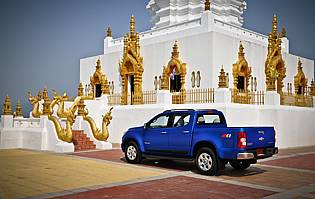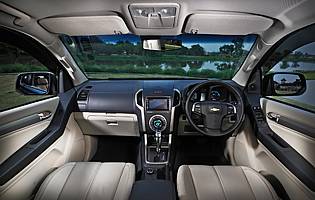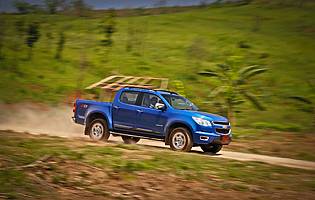 Overall rating

Likes:
Tough, appealing exterior design
Interior combines space and hardiness with modest luxury and comfort
Smooth automatic transmission and torquey engine gives a relaxed driving experience
Impressive value
Gripes:
Ride can be a little bouncy on rougher roads
A large vehicle for drivers used to normal-sized cars
Traction control essential on slippery roads
Only five-speed manual available on smaller engine
As a part of its continued expansion in the European market, Chevrolet is launching a succession of new models to increase its representation in a variety of segments. One of those new segments will be the medium sized pick-up truck in the shape of the Colorado, a segment that is already a big part of Chevrolet's line-up but outside of Europe.
Although historically seen as a working vehicle, pick-ups have become more commonly used as leisure vehicles due to their ruggedness and practicality, combined with improved refinement and driveability making them more suitable for everyday use. With a strong market outside of Europe for its pick-up models, it comes as no surprise that Chevrolet has decided to introduce it to the region including the UK.
The Colorado has been developed in a substantial General Motors operation in Thailand, which is a significant factor as the country is the biggest market for Chevrolet's mid-sized trucks. Vehicles such as this are used for everything, even more so than in the UK hence their need to be masters of all trades.
Key to the development of the Colorado is a new range of engines. The Duramax units are available in two capacities with varying power and torque outputs, and as well as offering greater refinement and performance are designed to be tough, with the ability to cope with various grades of fuel without compromising their performance.
The Colorado is also designed to be versatile, with a large number of options to cater for various needs. It is available in three cab styles (with no rear seats, occasional seats or permanent seats with their own access doors) two transmissions and even two or four-wheel drive.
Our verdict on the Chevrolet Colorado ZL1 4x4 2.5 Duramax
The Colorado is the perfect example of how pick-up trucks have evolved beyond their humble roots and can now provide extremely practical and hardy transport while providing much of the comfort and convenience of a regular car at much less expense. It's not a vehicle for all but those who care less about driving dynamics and more about practicality should take a closer look.
Costs
Although blessed with a modern and efficient engine, the Colorado's sheer size and weight mean it is thirstier than many regular passenger cars, although it does counter this by being able to perform tasks that most cars can't thanks to its four-wheel drive and towing capacity.
Space and practicality
There's certainly no shortage of space here, especially as you can choose the cabin layout to suit your specific needs. Regardless of the specification those in the front have acres of head and legroom, while on the largest double-cab models those in the rear have plenty of space too. Although the standard car just has a flat bed at the rear, an optional solid top gives a secure, vast load area.
Controls and display
The Colorado has very clear and attractive instruments with a useful trip computer located between them. The rest of the minor controls are easy to locate, while higher-specification models with the touchscreen and climate control have their controls sat neatly in the centre of the dashboard for easy use by either front seat occupant.
Comfort
There's no raucous noise from the Colorado, even at higher speeds, as overall refinement is good. Although the leaf-sprung rear suspension is designed for carrying big loads rather than the smoothest of rides, only really poor surfaces will cause any noticeable disturbance in the cabin.
Car security
Aside from a standard engine immobiliser and remote central locking, the security measures on the Colorado come down to the options list - a load bay cover and an alarm system would be wise choices.
Car safety
As standard the Colorado gets twin front airbags and side airbags too, although being a pick-up it doesn't feature curtain airbags as fitted on some cars. ESP is fitted as standard to higher specification models but is available as an option across the range.
Driver appeal
Ultimately a pick-up needs to be undemanding to drive and capable of dealing with a variety of conditions, and the Colorado manages to do this very well. Most importantly it demands nothing extra from the driver: as long as its physical size is kept in mind anyone stepping from an ordinary car could pilot the Colorado without any problems. The steering is more direct than many rivals, the diesel engines have a nice torque band and both transmissions are easy to use; the manual is slick and avoids having an overly-long gearstick while the automatic just gets on with the job.
Family car appeal
For toughness and practicality the Colorado would make a very capable family car, the biggest downside would be fuel consumption when loaded up with people and passengers compared to conventional family cars.
First car appeal
It has its own distinct style and a certain amount of youth appeal but the Colorado is probably a little too large to be used by an inexperienced driver.
Quality and image
Anyone not used to a modern pick-up might thing there's little in the way of quality on offer, but the reality is that the Colorado delivers a pleasingly car-like experience. It has tidy plastics that are sturdy but not too hard, and it's easy to forget you're in a pick-up from behind the wheel.
Accessibility
With the usual high ride height getting on board the Colorado requires you to climb up more than sit down, but the wide running boards and numerous grab handles make this an easy process. Crew-cab models with occasional rear seats have useful 'suicide' half doors for easy access, while double-cab versions have proper doors that can be opened independently. The tailgate opens flat to make loading straightforward.
Stereo and ICE (In car entertainment)
A good quality audio system is fitted as standard with a simple layout, but the optional touchscreen system has a greater range of options including MP3 playback and is even easier to use, looking after the sat-nav and audio functions with ease.
Colours and trim
The Colorado's size and shape means it tends to look better in brighter colours, particularly blues or reds. In darker colours it looks a little more ungainly, but in either case the brighter chromed alloy wheels help to lift the overall look. Inside there's a choice of cloth or leather finishes with the latter being more appealing, but with the choice of lighter shades such as cream and brown a more plain all-black cabin can easily be avoided.
Parking
The Colorado is clearly a vehicle at the larger end of the scale, yet it has excellent all-round visibility and clearly defined extremities so in many respects it is actually quite easy to park - it is just that its size reduces the number of spaces that will accommodate it.
Spare wheel
A full size spare wheel is fitted as standard underneath the pick-up bed.
Range information
Diesel engine options - 2.5-litre (150bhp); 2.8-litre (180bhp). Transmission options - five-speed manual, six
Alternative cars
Ford Ranger Practical and tough with good engine range
Mitsubishi L200 Ageing but still capable, smart-looking Black edition boosts visual appeal
Toyota Hi-Lux Efficient and well-built offering, lacks a little personality
Volkswagen Amarok High quality approach, more capable on-road that key rivals