March 2007
Cadillac SRX 3.6 V6 Sport Luxury
Bold SRX is not like other premium SUVs
March 2007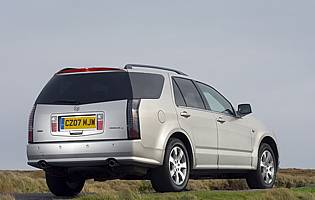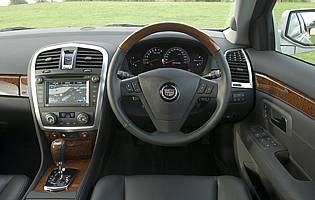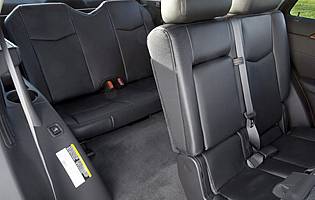 Overall rating

Likes:
Styling is unusual and distinctive
Cabin quality is much improved over earlier offerings from Cadillac
Equipment levels are high, helping to promote good value for money
Rearmost row of seats is easy to fold, and should prove useful when transporting small children
Gripes:
Petrol-only line-up will put some people off
Audio and sat-nav unit could be more intuitive
Handling is typical of modern American SUVs - pronounced roll is obvious when negotiating corners
Modest size of dealer network won't make a purchase attractive to potential buyers in many parts of the UK
Think Cadillac and thoughts usually turn to large, chintzy cars complete with chrome fins and a lack of talent on the road. That might be a vision of the 1970s but the firm has changed out of all recognition today. Edgy, sharp-suited saloons plus bold SUVs and a Mercedes SL-rival are the showroom stars. However, one vital barrier to competing in the UK was the lack of any serious right-hand drive models.
That changed with the arrival of the CTS saloon, although this wasn't strictly a 'new' model. Through General Motor's (Cadillac's parent) ownership of Saab, we now have the smaller BLS model. And then there's the SRX, an SUV-like vehicle for those who want something more exclusive than what mainstream Euro car makers are offering.
Until 2007 the SRX was left-hand drive only. With this not so small annoyance fixed, the car is able to compete head-on in the compact premium soft-roader sector. The steering wheel conversion has also seen a welcome improvement in cabin quality. New materials, better ergonomics and a more modern layout all make the SRX a more desirable proposition.
The SRX remains a left-field choice for a few reasons, though. There is no diesel option, which is unusual in SUV sectors. The options are V6 and V8 petrol motors, with the former proving the more desirable for economy reasons. Performance from the 'lesser' engine is more than enough, though. The Cadillac dealer network is small by volume car standards, which could be a deal breaker if you like the SRX but don't fancy travelling miles to your so-called nearest dealer.
In isolation the SRX is a surprisingly good car, especially if you take into account all the usual American automotive stereotypes. Yes it lacks a diesel option, but the upside is a refined and quiet ride. Corners can challenge the SRX, but few cars in this sector boast true sporting credentials. For the screen price, the SRX is pretty good value for money. The clever seven seat arrangement will be a bonus for large families, while the list of standard equipment is long. And the car's looks ensure that it will have no trouble standing out from the crowd.
Our verdict on the Cadillac SRX 3.6 V6 Sport Luxury
For anyone looking for something different in the increasingly crowed premium SUV market, Cadillac's SRX should be at the top of their shopping list. For all the predictable complaints over the absence of a diesel engine, it's likely that few buyers will be really bothered. After all, if you can afford one of these you're unlikely to quibble over fuel consumption. Prospective buyers are more likely to be drawn to the SRX's radical looks, generous equipment levels and the fact that the car will be a rare sight on the road.
Costs
Being restricted to petrol engines, and large capacity ones at that, you'll need to budget a little more for fuel than you would with a diesel-powered SUV. However, on the bang for buck scale, the SRX performs well. It's a quick car in a straight line and comes with an above average level of standard equipment. It's also competitively priced in its sector. Taking the pragmatic view, you could say the benefits outweigh the negatives if you're seeking something different.
Space and practicality
Plenty of storage areas are dotted around the cabin, and there's enough room for a growing family. The folding mechanism for the rearmost pair of seats is clever and requires minimal effort being electrically powered. With the seats stowed, the SRX's boot is a very good size. With the seats up, it's still okay for a modest amount of shopping or luggage. And being an SUV, the load lip is a sensible height for loading and unloading bulky items.
Controls and display
The thorough reworking of the SRX's cabin that comes with the addition of a right-hand drive variant is most welcome. The car's central console is clear and easy to use, the climate control and audio system are both intuitive from the off. The SRX's main instruments are also easy to read, and the auto gearshift operates with minimal effort. Only the SRX's column stalks spoil the party - they don't look expensive enough and the cruise control function could be better implemented.
Comfort
With a generously sized cabin, the SRX easily accommodates four adults in comfort. A growing family should have no complaints, while the rearmost pair of seats - bringing the tally to seven - will be fine for small children. Overall, the softly sprung SRX is very much the relaxed cruiser.
Car security
Don't expect anything out of the ordinary with the SRX. You get the usual array of anti-theft devices, plus remote locking from the car's key fob. Considering the SRX's distinctive looks and potential rarity value, you might want to invest in a visible deterrent such as a steering look, or even a tracking device if you want to stand a chance of recovering the car after a theft.
Car safety
You get all the usual electronic aids with the SRX, such as ABS, traction control, a brake power distribution system plus six airbags. Obviously, the car's four-wheel drive system will be useful in adverse weather. Cadillac isn't touting the SRX as a conventional off-roader, but with all-wheel drive you should feel more secure when the road ahead is wet or slippery.
Driver appeal
In the real world, the V6 SRX is more than competent, displaying a decent turn of speed, a suitably sporty exhaust note and enough talent not to disgrace itself on moderately challenging roads. The V8, in comparison, is likely to be viewed as an indulgence if you're concerned about the price of fuel. For relaxed driving the SRX scores well; noise is well suppressed in the cabin and the car's ride is soft enough to make long distance journeys pleasant but not too soft to make urban jaunts tiresome and punctuated by unwelcome bumps and potholes.
Family car appeal
No question, the SRX ticks all the family motoring boxes. With a spacious cabin, good levels of standard equipment including an impressive entertainment system and room for seven, it's better than a conventional estate car and more exciting to look at than a regular SUV or people carrier. The SRX might lack the outright versatility of the latter, but at least you can make the third row disappear against having to remove them. All in all, it makes a lot of sense, and is a little different to boot.
First car appeal
The SRX is an unlikely first car. In practical terms there's little reason to discount it: the steering is light, there's great all-round visibility and it's got an auto gearbox. However, it's not a cheap car by novice driver standards and it's on the big side. It'll also cost a fair bit to run - fuel and insurance - making a BLS saloon a better choice if you really want a Cadillac.
Quality and image
This generation SRX boasts a new fascia and cabin materials, and the change over the previous left-hand drive only variant is a welcome one. While still not quite up to current European standards in all areas, the improvements are genuine and well thought out.
Accessibility
On the plus side, the Cadillac badge alone will be enough of an attraction for selected buyers wanting something different. The current wave of products from the car maker are a world apart from previous, traditionally American designs and all the better for it.
Stereo and ICE (In car entertainment)
Elegance models get a perfectly adequate radio and single CD player, complete with eight speakers plus an auxiliary socket for connecting an MP3 player. Sport Luxury variants add a CD changer to the package and a DVD-based sat-nav system. Overall, the units do a good job and sound quality is impressive. Remote steering wheel controls are a welcome sight, as will be the optional rear seat DVD player if you've got a family. A thoughtful touch is the inclusion of wireless headphones, eliminating the problems associated with tangled and potentially broken units if used by unsympathetic children.
Colours and trim
There are two sides to the SRX: if you want to perpetuate the dark and sinister angle go for an equally dark exterior colour; pick a light hue if you want to better show off the car's unusual design. Inside, dark is best as it helps boost the car's premium ambience. Unlike with the previous generation SRX, this variant's various fabric, leather and wood trim options appear more convincing and of a higher quality.
Parking
Although a big vehicle, the SRX isn't difficult to park - rear sensors are standard. Visibility is good both fore and aft, while the steering's power assistance is pleasingly light at low speeds. The car's smooth auto gearbox makes light work of shuffling into a space. But like any large SUV, the SRX's size will cause you to take it easy when navigating tight city centre car parks.
Spare wheel
Spare wheel is located under the boot floor
Range information
Petrol engines: 3.6-litre V6 (258hp); 4.6-litre V8 (325hp). Standard issue is a five and six-speed automatic gearbox respectively. Trim levels: Elegance (V6 only) and Sport Luxury.
Alternative cars
BMW X3 Conventional premium compact SUV. Handles well but is pricey
Subaru Forester Compact in size but lacks the SRX's 'wow' factor. Cabin quality could be better. It's one of the better driver's cars, though
 Audi A6 Allroad
 Toyota Rav4