March 2005
Cadillac CTS 3.6 Sport Luxury
Rakish CTS is not your average compact executive
March 2005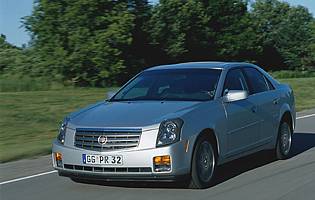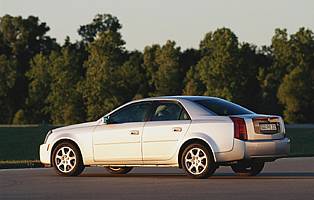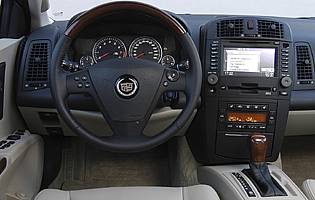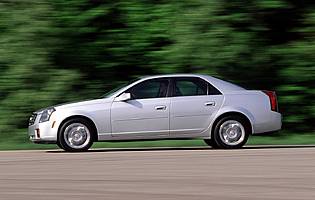 Overall rating

Likes:
Unusual styling sets it apart from the competition
Rear-wheel drive layout should appeal to enthusiastic drivers
Cabin space more generous than some rivals
Exclusivity guaranteed as total sales volume will be modest
Gripes:
Overall cabin build quality could be better
Driving experience is enjoyable but cannot match that of a 3 Series
No diesel engine offered in line-up
Small dealer network could put many people off making a purchase
Not your usual compact executive model, Cadillac's CTS attempts to deliver a different ownership experience to that of the mainstream European alternatives. From its distinctive styling to reasonable pricing and high levels of standard kit, the CTS is should appeal to buyers wishing to stand out of the crowd.
The preconception European buyers have of the quality and performance of American cars is about as outdated as the stereotypical 1970s gas-guzzler. US car makers have made great leaps in terms of vehicle dynamics, build quality and economy, but the image of chrome-laden cars still persists in many buyers' minds.
Cadillac hopes to help change that with a serious attempt at cracking the notoriously image-led continental market - specifically the cutthroat compact executive sector. In a world where BMWs, Audis and Mercedes' dominate, Cadillac's CTS is tasked with tempting buyers bored with German conservatism and cramped rear cabins. It's also the first of what promises numerous other distinctive cars in the years to come.
Exterior looks are a matter of taste but, BMW aside, unadventurous designs rule the sector and the CTS is far from conservative. Also, Mercedes and Audi are no strangers to giving rear seat passengers little room - something the CTS fixes with its more spacious cabin. By offering a rear-wheel drive car, Cadillac also hopes to emphasise its sporting side - a brave move in a market where the company from Munich dominates.
Although pitched to tempt people away from high-spec volume saloons and affordable premium models, the CTS will remain a rare sight thanks to conservative sales targets. Modest three-figure volumes, combined with a very small dealer network in the UK ensure that the CTS will be bought be those who wish to be seen in something different ahead of class-leading dynamics.
Our verdict on the Cadillac CTS 3.6 Sport Luxury
Good in parts but not outstanding as a whole, the CTS is certainly a different proposition to the likes of BMW's 3 Series, Audi's A4 and Honda's Accord. Boasting rear-wheel drive, the CTS is pitched at the enthusiast end of the market. It can't match the BMW for outright thrills though, as its handling isn't as polished but it's still fun to drive quickly. Spearheading a big-bucks European market onslaught, the CTS is a good first effort. That said, attracting buyers raised on a diet of premium European cars will be a tough task.
Costs
The CTS won't be a cheap car to run, but that also goes for anything in the executive sector. The Cadillac is a special case because there's no diesel option and the dealer network is very small compared to rival marques, thus negating the opportunity to shop around for a good deal on both the initial purchase and servicing. Combine these factors with some uncertainty over residuals (the Cadillac brand is an unknown outside of the US) and the CTS is definitely a car for buyers unconcerned about the economics of seeking out something different.
Space and practicality
Size matters in the compact executive class and, even if the CTS lacks the brand cache of its German rivals, it does boast more room than most in this sector. It's most noticeable in the cabin, what with the decent amounts of head, leg and elbowroom available fore and aft. Small touches such as the useful cupholders, door bins and glovebox make life easier, and the boot is of a decent size - whether you've got a family to cope with or need to find room for the luggage of the clients you've just picked up from the airport.
Controls and display
A handful of large, clear dials dominate the main instrument cluster, and the car's indicator stalks fall easily to hand. The former are easy to read but the latter could be more intuitive. Elsewhere in the cabin the ventilation controls are mounted low on the centre console, and the push button layout sometimes requires a second glance to get the desired function. The ergonomics of the audio unit are more successful, if only because it's almost in the driver's line of sight. That said, the high number of buttons framing the sat-nav's screen looks a little messy.
Comfort
The car's front seats are, on the whole, comfortable items but more back support would be welcome - especially on long journeys. That aside, the seating position is fine and there's plenty of adjustment available. The steering column only adjusts for rake, which could have some buyers looking at other marques. With Cadillac keen to stress that the CTS straddles what we know as the BMW 3 and 5 Series classes, rear legroom is better than many traditional compact executive models. Overall, engine and wind noise is pleasingly low, although the 2.8-litre engine can sound strained when pushed hard.
Car security
Remote central locking is standard on the CTS, along with an interior remote switch for the boot. UK specification cars also get a comprehensive anti-theft system, which is just as well as the car is likely draw more than its fair share of attention thanks to its unusual looks and rarity value.
Car safety
No surprises here, just what you'd expect from a car in the compact executive class. Twin front, side and curtain airbags come as standard regardless of trim level. This package is backed up by anti-lock brakes, traction control and brake assist. Curiously you also get a limited slip differential to help boost grip levels - a feature more likely to be found on sports cars.
Driver appeal
Cadillac has unashamedly pitched the CTS as a rival to the likes of BMW's 3 Series and other self-styled enthusiast's cars. The CTS' rear-wheel drive layout certainly hints at great things, but for all the hype the car is a little rough around the edges when driven energetically. Viscous-feeling steering and only average bump-absorption mar an otherwise acceptable experience. For most people these are minor concerns, as in everyday use the CTS puts in a good effort. The two petrol engines both perform well, with the 2.8 delivering an above average performance. The car's manual transmission possesses an awkward long-throw gearshift, making the auto option more attractive.
Family car appeal
There's no reason why the CTS can't be used as a family car - albeit a posh one. If you're aware and comfortable with its limitations, a growing family should get on fine. Seat flexibility and overall versatility can't match that of a people carrier, but the CTS will be easier to park and be more presentable when the need arises to impress business clients during the week. The saloon shape will ultimately count against the CTS if you regularly transport baby buggies, though. And there's the small matter of keeping the car's plush upholstery clean, too.
First car appeal
It's not a monster to park but the CTS is pretty unlikely to attract novice drivers more because of its asking price than anything else. The combination of rear-wheel drive and first time drivers is a combination best avoided, too.
Quality and image
Starting with a clean sheet of paper is never easy but that's what Cadillac had to do with the CTS. Granted the car is a known quantity in the United States, but Europe is a different matter. On the other side of the Atlantic we think of American cars as sloppily built barges that guzzle fuel. While the CTS is far removed from the usual stereotype, Cadillac does have its work cut out. Being different is one thing but successfully delivering an attractive product line - of which the CTS is just one - will be how the company is judged in the years to come.
Accessibility
There's little to worry about here, thanks in part to the CTS' generous dimensions compared to its rivals. Front seat occupants will find the cabin to be spacious, while access is reasonable thanks to wide opening doors. It's almost the same for rear seat passengers. Understandably the doors don't open quite as wide but getting in and out should pose few problems for most people. Once you've triggered the remote release for the boot, accessing the loadspace is straightforward, and the aperture is big enough for most large suitcases.
Stereo and ICE (In car entertainment)
Standard audio provision runs to an RDS radio plus an in-dash six-disc CD changer. The package is rounded off with a premium eight-speaker system. Steering wheel supplementary controls are also part of the deal. The unit, as you would expect, sounds good, and is located high up on the car's fascia. The only upgrade is to a sat-nav system boasting a large colour screen. This incorporates a number of other features, including a comprehensive trip computer, but the user interface takes time to navigate and the graphics are a little garish.
Colours and trim
The unusual styling of the CTS lends itself well to both light and dark exterior colours. If you want to go for a subdued look go for the latter, while the former is great if you fancy showing off the car's various details. The cabin design is more straightforward, although the large expanses of black plastic make the CTS' interior a little on the oppressive side. Wood trim and the leather upholstery both do a good job of lifting the mood, however.
Parking
The CTS' steering is light enough around town for parking duties to be a relatively painless chore. Forward visibility is good, although the furthest tip of the bonnet is difficult to see. Reverse parking a saloon always commands a little more skill, and the CTS is no different from other cars. With practice the task does become easier, though.
Spare wheel
Full size spare wheel fitted as standard.
Range information
Two engine options - 2.8-litre (215bhp) petrol; 3.6-litre (257bhp) petrol. Both are fitted with a six-speed manual gearbox. A five-speed automatic gearbox is an option for both engines. Trim levels are Elegance and Sport Luxury.
Alternative cars
Honda Accord Refined Accord is value for money and well built but lacks image to rival BMW
BMW 3 Series Latest 3 Series picks up where old one left off - still the driver's choice
Audi A4 High quality A4 is competent and attractive. Cabin is not terribly roomy, though
Saab 9-3 Swede is an equally left-field choice to CTS but good value to boot