Audi TT RS Roadster
Addictive performance
January 2017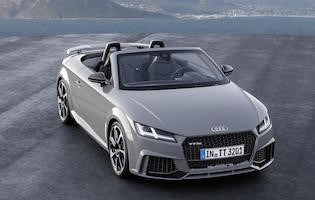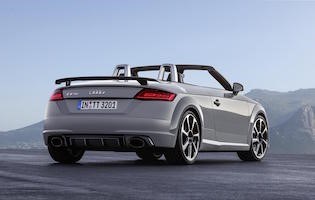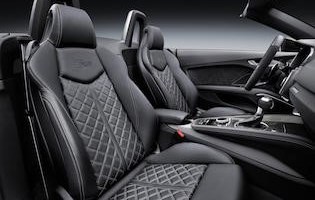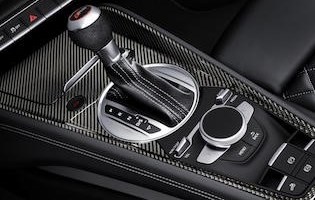 Overall rating

Likes:
Addictive levels of performance
Fast-lowering cloth roof
Well-made cabin
High levels of standard equipment
Gripes:
Steering doesn't have a huge amount of feel to it
Ride can be harsh at low speeds
Expensive entry price
Compact interior
The Audi TT is a good-looking coupe designed to appeal to those who want a sporty experience, but with the creature comforts that accompany a more premium vehicle. The TT RS takes away some of that comfort, but makes up for it with impressive performance that can keep up with many higher-priced supercars. The TT RS Roadster is an extension of this, but with a wind-in-your-hair drive.
The recipe for the TT RS Roadster remains vastly similar to that found in the standard TT RS. Underneath the muscular bonnet sits a 2.5-litre turbocharged engine, which puts out 395bhp. Power is sent to all four wheels through Audi's Quattro all-wheel-drive system via a seven-speed automatic gearbox. The sprint to 60mph takes just 3.7 seconds, finishing at a top speed of 155mph.
The TT RS Roadster's cloth roof takes just 10 seconds to open or close, and because it's made out of fabric, it doesn't affect boot room as much as it would if it were created from metal. You can also raise or lower at speeds of up to 30mph, which means you shouldn't get too caught out should the weather take a turn for the worse.
The benefit of that convertible roof isn't just a better experience of the elements, but a better appreciation of the sound that the 2.5-litre engine produces. It's a truly impressive powertrain, and one that makes its presence effortlessly known in the coupe. It's just as key in the convertible, too, and thanks to the folding roof, a crucial part of the experience.
The interior of the TT RS Roadster remains a great place to be, just as it is in the standard RS. The Virtual Cockpit system is a real treat to use, and helps de clutter the cabin that, because of its compact size, could have felt constricting otherwise. It's a well-made product, and one that lives up to its asking price of £53,550.
Our verdict on the Audi TT RS Roadster
Thankfully, there aren't too many negative effects on the TT RS Roadster as a result of cutting off the roof. The ride remains composed, and the car has a similar level of poise to the hard top. If you're looking for a fast, capable and well-made drop-top, you'd be hard-pressed to do better than the TT RS Roadster.
---
Costs
Fuel costs are, inevitably, going to be quite high with the TT RS Roadster – with a 2.5-litre engine, they were never going to be low. Official figures say that it should achieve 35mpg on a combined cycle, though in truth the engine's note is so addictive that you'll struggle to drive it economically. The cost of tyres and servicing will be quite high, too.
Space and practicality
Though you do lose the two small rear seats found in the coupe, the drop-top TT RS isn't as impractical as you may think. You get 280 litres of boot space in all, and because of its long shape you get a surprising amount of room – certainly enough for two weekend bags or a good amount of shopping. This space is just 25 litres less than offered by the coupe, so the trade-off for having a cloth roof really isn't that bad.
Controls and display
All of the controls inside the TT RS Roadster feel of an exceptionally high quality. Dials placed in front of the air vents at either side of the cabin double as controls for the heated seats, while those in the centre of the cabin provide clear information regarding the climate control settings. The Virtual Cockpit is also incredibly easy to read and navigate through, which makes entering new destinations into the satellite navigation a breeze.
Comfort
Despite sitting on 20-inch alloy wheels and riding on lowered suspension, the drive isn't too harsh in the Audi TT RS Roadster. Yes, it's very firm around town, with a tendency to crash through potholes, but when up and running the entire set-up really makes sense. The deep bucket seats do offer a huge amount of support, though, with the heavily bolstered sides providing a lot of lateral help, especially when cornering at speed.
Car security
There tends to be a trade-off in terms of security with a convertible car. With a cloth roof, the car is certainly more susceptible to attacks from thieves. However, the TT RS Roadster's compact size and similar look to the standard car should mean that it isn't targeted more than any other car.
Car safety
The Roadster has yet to be subjected to Euro NCAP crash tests. However, the coupe has been, and scored four out of five stars, making it a very safe car to be in. Once tested, there's a good chance that the Roadster will be similarly scored. There's a good variety of safety systems available too, such as blind-spot monitoring and lane keeping assistance – though these are usually optional extras.
Driver appeal
The TT RS Roadster is a very appealing car. Not only does it look inviting, with its flared wheel arches and prominent 'Quattro' logos, but from the very first listen you'll want to see just what the 2.5-litre engine under the bonnet can do. The driving position is also very impressive, with the flat-bottomed steering wheel sitting prominent and ready to go. The TT RS Roadster isn't just a car you'll want to get behind the wheel of but one that you won't want to ever get out of.
Family car appeal
Despite being able to offer a reasonably sized boot, the truth is that the TT RS Roadster ideal for family duties. Add that to the fact that it can only offer two seats, and you have a car that really won't be able to offer much in terms of family practicality. You could run it as a second car, but given the TT RS Roadster's high purchase price, you'd be better off buying a more practical car.
First car appeal
Certainly appealing to the first-time driver, the reality is that the TT RS Roadster will be costly to insure and run for someone who has only recently passed their test. It's also extremely quick, which won't be ideal for teaching the rules of the road to a just-passed driver. Also, because you sit low in the car, it could be seen as slightly intimidating – and an area that a new driver wouldn't be best suited to.
Quality and image
There's no doubting that the TT RS Roadster is a quality product, and one that is certainly deserving of its £53,000 price tag. The interior, for instance, is finished in high-quality materials, while the exterior exhibits all of the design trends that have made current Audi cars quite so popular. The TT RS Roadster can also be regarded as a true sports car – an image that the standard TT can sometimes struggle with.
Accessibility
As a low-slung, two-seater sports car, the TT RS Roadster isn't the best in terms of accessibility. The cabin is certainly compact – though it doesn't feel cramped – but there's plenty of room for taller drivers and passengers. As the engine is sat incredibly far forward of the cabin, there's a surprising amount of legroom, which means that there shouldn't be any complaints from passengers.
Stereo and ICE (In car entertainment)
As mentioned, Audi's Virtual Cockpit sits in the centre of the TT RS's infotainment offering. This is a truly innovative system, providing clear readouts to the driver who can survey them without the need to take their eyes off the road for more than a second. It also houses the satellite navigation, as well as media functions too. In short, there's enough tech on board to keep most people happy.
Colours and trim
As with any Audi, it's easy to make the TT RS Roadster just how you'd like it. There's a wide variety of colour options, though the standard RS bodykit certainly makes the car look special enough without the addition of any lively shades. There's a big selection of options to choose from, though being an RS model means there's a lot of equipment included as standard.
Parking
Thanks to its small body size, the TT RS Roadster isn't a tricky car to manoeuvre about. Though it does have a cloth folding roof – which is usually associated with restricted rear visibility – it isn't that tricky to see out of the back thanks to a large rear windscreen. When lowered, it is – of course – easy to see backwards. A reversing camera and parking sensors also help when backing the TT RS Roadster up.
Spare wheel
Emergency tyre repair kit supplied as standard.
Range information
Petrol engine options: 2.5-litre petrol (394bhp). Transmission options: Seven-speed automatic. Trim levels: RS.
---
Alternative cars
Porsche 718 Boxster Dynamically superior, but has lost its iconic flat six engine.
Mercedes-AMG SLC 43 Certainly has the performance, but expensive too.
BMW Z4 Doesn't have the same level of pace as the Audi.
Jaguar F-TYPE Starting to show its age in this company.