Audi TT RS
Excellent build quality
October 2016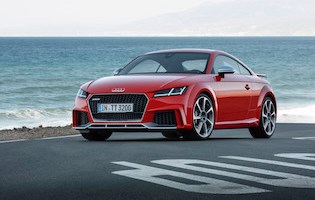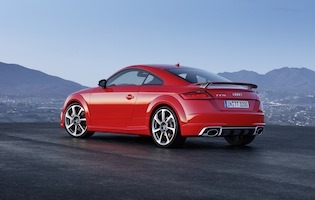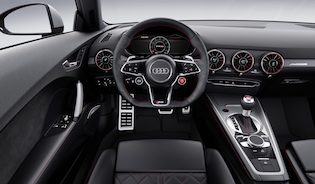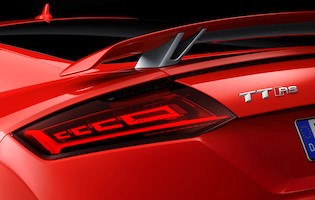 Overall rating

Likes:
Addictive performance
Hugely characterful exhaust note
Excellent build quality
Uncluttered, driver-focused cabin
Gripes:
Ride can be firm at times
Rear seats near-useless
No manual option
Expensive entry price
The Audi TT has been synonymous with style since its inception, but it has more recently been related to performance, too. The TT RS sits at the top of the range, offering incredible pace in a compact package. This latest model utilises a 2.5-litre turbocharged engine, allowing the TT RS to give most modern supercars a run for their money
Thanks to its two door, 2+2 layout, the TT RS isn't intimidating to approach. Try to get into a powerful supercar and you'll be greeted by a dazzling array of buttons, but in the TT RS there are remarkably few. However, the ones that matter remain – namely the large red engine start button mounted to the steering wheel. Press it, and things get interesting.
The 2.5-litre engine under the bonnet sparks into life with true character, thanks to a sports exhaust that lends the TT RS the sound of a classic rally car. With downsizing of engines prevalent in modern day sports cars, the TT RS' powerplant comes as a breath of fresh air with the unit sitting at the heart of its personality.
Up and running the TT RS is invigorating. Despite being turbocharged there's very little lag, and each and every throttle movement is accompanied by a hugely vocal exhaust note. Though firm, the TT RS never feels too jolting – you'll still want to look out for larger potholes and speedbumps. A decent sized boot means you're not pushed for space, either.
The TT RS is remarkably easy to live with. In truth, it benefits from all of the practicality of the standard car, coupled to a mighty driving experience. There is a soft-top option, though the coupe will be the best bet for those looking for a genuine daily driver. When you remember that the TT RS produces near to 400bhp, yet can do all the things that a conventional Audi can do, it's hard to think of a better package.
Our verdict on the Audi TT RS
Many will think of the TT RS as a 'baby' version of the larger, V10-powered R8. However, it's better to see it as a true accomplishment in its own right. Though the comparison is a flattering one, it's fairer to say that if you wanted a car to live with each and every day, the TT RS would be the better companion than its supercar big brother.
---
Costs
Audi claims that the that the TT RS will return 34.4mpg combined, and emit 187g/km CO2. These aren't bad figures for a car in this segment, though the way to the car goads you into driving fast will most likely mean that the claimed consumption figure will be difficult to achieve. Apart from that, the main costs will come in the form of tyres - with the 20-inch alloy wheels fitted costing a considerable amount to re-shoe.
Space and practicality
Though a small sports car, the TT RS has a good amount of practicality. It's able to offer 305 litres of space, which can be increased to 712 litres with the rear seats folded down. That really isn't bad at all for a sports car in this segment, and should be more than enough for most people – especially if you consider the TT RS as a two seater with two extra seats in case of emergency, rather than an out-and-out four seater.
Controls and display
Everything about the TT's controls and displays remain clear. The main dials, for instance, are simple and easy to read. The rotary controls for heating have a solid weight to them, while inputting destinations into the satellite navigation or connecting a smartphone is no hassle at all. The interior heating temperature is displayed on the front of the air vents too, which is a neat touch. Even the switch gear has a premium feeling to it.
Comfort
Despite being a stiffly-sprung sports car, the TT RS isn't as uncomfortable as you may expect. The seats, as previously mentioned, offer a huge amount of support and are very comfortable to sit in. The sports suspension, though firm, is incredibly composed, especially at higher speeds. Of course, around town it has a tendency to crash, but for the most part the TT RS is a comfortable car to drive.
Car security
Though relatively small, the TT RS' outlandish styling will no doubt draw attraction to it, making it more of a target for thieves. Central locking and an alarm is, of course, fitted as standard, but its sports car styling may mean that you ensure you park it up in a safe place. However, its modern security systems should mean that anyone looking to get into the car won't be able to easily.
Car safety
The new TT did only achieve four stars in the Euro NCAP tests, though this was just as new rules came in, making it harder for cars to get full marks. That's not to say that the TT RS isn't a safe place to be, as it features electronic stability control, a range of airbags and ISOFIX mounting points for child seats. Visibility is good from side to side as well, making the TT RS a safer car to drive, too.
Driver appeal
The TT RS is an immensely appealing car to drive. From the sports exhaust button that gives added character to the noise it emits to the sporty, flat-bottomed steering wheel, everything about the TT RS makes you realise that it wants to be driven – and driven hard. Even the standard TT is an appealing sports car, so the TT RS is an even more driver-focused version of this.
Family car appeal
Small and compact, the TT RS doesn't lend itself particularly well to family duties. The rear seats are really quite lacking in space, and even small children won't be particularly comfortable in them, especially over long journeys. You could use it as a second family car, but its high running and purchasing costs will no doubt put the majority of people off from using it in a family role.
First car appeal
The TT RS would certainly be appealing to a first time driver. It's fast, has spades of charisma and certainly looks the part. However, given its price tag, powerful engine and low ride height, it's probably not the best choice for someone who is still learning. Insurance costs will be high, as will those for fuel and consumables.
Quality and image
The TT RS has a hugely impressive level of quality. Inside, there are lots of high-quality materials used, while soft-touch plastics dominate the cabin. Equally the exterior exudes a definite premium air – as does the Audi badge on the front. The German brand is producing some exceptional cars lately, and the TT RS is an extension of this. It remains a luxury product, just as the first incarnation was.
Accessibility
Since it's a low-slung, two-door sports coupe, the TT RS isn't the best in terms of accessibility. However, those doors do open widely, affording you more entry room than you'd expect. The seats, though heavily bolstered for support, aren't difficult to get comfortable in. There are, of course, two rear seats but these are really meant for children – there's even a warning inside of the door against seating taller passengers in the back.
Stereo and ICE (In car entertainment)
The TT RS features Audi's latest 'Virtual Cockpit' infotainment system, which houses all of the main systems you need – media, satellite navigation and sound – within a screen in the centre of the main binnacle. It means you rarely need to take your eyes off the road to check a screen in the centre of the car and it's incredibly intuitive. It does well to de-clutter the interior of the car too.
Colours and trim
Being part of the Audi brand, the TT RS benefits from a wealth of colour options, as well as interior personalisations. The exterior of the car already features a sports bodykit, which brings with it wider wheel arches, an aggressive front spoiler as well as two large oval exhausts housed within a diffuser. There's also a prominent 'Quattro' badge at the front of the car, which gives some indication of its sporting intent.
Parking
Being a small, compact coupe, the TT RS isn't too difficult to park. It comes fitted with a reversing camera as standard, but for the most part it's not a tricky car to get in and out of spaces. Rear visibility isn't too bad, with the large rear screen giving a fair amount of over-the-shoulder view. Large wing mirrors help with maneuvers, too.
Spare wheel
Emergency tyre repair kit supplied as standard.
Range information
Petrol engine options: 2.5-litre turbocharged petrol. Transmission options: Seven-speed dual-clutch automatic. Trim levels: RS.
---
Alternative cars
Porsche 718 Cayman More adjustable than the TT RS, but lacks four seats.
Toyota GT86 A lot cheaper, but offers a lot of driving fun.
BMW M2 Exceptional pace in a usable form.
Nissan 370Z Cheaper than the TT RS, but heavier and slower.