Audi TT Coupe 1.8T Tiptronic review
Styling has stood the test of time
April 2005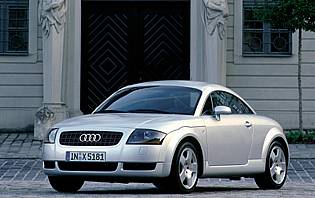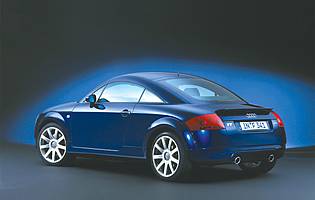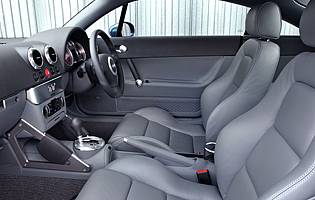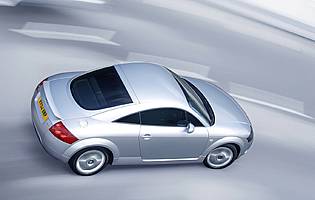 Overall rating

Likes:
Styling has stood the test of time
Car boasts broad appeal despite its racy image
Cabin is surprisingly comfortable despite its compact dimensions
Front-drive TT is unexpectedly adept tourer
Gripes:
Rear seats are for effect only
1.8 turbo engine is gruff and tuneless
Despite V6's sporting pretensions, it's no Boxster challenger
Boot aside, cabin storage space is on the modest side
Hailed as a style icon when it was first launched, Audi's TT has gone on to become one of the most popular sports coupes on recent years. While there will always be a place for the traditional models from the likes of BMW and Mercedes, the TT's bold looks ensured that it would always be in the public eye.
Launching the TT was a bold move by Audi; at the time the firm was more famous for building conservative but technically solid cars. Few people expected the car to take off like it did but buyers couldn't resist its radical exterior and equally startling interior.
The TT's look was from another planet - a real showstopper. More of an experience than just a car, Audi's compact coupe offered buyers a real alternative to the conservative 3 Series and similar rivals. Being smaller and less accommodating than the BMW the TT forced buyers to compromise, which they duly did to own a car that made pedestrians stop and stare.
It's true that you have to make a few sacrifices when owning a TT, but owners swear that it's worth it. Some critics liken the driving experience to that of living in a goldfish bowl, and while it's true that you tend to look out from inside the cockpit onlookers are just as likely to look in.
For many the driving experience is secondary to the attention gained from piloting such a car. It's fair to say that the TT is no Porsche Boxster in the handling stakes. It's no 3 Series either but it can be hustled along with little effort. As with so many Audis of its time the TT doesn't offer much in the way of feedback, but that doesn't mean it's a bad car. The rapid 3.2 V6 banishes such thoughts in an instant, while the entry-level front-wheel drive model is great if you want the looks but don't much care for outright speed.
Our verdict on the Audi TT Coupe 1.8T Tiptronic
While form doesn't completely dominate function with the TT, it's true that there are sharper handling cars on the market. This hasn't stopped Audi's dramatic-looking coupe from being the car of choice for thousands of buyers. Radical when it first appeared and still impressive years after its launch, the TT strikes a solid balance between 'look at me' styling and brisk performance for the everyday driver.