Audi A7 S7 review
Handsome and unusual exterior
January 2013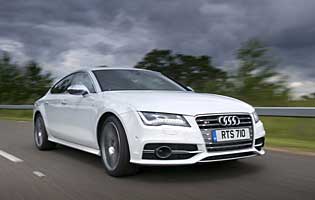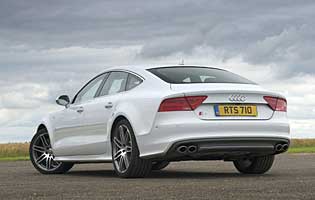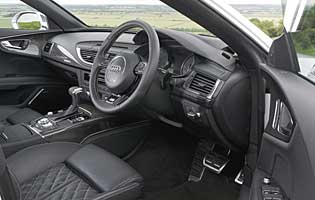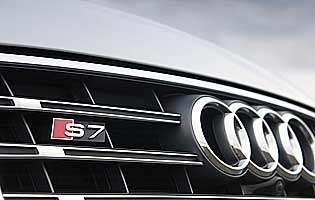 Overall rating

Likes:
Handsome and unusual exterior
High quality cabin more stylish than other Audis
Remarkable practicality
Impressive range of engines
Gripes:
High price point puts it out of reach for most
In-house rival A6 offers more practicality for less
Driving experience is slick but not exciting
No manual gearbox option
For almost every model of the huge Audi range there is also a hotter version wearing the 'S' badge, and some two years after the introduction of the stylish and practical A7 Sportback an S7 version has arrived. With extra power, performance, visual enhancements and a higher specification it becomes even more of an exclusive product for the lucky few.
The A7 is one of Audi's niche products, slotting between the more conventional A6 and A8 saloons. The German manufacturer bills the A7 as a four-door coupe, and it certainly has more grace and purpose than a conventional four door car yet offers impressive space in the cabin and in the boot for something as distinctive looking.
Sitting at the top of the range is the S7 version, which in Audi terms makes it significantly more performance oriented than the standard car but a step below the fastest RS models. Even so the S7 is quite a specialised product, aimed at a select group of customers looking for the extra performance and style that comes with an 'S' model.
Building on the looks of the standard car the S7 adds a more aggressive bodykit incorporating a deeper front bumper and more pronounced grille, side skirts, rear diffuser and larger alloy wheels. Discreet badges front and rear give the clearest indication that this is a significantly different model.
The sleek exterior makes the cabin all the more impressive: despite the sloping roofline headroom is perfectly respectable in the rear and as generous as you would expect upfront. This is a genuine five-seater although best suited to two passengers in the back seats, while the hatchback tailgate opens to reveal a very respectable load area. Unlike most of the competition, the seats can be folded to give an estate-like load area.
Our verdict on the Audi A7 S7
The S7 is in something of a class of its own, as it combines serious performance with slick design and luxury yet remains a very practical car. As a driving machine it performs very well indeed, being capable and entertaining, but this doesn't detract from its ability to carry passengers and luggage in comfort. It requires a substantial investment but offers an impressive breadth of ability.