Audi RS3
Understated looks with a solid interior
August 2017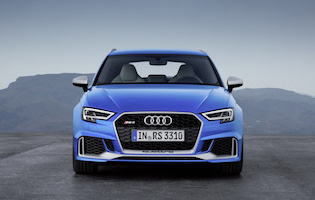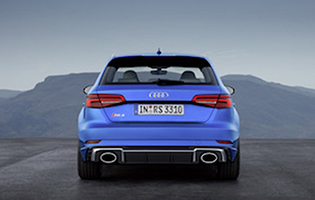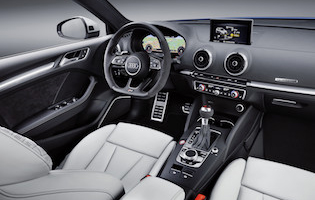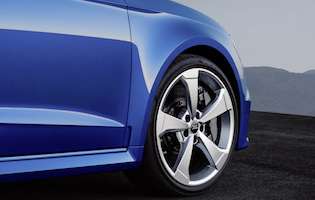 Overall rating

Likes:
Extrovert styling makes it looks like a race car
Uprated parts are all very high-spec and do a fantastic job
Addresses all of the standard car's grip issues
A worthy addition to BMW's lightweight track car legacy
Gripes:
Expensive after options
Ride is quite firm at times
Running costs will be high
Darker upholstery colours can make cabin feel small
Audi's RS3 has always been somewhat of a firecracker within the range. Compact in size but punchy in performance, it's ideal for those who want to go rather quickly but still be able to take the family along for the ride. Now, it's been updated. This means more power than before, as well as updated looks for both the inside and out.
The RS3 goes up against some pretty capable rivals, with the likes of the Mercedes-AMG A45 and BMW M2 proving worthy competitors in this compact performance car segment. However, the new RS3 packs close to 400bhp and will hit 60mph in just 3.9 seconds, making it one of the most powerful cars in its class. It'll need it to beat these key rivals.
The exterior of the car has also been given a lift, with an aluminium trim now framing the front grille and dual exhausts at the rear giving some indication of the car's potential. However, for the most part the RS3 remains wonderfully understated, which is a trait of almost all Audi RS cars. That said, it still gains arches that are 20mm wider than the previous-generation car.
The RS3's interior benefits from all of the latest Audi technology, including the much-praised Virtual Cockpit infotainment system which provides easy access to functions such as satellite navigation and media functions. Everything feels well put together and solid – but then you'd want it to be in a car which can cost close to £60,000 when you include extras.
The RS3's five-cylinder turbocharged engine remains a crucial part of the car's identity – it's one of the only vehicles in the segment to ditch the idea of downsizing. It gives it a huge amount of character, and it's likely to be a factor favoured by a lot of buyers. Of course, the by-product is near-supercar levels of performance in nearly all conditions thanks to Audi's excellent Quattro all-wheel-drive system.
Our verdict on the Audi RS3
The RS3 is dominated by performance figures. However, look deeper than these and you'll find a very well-rounded, extremely capable car. It's practical, well-made and good-looking too – though there's little way to avoid its rather high price tag. It's a car which is likely to appeal to all people, though, and should you keep away from ticking too many options boxes, it makes a huge amount of sense.
---
Costs
Every day running costs will be, understandably, a little higher than they would be with a standard car. Fuel costs will be more, as will those to replace items such as tyres, brakes and fluids. You'll also find insurance premiums a little higher with the RS3, owing to its level of performance and desirability. However, given its capability these are to be expected. That said, it'll cost a lot less to run than a supercar – despite being just as quick as one.
Space and practicality
Thanks to its hatchback layout, the RS3 actually affords its owners a good degree of practicality. You get 280 litres of boot space with the rear seats in place, and this rises to 1,120 litres by lowering them. This is smaller than the standard A3's boot, but this is down to the space taken up by the RS model's Quattro all-wheel-drive system. Leg and headroom is decent in the front, and isn't half bad in the back either.
Controls and display
As mentioned earlier, the RS3 comes with Audi's excellent Virtual Cockpit as standard. This is one of the best systems on the market today, and provides clear and easy to read information. All of the manual controls for heating and ventilation have a good action to them, with plenty of weight. Even the switchgear has a great action to it, and certainly feels as premium as you'd expect for an Audi.
Comfort
Given its low ride height and large alloy wheels, you could think that the RS3 would be unbearable to live with in terms of ride quality. Around town, that's relatively true – it feels sharp and has difficulty with absorbing larger bumps in the road. However, build up the speed and the suspension set-up quickly makes sense. Alternatively, you could opt for the optional adaptive dampers, which work wonders at softening off the ride should you want it to.
Car security
Because of the RS3's relatively understated looks, it really shouldn't draw too much attention to itself. It's also fitted with a standard alarm, immobiliser and interior motion detector, so you shouldn't have too many worries about leaving it out on the street at night.
Car safety
When it was tested back in 2012, the Audi A3 scored a full five stars. It did well across the board, scoring 95 per cent for adult occupant safety, and 87 per cent for child occupant safety. It even did well for pedestrian safety, scoring 74 per cent. However, this was some time ago – so it's worth remembering that the new A3 could be a little behind. That said, it can be fitted with new semi-autonomous features – but these don't come as standard.
Driver appeal
There's usually a high amount of appeal associated to anything with an RS badge attached to it – and the RS3 is no different. From its sporty exhaust note to its lowered ride height, every part of the RS3 shows that it wants to be driven. Thankfully, it doesn't disappoint, as it's just as accomplished at crossing ground quickly as its more powerful stablemates. Most 'keen' drivers will be more than happy behind the wheel of the RS3, especially given the huge amount of performance on tap.
Family car appeal
The RS3 could prove to be a rather useful family vehicle. It's relatively spacious, has plenty of boot space and, because it's based on the standard A3, is quite safe too. That said, some of the aspects of ownership might not be suited for families. Fuel costs, for instance, will be quite high, while the price of replacing items such as tyres and brakes will be more than with conventional hatchbacks.
First car appeal
Despite its compact size, the RS3 isn't the best car for first time drivers. It's really rather powerful, which will cause insurance premiums to spike, and it's also quite expensive – putting it out of the budgets of most drivers. Running costs will also be quite high for just-passed motorists, as will the cost of consumables – brakes and tyres will command a premium.
Quality and image
There's no denying that all of Audi's current-generation cars are impeccably well made and solid to drive too. There's a clear lineage between model designs too, and the interiors are well built across the board. Residuals are likely to be strong for the RS3 too, and this is down to the brand's popularity as well as the demand for RS models.
Accessibility
As a five door hatchback, the RS3 is able to offer plenty of accessibility. With wide door apertures and seats that are well bolstered but not too tricky to climb into, most people should find accessing the inside of the RS3 simple. There's plenty of adjustability once you're inside too, with a steering wheel that changes for rake and reach. The boot lid isn't all that heavy either, which should make loading items inside that little bit easier.
Stereo and ICE (In car entertainment)
As one of Audi's more premium models, the RS3 comes with an impressive amount of standard equipment. There's Audi's Virtual Cockpit system, which replaces the standard dials with TFT screens displaying information such as satellite navigation and media function. You also get Audi's sound system as standard, though we'd be tempted to upgrade this to the excellent Bang & Olufsen set-up – pretty good value at £495.
Colours and trim
As with any Audi, there's a good degree of customisation options available. There's a wide variety of colours to choose from, as well as a variety of alloy wheel designs and interior upholstery options. We'd opt for a lighter shade for the cabin, though, as in darker colours the interior of the RS3 can feel a touch constricting. All cars come with sports seats as standard, though these can be upgraded to 'Super' sports seats for an additional cost.
Parking
Given the RS3's relatively compact dimensions, it shouldn't be too difficult to park – even in the tightest of spaces. That said, Audi's Parking System Plus system is fitted as standard, and this gives both acoustic and visual aids for the front and rear. If you want further help when parking, then a rear-view camera can be added – though this costs an additional £375. However, with its relatively light low-speed steering, you really shouldn't have too much bother when positioning the RS3.
Spare wheel
Emergency tyre repair kit supplied as standard.
Range information
Petrol engine options: 2.5-litre turbocharged petrol. Transmission options: Seven-speed dual-clutch automatic. Trim levels: RS
---
Alternative cars