Audi R8 V8 Coupe review
Dramatic but not overly arrogant styling
November 2012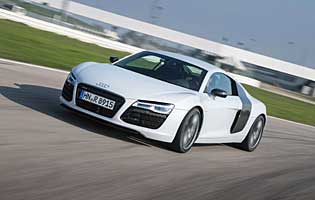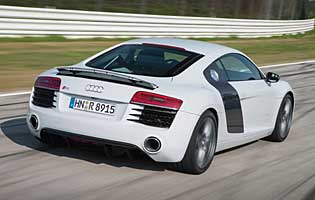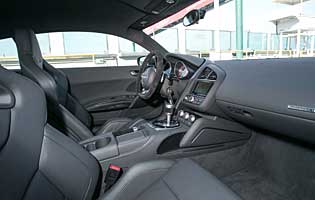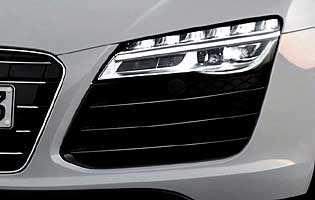 Overall rating

Likes:
Dramatic but not overly arrogant styling
Astonishing acceleration
One of the finest engine noises around
High quality interior materials and finish
Gripes:
Potentially tricky when driven to extremes
Sub-standard rearward visibility
Inevitably an expensive car to buy and run
Relatively small changes may leave some buyers cold
Audi's everyday supercar has been given a mild styling update, some new technology and one crucial new feature. The 2013 model is defined by a twin-clutch automatic gearbox, which replaces the automated manual unit from previous cars. This is the original R8 formula of hard-top, V8-powered four-wheel-drive performance and it's arguably where the experience is at its purest.
The company has adopted a slightly conservative approach for the redesigned R8, with the silhouette becoming more like that of the mass-selling TT. The coupe keeps its distinctive contrasting side panels, though. It replaces a car that has served Audi well both with sales and with its image-boosting credentials.
The biggest difference, however, is in the gearbox. Audi has long since developed its S tronic twin-clutch automatic gearbox to the point where it can handle the power and torque of the big V8 engine, but it had to wait for the model update to install it. Prior to the S tronic an underwhelming R tronic automated manual gearbox took care of the shifts and it was neither engaging nor especially smooth.
That means the new R8 is a better car to drive quickly, because it's under pressure that the S tronic shines. It pre-selects the gear you're most likely to choose next, allowing seamless changes under power. Performance goes up and so does efficiency, since the efficient technology allows for precise shift points to be engineered in for surprising fuel economy.
This new R8 benefits from many of the improvements that have been brought in over the previous generation's life cycle, forming a more complete package. There are two other models in the Coupe range, both using V10 engines, but the V8 arguably has a little more class and dignity where the V10s are brasher and in some circles endowed with a slightly less desirable image.
Our verdict on the Audi R8 V8 Coupe
The old R8 was a hit for its entire showroom life. The standard V8 has always excelled as a usable supercar with impressive comfort and all the excitement you could ask for. Audi is synonymous with technology and the new elements of the latest R8 are well balanced, with a mix of aesthetic and performance-related improvements giving potential buyers - including those upgrading from older R8s - exactly what they want.