Audi R8 V10 Plus review
Frenetic V10 engine offers high-revving thrills
September 2015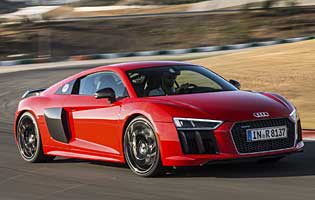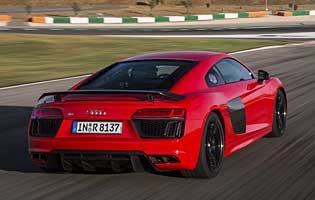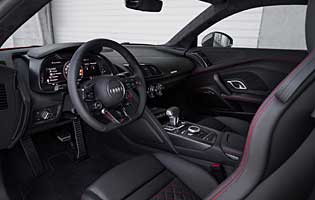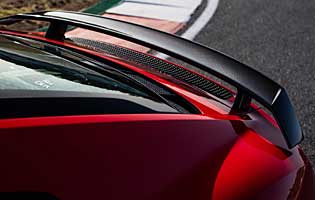 Overall rating

Likes:
Frenetic V10 engine offers high-revving thrills
Advanced interior technologies are engaging
Magnetic Ride provides comfort and control
Much cheaper than some rival cars
Gripes:
Air scoop shape lends odd proportions
Many desirable features are not standard
Less mid-range torque than turbocharged rivals
Instrument cowl reflects badly in driver's sight line
After a surprisingly long lifespan, the original Audi R8 has been replaced with a more technologically advanced version, but because of the strides made in making cheaper Audi models faster by using turbocharging, the R8 is now available only with a V10 to ensure it remains the fastest of the brand's cars by a clear margin.
The styling has changed significantly, with the tall, colour-contrasting side panel of the old model now replaced with a smaller trim piece behind the door. The large air scoops on the side lead into a mid-mounted engine as before, but the 5.2-litre power unit is more powerful. Unusually, the scoops taper inwards towards the rear, which makes the car look slightly odd.
Two versions of the car will be built, with the more expensive Plus version benefiting from more standard equipment, more power and increased bragging rights, but the standard R8 can still be specified with many of the key features that many buyers will want; the most important of which may be the plush and adaptive Magnetic Ride suspension.
Often seen as a cut-price supercar in both positive and negative ways, the R8 and its step-sister car the Lamborghini Huracan are now the only two supercars in this category that retain a normally aspirated engine. Some buyers could see this as a defining and essential feature. More expensive rivals from McLaren and Porsche are turbocharged.
Audi has fitted the R8 with all the technology at its disposal, from the latest version of its fast-shifting twin-clutch automatic gearbox to a fully-digital instrument binnacle. In many ways the R8 feels much like any other high-end Audi. This is a factor that will count both for and against it, depending on the buyer.
Our verdict on the Audi R8 V10 Plus
The R8 is a hugely impressive car with exceptional reserves of grip and balance that extend way beyond the talents of most drivers. It has a greater breadth of talents than before, and it's supremely effective at translating power from its engine into speed on the road. It's an easy car to enjoy and, with safety systems engaged, an easy car to drive quickly, for which it rightly earns praise.