Audi R8 Spyder 5.2 FSI Quattro Manual review
Superb styling
March 2010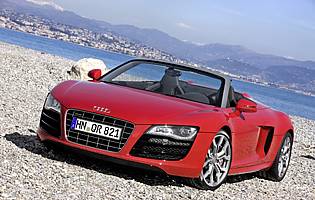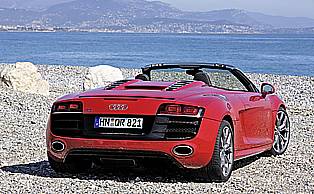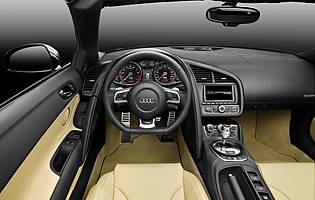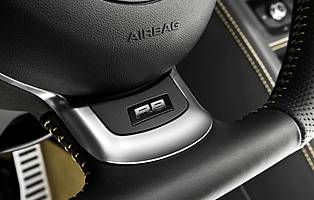 Overall rating

Likes:
Superb styling
Astonishing performance from V10 engine
Unshakeable Quattro traction
High quality interior material and finish
Gripes:
Visibility limited with roof in place
Gated manual gearbox takes time to master
Storage space is lacking
Marginally less interior refinement than the coupe
Following the original 4.2-litre and the later 5.2-litre versions comes the Spyder convertible version of the Audi R8 super car. Designed to fuse the road going prowess of the coupe models with the style and open air driving experience of a soft-top, the R8 Spyder builds on the impressive reputation of the coupe models.
The third model in the Audi R8 range is the first to feature a folding roof, allowing occupants to enjoy the open air experience alongside the power and poise that the R8 has become noted for. Audi has opted for a canvas roof in order to save weight and to give the model a more timeless look, however the cutting edge styling gives the model a concept car appeal.
Audi uses the same aluminium space frame construction process as with the Coupes but compliments it with additional carbon fibre panels at the rear, meaning the Spyder weighs a mere 100kg more than the V10 Coupe despite the additional weight of the roof motors and chassis strengthening. The roof itself opens and closes in 19 seconds and at up to 31mph.
The Spyder is equipped with the 5.2-litre V10 engine rather than the 4.2-litre V8 unit of the original model, giving it additional power and performance. The Quattro four-wheel drive system with a rear wheel bias is present and a choice of two transmissions, the six-speed automated manual R-tronic or six-speed manual, is available.
To match the high performance and additional glamour if the soft-top, a range of high-end equipment is standard including Audi's Magnetic Ride suspension, seat belt mounted microphones for the Bluetooth system, Bang and Olufsen sound system, sat-nav and a heated and independently lowered rear window.
Our verdict on the Audi R8 Spyder 5.2 FSI Quattro Manual
Removing the roof has failed to detract from the R8 V10's driving appeal while performing the difficult task of adding to the Coupe model's stratospheric street cred. Although it loses a small amount of the little practicality it retains the tractable nature particularly in manual form, while the potential for boulevard cruising is massively increased. Quality is exceptional and there's performance to match.