Audi Q7 e-tron review
Seamless operation and easy to use
December 2015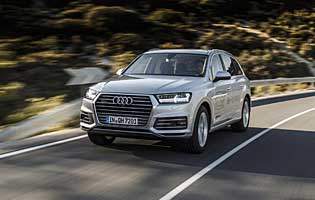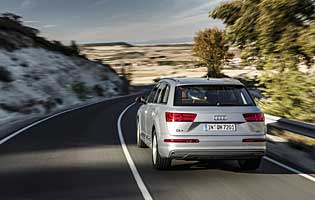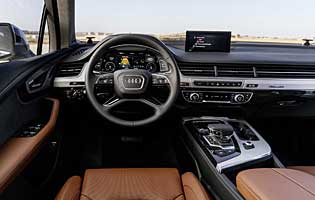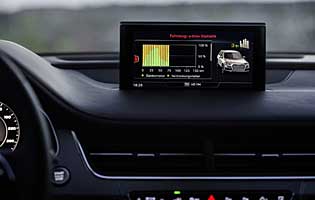 Overall rating

Likes:
Seamless operation and easy to use
Impressive turn of speed with exceptional economy
High-quality feel throughout
Smart use of latest technology
Audi's still-fresh Q7 is a technological leap forward from the outgoing car, with substantial weight-saving improvements and a host of systems to increase comfort and safety. Now Audi is adding to the range by adding an e-tron version, in turn giving the brand its first plug-in hybrid SUV.
The second-generation Q7 demonstrates the great lengths Audi has gone to in order to answer the key criticisms of the original car, starting with weight. In a new structure as much as 40% of the new Q7 is made from aluminium, and combined with high-strength steels reduces overall weight by up to 300kg depending on the model.
These measures have opened the door for the creation of the first Q7 PHEV version which in this application mixes diesel power with electric. Retaining the four-wheel-drive that is a cornerstone of the brand, the Q7 e-tron offers substantially reduced emissions and improved fuel economy over the conventional car with little cost in terms of performance.
The combined diesel and electric powerplant can operate in a number of modes either automatically or pre-selected by the driver. The driver can save the battery charge for a later point in the journey, call up maximum power, recharge the car's battery using the diesel engine or leave the car to make these decisions based on the circumstances.
What's more, the Q7 is the first Audi to use its predictive navigation in order to save fuel. When fitted with the more sophisticated sat-nav it can read the topography of the road ahead and offer guidance to the driver as to the most efficient course of action. As with many PHEVs it also offers a smartphone app allowing the driver to operate charging functions and check the vehicle status remotely.
Our verdict on the Audi Q7 e-tron
In a world where large SUVs are still seen as profligate the Q7 e-tron is a remarkable step in the right direction. Potentially capable of great frugality, it's as comfortable and capable as the equivalent diesel-only version. Sacrifices in terms of space and cost are required, but for many the benefits will clearly outweigh the negatives.