Audi Q7 3.0 TDI SE review
Huge cabin is very comfortable and versatile
July 2015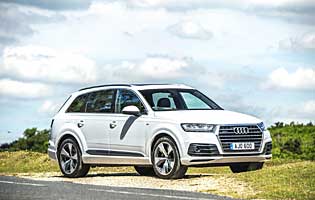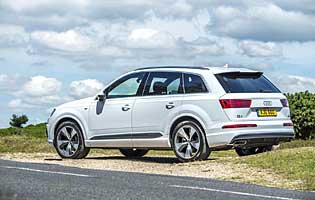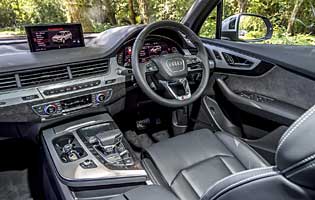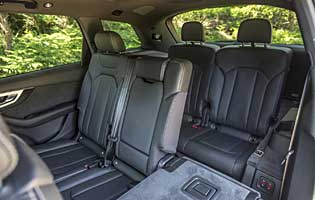 Overall rating

Likes:
Huge cabin is very comfortable and versatile
Comfort levels are high; an excellent long-distance car
Impressive suite of technologies
Impressively agile for a car of this size
Gripes:
Chunky looks are far from subtle and may not be to all tastes
Despite huge weight loss the Q7 still feels heavy at times
No front-wheel-drive version
An MPV offers more space for less money
The first of the modern generation Audis to venture into off-road territory, the Q7 has been a huge success for the German firm. After a decade of success the second generation Q7 has arrived, promising all the same qualities as the original model but with greater efficiency, more comfort and increased technology.
The original Q7 set the template for all of Audi's SUV Q-badged models, in that it offered increased utility and space but with all the comfort and quality of a regular Audi saloon or hatchback. It also came to be one of the higher status Audi models, slotting just below the A8 luxury saloon in terms of pricing and specification.
For the second generation model Audi has gone to great lengths to answer the key criticisms of the original car, starting with weight. With a new aluminium structure, as much as 40% of the new Q7 is made from the new material and combined with high strength steels reduces overall weight by up to 300kg depending on the model.
Mechanically the Q7 offers the Quattro four-wheel-drive system as standard, and at launch provides a diesel-only engine range although an e-tron hybrid model is expected to join the range. As well as the option of air suspension on some models, a further innovation on the options list is four-wheel-steering designed to both enhance stability and improve manoeuvrability.
The Q7 is also one of the first Audis to get the latest suite of safety systems, and should the purchaser choose to do so can benefit from some of the most sophisticated features available anywhere. Cross traffic assistant monitors oncoming traffic when making low-speed right turns, while the radar cruise control includes traffic jam assistant which can take over steering duties below 40mph.
Our verdict on the Audi Q7 3.0 TDI SE
The outgoing Q7 was feeling its age, but the new version is an impressive leap forward. It is significantly more space efficient than before, much less demanding to drive and also more efficient. The quality levels have improved too, and although still a relatively expensive car to buy it is a car that makes an excellent ownership prospect and is desirable too.