Audi Q2 S-line
Audi Q SUV looks work brilliantly
June 2017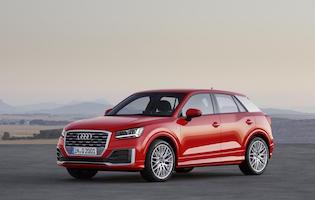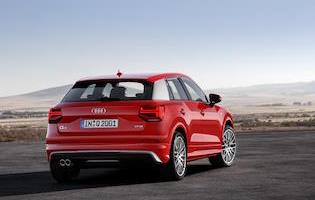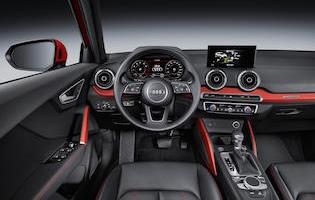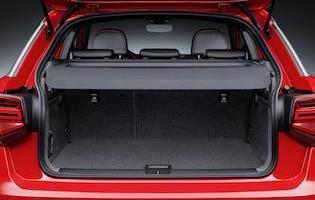 Overall rating

Likes:
Drives more like a car than an SUV
Audi Q SUV looks work brilliantly in smaller package
Range of efficient engines
Excellent cabin space
Gripes:
Incredibly expensive
Ride can be a bit harsh
Gearbox is sluggish at low speeds
Larger alternative available for less cash
This marks Audi's debut in the incredibly lucrative compact SUV market, and it hopes that its pint-sized Q2 will appeal at the premium end of a segment dominated by more affordable rivals like the Nissan Juke and Renault Captur. With bold styling and excellent build quality, it also makes a tempting alternative to bigger budget-orientated SUVs.
It has carved out its own niche somewhat, as currently the only premium offering in this segment is arguably the Mini Countryman - though it does quite have the same SUV-lite styling of the Q2.
Based on the A3 hatchback, the Q2 drives more like a car than an SUV, something a number of its rivals struggle with. However, one criticism that can be levelled at it is that the ride is quite harsh, particularly with sports suspension.
Inside, the cabin has plenty of spacious with enough room for four adults - though those in the back won't exactly have acres of space. The interior is well put together while the materials feel of high quality for the most part - dig around in the lower reaches of the dashboard and you can find scratchy plastics, though.
The one down side, as is often the case with more premium models, is that all the good stuff costs extra. Even our sporty S line model test car, which costs a few notes under £30k as standard, came with £9,000-worth of options.
Our verdict on the Audi Q2 S-line
The Audi Q2 is up there with the best of them in the compact SUV market - though it does come at a price. Audi's large SUV Q cars ooze badge appeal and that has been perfectly distilled into the compact SUV market. It'll be down to each buyer as to whether it's appealing enough to sway them away from bigger SUVs that cost less.
---
Costs
The Q2 is quite an expensive car to start with at £23,440 for the basic model, while there are plenty of options available that can see the price skyrocket. Our S line test car started at £29,925 and came with a staggering £9,000-worth of options.
Opt for one of the diesel engines and you should see low running costs, though. Depending on the trim and gearbox selected, the 1.6-litre unit will return more than 60mpg, with nearly 69mpg in SE and Sport trims with an automatic gearbox.
Space and practicality
Cabin space is excellent and there are plenty of cubby holes throughout, which makes it easier to carry small items without cluttering the interior too much. However, boot space isn't fantastic at 405 litres, which compares negatively to a Mini Countryman at 450 litres, though sits quite a bit higher than the much cheaper Nissan Juke, which is notoriously cramped at 354 litres.
Controls and display
If you can bring yourself to spend the money, the Audi Virtual Cockpit is well worth the outlay. At £1,595 it's a very expensive option on an already expensive car, but it totally transforms the instrument binnacle. The dials are replaced with a large screen that can be adapted to show speed, satnav, music and everything else you could ever need to see on the move.
The standard infotainment system is pretty easy to use too, with navigation quite logical and menus quick to navigate.
Comfort
Cabin space is impressive for such a small crossover, helped by the upright, boxy shape. However, the ride is a little on the firm side, particularly if you opt for the sportier suspension, which can become a little tiresome on a bad road where you get jiggled around.
Look past the ride though and the seats are comfortable, and when you're driving on a dual carriageway or motorway at speed the road becomes more settled making long journeys more bearable.
Car security
The Audi Q2 comes with a typical perimeter alarm to alert the owner if someone tries to break in, and automatically locks the doors once on the move to help protect from someone trying to enter the car while you're inside.
Car safety
The Audi Q2 is a five-star rated car with an excellent 93 per cent rating for adult occupant safety and 86 per cent for child occupant safety. It lost marks for not using knee airbags or having an active bonnet to protect pedestrians.
Audi Pre Sense comes as standard, which uses radars to detect cars and pedestrians ahead of the driver and can even assist in braking to avoid or mitigate a crash.
Driver appeal
Small crossovers often suffer from behind the wheel, because they're based on small hatchbacks but have taller bodies. However, for the most part Audi has kept the centre of gravity low and the handling responsive enough to make the Q2 rather fun to drive.
It's in its element around town where the sharp steering and small size make traffic jams slightly easier to bear, while the engine is economical and has perfectly acceptable performance for the segment.
That said, the gearbox is sluggish at low speeds and gets confused easily, while start/stop is too aggressive and needs to be shut off so as not to drive you up the wall, negating its fuel saving purpose.
Family car appeal
Young families would be well served by the Q2, which marries decent cabin space with decent practicality. However, once the kids grow beyond the toddler stage the lack of rear legroom and the slightly below average boot space could start to become a problem.
That being said, low running costs for a premium level car would be mighty appealing to families, while its bold styling ensures that it will stand out on the school run.
First car appeal
The Audi Q2 is a bit of a double-edged sword for new drivers. Its small stature and economical engines make it ideal, as you get SUV styling without the intimidating size or big, expensive engines.
However, as it's focused on the premium segment it's very expensive to buy, while the exterior could become expensive to fix should any lapses in concentration occur.
Quality and image
Audi's trump card is its build quality, with expensive feeling materials that last a long time used throughout the cabin. Admittedly, if you start poking and prodding away from the usual places – such as lower in the cabin – you will find a few cheaper plastics, but for the most part everything you touch feels high quality.
As for badge appeal, the Q2 has it in spades, and the fact that Audi has brilliantly distilled its SUV range styling into a premium crossover package makes it all the more appealing.
Accessibility
With its fairly high driving position and high doors, the Q2 is easy to get into and out of – even for those who struggle with mobility. Once inside, there's decent movement for the driver's seat, though it doesn't adjust very far for reach, which might leave taller drivers feeling a little uncomfortable.
Those getting in the back should find it similarly easy, though rear seat legroom isn't fantastic. Meanwhile, the boot has a button that drops it for you to save grubby fingers.
Stereo and ICE (In car entertainment)
The standard audio system is a good enough quality for the vast majority of people, but for audiophiles there are a couple of upgrades available. The Audi Sound System costs £255 and comes with 10 speakers and an output of 180 watts.
Meanwhile, a top-spec Bang & Olufsen system is also available, which really steps the audio game up a level with 705-watt, 14-speaker surround sound that constantly adapts audio levels to the sound in the cabin. It costs £700 on its own or is available as part of the £995 Comfort and Sound package.
Colours and trim
The Q2's cutesy 'baby SUV' styling works really well with brighter colours, and fortunately Audi offers a fairly good selection among the usual shades of grey. The no-cost paints are a solid white and yellow, while a crystal blue-effect is available for £775.
Metallic paint finishes include orange, red, white, black and grey, while a 'Daytona grey' pearl-effect paint is also offered. All of these colours cost £550.
There are four trims available, from the entry-level SE through the Sport and S line models, which have progressively sportier styling and higher quality interiors, up to the Edition #1, which is the very top specification.
Parking
The Q2's diminutive stature means that even tight parking spaces are a breeze, while the light and airy, upright cabin means that it's easy to know where the car's extremities are. Rear parking sensors are fitted as standard across the range, while front sensors are also available as part of the £995 Comfort and Sound package, which adds visual aids to the audible beeps.
Spare wheel
Emergency tyre repair kit supplied as standard.
Range information
Petrol engine options: Petrol: 1.0-litre (114bhp), 1.4-litre (148bhp), 2.0-litre (187bhp). Diesel: 1.6-litre (114bhp), 2.0-litre (148bhp). Transmission options: six-speed manual transmission, seven-speed S tronic automatic. Trim levels: SE, Sport, S line, Edition #1.
---
Alternative cars