Audi A6 saloon 2.0 TDI ultra S tronic S line review
Polished-looking exterior design
September 2014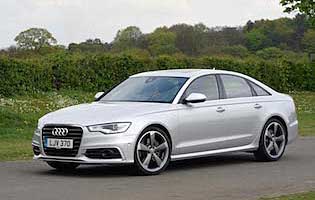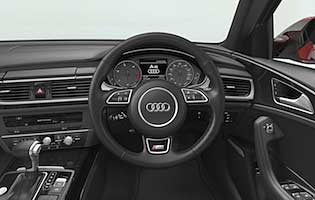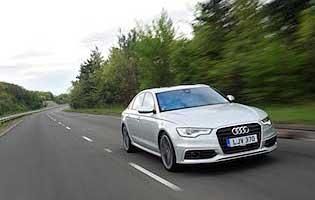 Overall rating

Likes:
Polished-looking exterior design
Impressive gains in efficiency and economy
Cabin is comfortable, attractive and better specified than some rivals
Lots of space in cabin and load area
Gripes:
S line specification can result in an over firm ride
Long list of tempting but potentially costly extras
A1 and A3 models present a less cluttered cabin to the driver
Front-wheel drive will never match rear-drive for maximum enjoyment
Think 'premium' cars and thoughts rarely turn to saving money. That's all changed in recent years, with all the major brands introducing cars boasting low emissions and fuel consumption to primarily help keep cars affordable for the business community. Audi's 'ultra' sub-brand offers these attributes without compromising its core values.
Audi's A6 is well known and liked as a premium saloon - and estate - model in a fiercely competitive executive market sector. The car's design-led appeal for many puts its at a higher level than some rivals. That said, keen drivers have often looked to BMW for more thrills.
This certainly hasn't dented the A6's appeal through the years, and as manufacturers spend more effort reducing inefficiencies Audi has made some serious inroads. The firm's ultra sub-brand is a good example; focus on boosting economy while maintaining high standards of refinement.
The end result is a car that, powered by a 190 horsepower 2.0-litre diesel engine, boasts a sub 120g/km CO2 rating, a family hatch rivaling 64.2mpg economy figure yet is still capable of delivering a brisk performance.
For the cash-savvy company car driver these figures now take priority over any class-busting top speeds or zero to 62mph sprint times. With the promise of significant savings over even previous frugal A6 variants, this ultra model reduces an individual's take spend to new lows.
Our verdict on the Audi A6 saloon 2.0 TDI ultra S tronic S line
It seems every car maker has its own take on an ultra low emissions and fuel consumption model these days. Even the makers of premium cars can't ignore the benefits to not just the environment but also the bottom line. Audi's A6 ultra is an impressive example of how to do it right; there's no compromise to the driving experience or cabin refinement when on the move.