Audi A6 Allroad quattro review
Ride quality is generally good, even on larger wheels
September 2012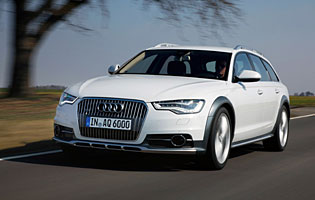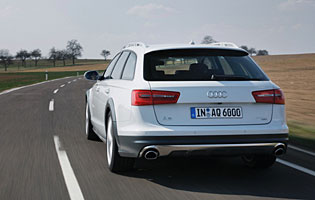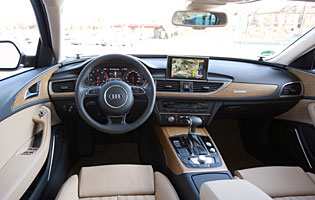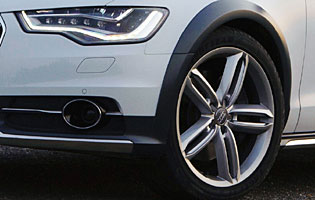 Overall rating

Likes:
Ride quality is generally good, even on larger wheels
Range-topping diesel brings phenomenal performance and economy
Classy and understated looks offer high levels of ownership satisfaction
Huge amount of interior space allows for many types of uses
Gripes:
Dark grey plastic trim extensions may not be to all tastes
Particularly patchy road surfaces can transmit vibrations through the cabin
Too much desirable equipment is optional at extra cost
Cabin storage solutions could be better and more numerous
Audi says the A6 Allroad is the car that attracts its wealthiest buyers; buyers who don't need to boast about their wealth, and probably already have a number of more exotic cars to call upon anyway. The Allroad is therefore designed to be Audi's most multi-talented car, from motorway cruising to towing a horse box across a field.
The Allroad is an offshoot of the regular A6 range, with raised suspension, more rugged exterior trim and stainless steel under-body plates to protect vulnerable parts from potential impacts. Only available in Avant estate guise, it sits beside but slightly above the A6 with a slightly more premium air and slightly higher prices to match its increased sense of usability.
Its suspension is raised high enough so that farm tracks, typical fields and rutted green lanes should pose no problem, especially with permanent quattro four-wheel-drive providing additional traction as standard. The Allroad also has adaptive air suspension and special electronic systems biased towards off-road driving to make sure it can cope with more than drivers are likely to ask for.
There have been versions of the A6 Allroad before, and while the numbers they sold in have never been massively significant, the car is important to satisfy a clientele that Audi is keen to hold on to. A small range of engines are available, but only one trim level is offered, unfortunately leaving many desirable features on the options list.
This generation of Allroad sees the introduction of a new twin-turbo V6 diesel that acts as a new flagship engine. It's more powerful, faster-responding, quieter and smoother than older, still-available types, and it adds a significant new appeal to the car. Audi expects that among the many known quantities with this car, this new factor will be crucial.
Our verdict on the Audi A6 Allroad quattro
To drive the A6 Allroad, especially when equipped with the new BiTDI diesel, is to appreciate a truly great all-round car, with excellent suspension, an ideal driving position, astonishing performance on-road and deeply impressive ability off it. When it comes to combining the indulgences of a country lifestyle with weekend family demands and the highest levels of class asked by the City, the A6 Allroad is peerless.